Spinvest-leo weekly update post 31-July-22
---
Welcome to the weekly update post for @spinvest-leo, where I (@jk6276) record on chain for transparency our transactions for the week, and update @spinvest investors with our progress.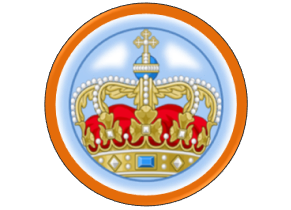 Big changes this week to our asset structure, as part of an ongoing overhaul of the portfolio. Lots to report on this week.
EMP Money.
I added a small amount of extra funds to EMP as part of this restructure. Not a lot, but a hundred dollars or so worth I think. Anyway, it has been another good week for EMP, so lets see how the numbers look:
Farmed 0.056 ESHARE (worth $41)

Traded half for BLEO - received 256.

Value for dividend = $20

Compounded remaining income back in to the ETH/EMP pool.

Asset values this week:
EMP/ETH - $1756 (up $264)
BNB/ESHARE - $621 (up $113)
Some of that increase was from a top up of a little extra funds, but it has been a good week here regardless.
---
Cub Finance.
Here is where the biggest changes have happened this week. I shifted some funds off CUB. I also completely rearranged the pools, and moved out of the kingdom. So here is what things look like now:
Farmed 1080 CUB (worth $33)

Traded half for BLEO - received 210

Value for dividend = $17

Compounded remainder back into the LPs.

Asset Values this week:
CUB/HBD - $993
CUB/bHIVE - $956
As you can see, I have moved our funds in to the new pools that have just launched this week. APR is better than where the funds were, but will likely slide over time. I do think that these additions to the CUB platform will mark a turnaround point for CUB, and hopefully better days ahead. The downside of this change I have made is that I moved funds out of the bLEO pool. The APR had been low there, and I decided that moving to higher income options was a better use of funds. This however may cause us to miss any potential "Projectblank" airdrop, if/when it happens. Unsure how you all feal about that, and happy to take feedback from SPI holders on if you would like me to move back in to bleo pool.
---
Splinterlands.
Claimed a small amount of staking rewards. Over the coming weeks, this asset will be closed down, and funds moved to the SPS pool on Polycub.
No income this week, will role the small staking rewards in with the unstake when it happens.

Asset value this week:
---
Polycub
No income to report this week, as it is locked, however I can report that there is 143 POLYCUB worth around $20 waiting to unlock.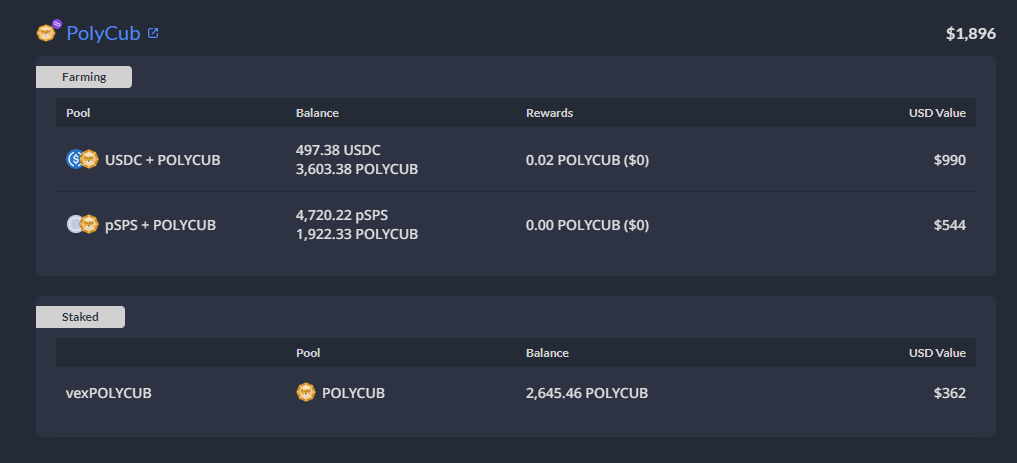 Asset value this week:
USDC/POLYCUB - $990
PSPS/POLYCUB - $544
vexPOLYCUB - $362
This week I added a bit to the USDC pool, and opened the PSPS pool using some funds I shifted from CUB. SPS as it comes unstaked will move here.
---
HIVE
The only spot where not much has changed this week.
Sent 46 LEO (from post payouts, and trading the vouchers from splinterlands) and just under 1 HBD. Value $4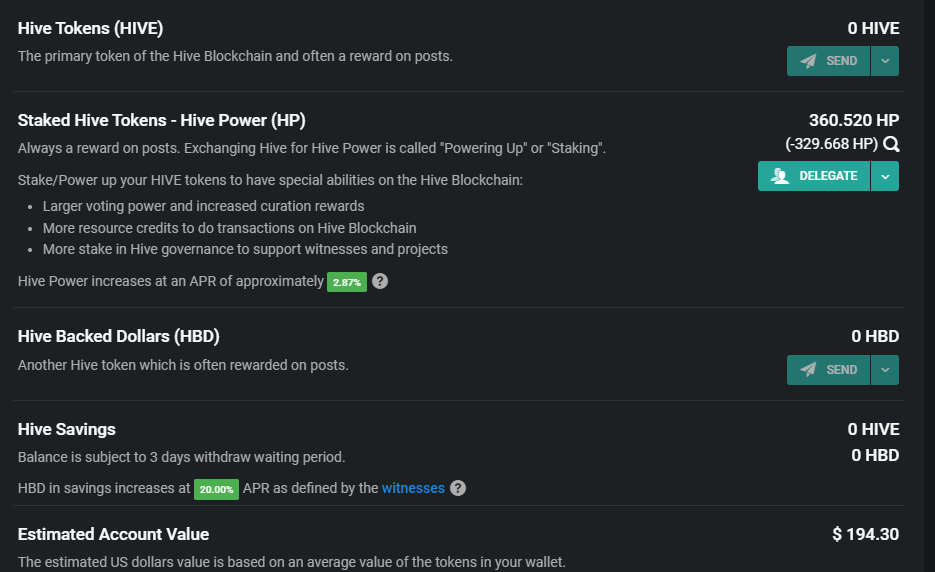 Asset value this week:
HIVE $194 (up $27)
---
Summary.
Major reshuffles this week.
Asset value this week: $6974
Change from last week: Down $37
Funds sent for dividends: $37
Funds sent from post payouts: $4
Basically a breakeven week. Some of the moves I made involved a number of small transactions, and as I was early in the new pools, some slippage also. Overall, I think we are now positioned for solid income flow, and importantly have covered the SPS airdrop which had become the biggest source of income for this part of the fund. EMP remains solid, and is a continuing priority moving forward. POLYCUB income will kick in in a few weeks. CUB has hopefully turned a corner and has better days ahead of it.
Thanks for reading, If you have any queries about what I have done, feel free to ask.
Also remember, you can check the debank information at any time to see how we are performing - and to audit/verify my wallet management if you wish.
Cheers,
JK.
Posted Using LeoFinance Beta
---