LBI tokens priced 1.20 LEO until hardcap
---
Hello, SPIer's. I dont normally talk about LBI from the SPinvest account are vice versa but as the LBI token is hard capping soon, I thought I'd make a post from this account as im sure spinvest has followers that lbi-token does not and it's only fair (haha) to give as many people a chance to get some LBI's directly from the source.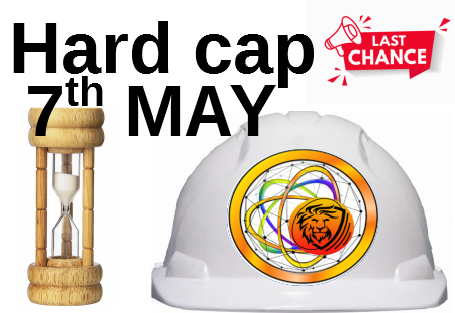 What are LBI tokens
These are LeoBacked Investments tokens. LBI tokens and all their assets are priced in LEO. The fund model mirrors SPinvest's but is based and focused on the LeoFinaance eco-system. The lbi-token account has 230,000 LEO staked and a 5 figure CUB wallet so it's doing ok. Its 234 tokens holders share 221,500 tokens with 95% being issued at 1 LEO that has increased by just under 20% in 4 months. It is still a young project but already much ahead of where SPinvest was at the same stage of its timeline so im there is still alot of untapped potential for this fund as it's sorta only running at 20-30% of what it could be. It takes time to build things up and lay good foundations but the wheels are in motion already.
For full details, please check through @lbi-token blogs. The more posts you read, the more you'll learn about LBI.

LBI token hardcap - 7th May
Current circulating supply - 221,598

The LBI hardcap final number will be declared on the 8th of May depending on more tokens we issued directly from @lbi-token. To work out the final hardcap, we add 25% to the circulating token supply. When added, this 25% represents 20% of the total supply. Example. 220k tokens plus 25% = 275k. This extra 55k represents 20% of the total 275k. These extra tokens are distributed to the content team based on token price-performance ensuring they are any issued after LBI token holders have made money, no airdrops are free tokens for team members, rewards have to be earned.
What else can I say?
You know what, words are cheap. Anyone can hype anything up, so instead of telling you what LBI does, I'll show you what LBI does. Something is what it does not what someone says, there's some good advice (i think). Here are a few charts to show how LBI has been performing since its launch.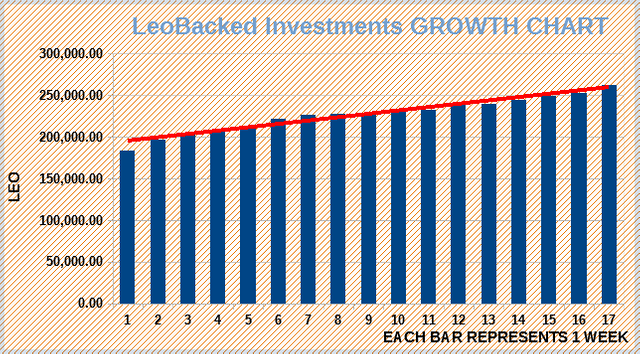 Pretty damn consistent if you ask me.
Earnings are 1000 LEO plus every week as well, not bad for a project thats still its start-up phase, huh?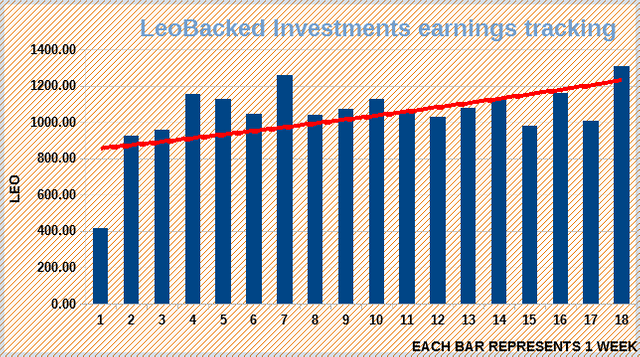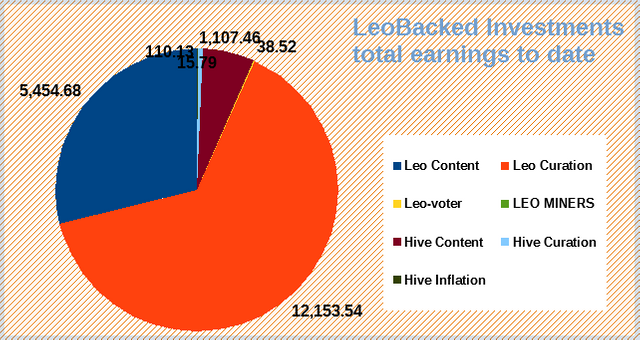 19,000 LEO earned to date with 2/3's coming from LEO curating and 1/3 from content. LBI curation trial is massive with Taskmaster4450 taking charge of the wallet that holds over 3% of all the LEO out there. Pretty save hands if you ask me.
And of course, we save the best to last.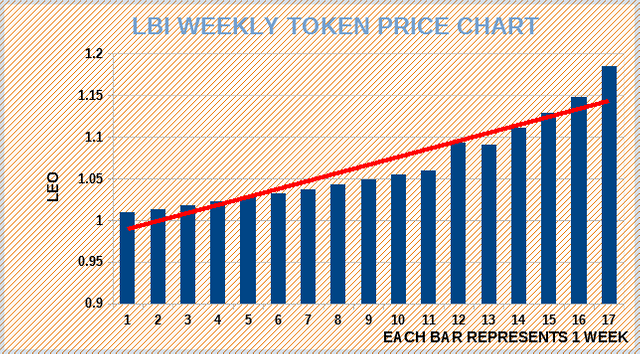 Well, look at that....that's a nice looking chart. 100% of token holders are in profit, well that's the cherry on the cake. If you like cherries on cakes and by that I main CUB's on LEO's, LBI should something you consider adding to your LEO portfolio if you plan to be here long term.

How to buy LBI tokens?
Each LBI token is priced at 1.20 LEO

Send any amount of LEO to @lbi-token - no memo required

Receive your LBI token within 24 hours

Any LEO sent to @lbi-token will be returned starting 8th May at 00.01 GMT

Posted Using LeoFinance Beta
---