The Week Was Too Short!!! - Week 1 - #MyHiveGoals
---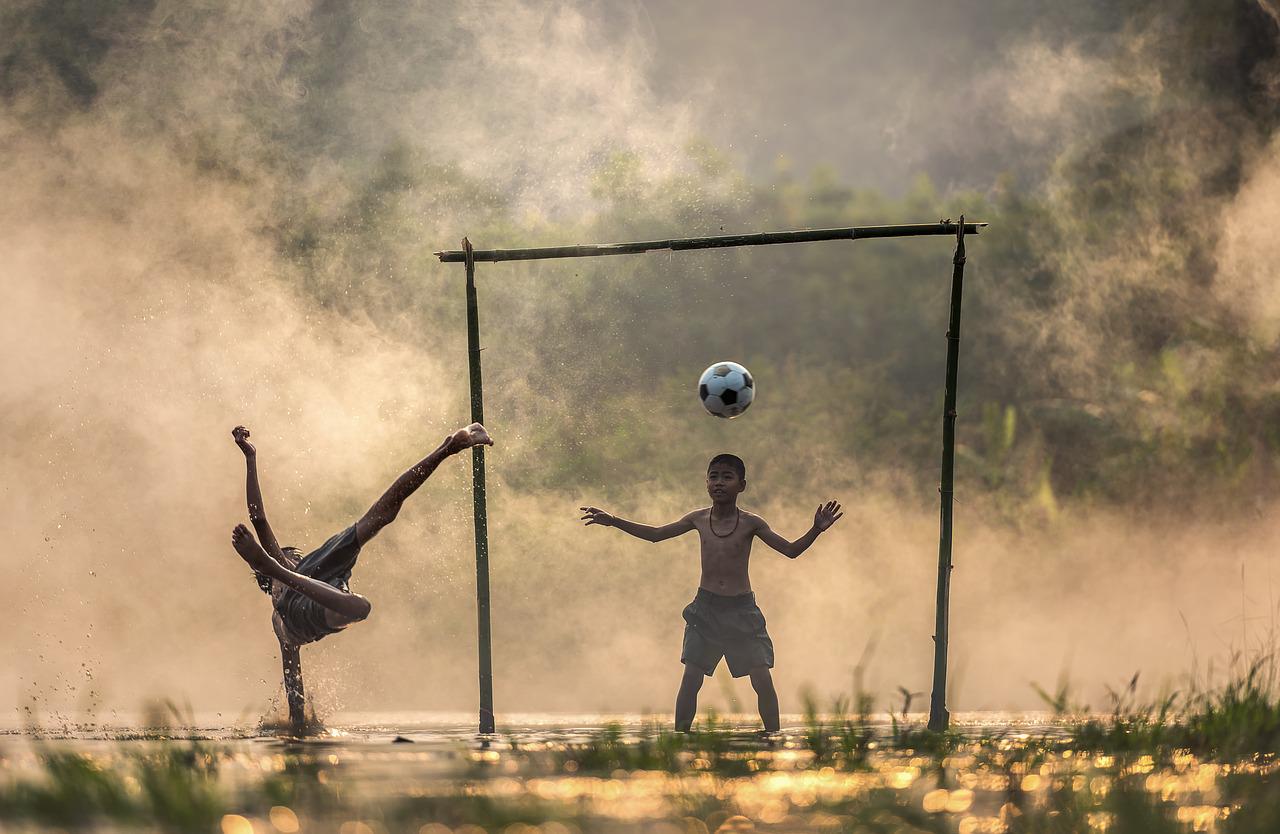 Image by Sasin Tipchai from Pixabay
If you are one of the few people who read my first #MyHiveGoals post, then you might understand my title.
If not, this is the short version:
I made my first #MyHiveGoals post.
I made some goals.
I said I would come back on Sunday (4 days) to give my Week 1 report.
Why do it so quickly?
Well...I am a little OCD and I wanted to do weekly reports. I wanted to try and do those reports on Sundays. Figured I would just suck it up and do the first one early to put some pressure on myself and get some inertia into the thing.
Well, it is slightly past Sunday, but better late than never right? Guess I am not as OCD as I thought!
Anyway...I got some nice responses and advice (most of it great) that I will promptly not heed because...pigheaded. Always got to do it the hard way :-)
Please don't let my pigheadedness stop you from giving further or new advice. Whenever my ways don't work, I am sure I will come back to any wise advice. If you give it to me, it will always be available here on the blockchain for me to revisit and you can come back and say tolja.
Investing Some Time and Effort
In the 4 days since my first post, I have done some thinking and reorganizing. My efforts are still subpar in my mind, but better than the first post.
I made a spreadsheet to track my results: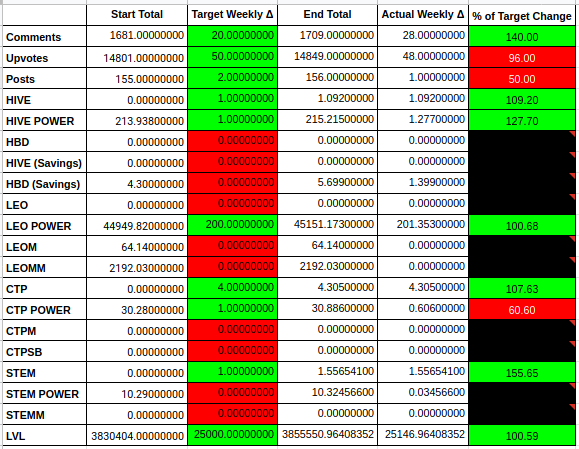 I spent way too much time on this for the benefit I got this week, but it is a work in progress that I can expand as I go. I probably could have met all of the targets, if I hadn't spent so much time on the stupid spreadsheet.
Basically, it is a straight table format of my last post. Yeah...8 decimal places...I know :-)
Summary:
First Column - Category of the goal.
Second Column - Value of the category at the start of the week.
Third Column - The desired weekly change (increase or decrease).
Fourth Column - Value of the category at the end of the week.
Fifth Column - The achieved weekly change (increase or decrease).
Sixth Column - The percentage of my weekly goal accomplished.
Target Change Column - Green means I had a weekly goal for that category. Red means I had had no weekly goal for that category.
% of Target Column - Green means 100% or greater of target change accomplished. Red means < 100% of target change accomplished. Black means there was no weekly target change for that category.
Whew! I would be surprised if you are still here after all of that. It was a bit tiresome for me getting all of this set up, but I really think it will help me going forward.
I can add or take away categories on the left. I can hide rows for future reports, so I don't have to bore everyone :-) I can easily plug in numbers as the table gets bigger.
On to discussion.
I was generally satisfied with my efforts for the shortness of my week. I knew going in that I might not make all of the goals.
Week 1
I won't bore you with the results. They are in the table ;-)
Week 2
Week 2 started on Sunday. I am going to try and keep the goal-making discussion simple this week. I am going to increase my target in every category somewhat (even the ones I didn't meet this week and the ones with no goal last week).
In the first month or so, I want to push myself and really evaluate what I can reasonably do. If I see that some goals are too much or if I lose interest in some I will adjust in later weeks.
The table below (yes -- another one) is filled out with the start values and my new weekly targets. disregard the last three columns, since these are not accurate for now. They will automagically fill in when I insert the end values at the end of the week.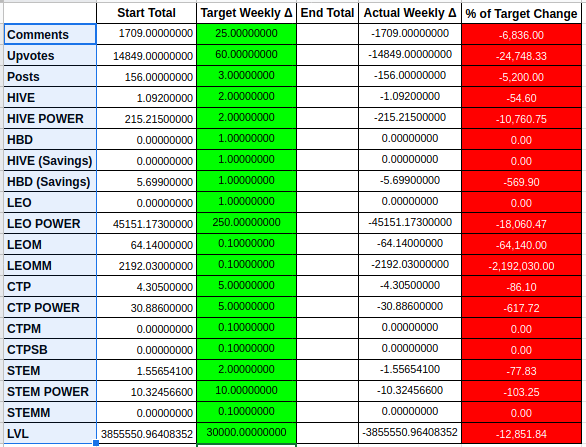 I have increased each target slightly from last week to ramp things up even more. Next week I will make some actual measured an thoughtful target changes after I see how this week goes :-)
Thanks for reading if you got this far. All praise and criticism is welcome.
See you next Sunday (no -- really -- I mean it)!!
---