15-11-2022 - Leo Power Up Day [EN]-[IT]
---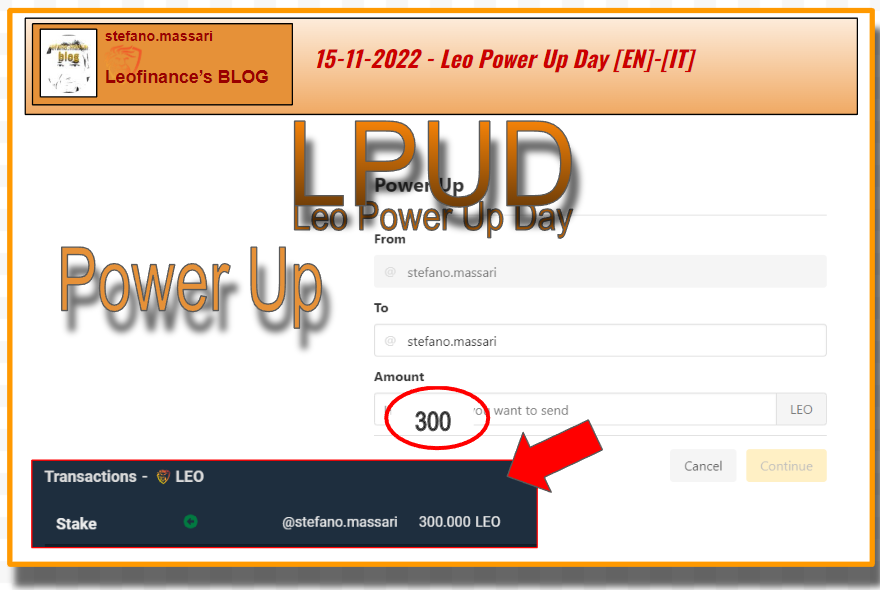 ---
~~~ La versione in italiano inizia subito dopo la versione in inglese ~~~
---
ENGLISH
Considerations
Today I participated in the LPUD with 300 LPs and this is my second participation in this event.
The fifteenth day of every month is Leo Power Up Day. On this day, the Leo Finance community moves and performs a general Power Up in a coordinated manner.
Leo Finance is a social platform built on HIVE blockchain that deals exclusively with financial topics. We can find information related to Bitcoin, Ethereum, DeFI, stock market, business news, blockchain and technology news.
The LEO token is a second level token and today 15-11-2022 its value is $0.057
Applications:
One of Leo FInance's applications that I find quite interesting is Leopedia, a kind of encyclopaedia of blockchain and cryptocurrencies.
Link: https://leopedia.io/
Another Leo Finance application is Leo Dex, a decentralised Leo Finance exchange.
Here is the link:
https://leodex.io/tokens
The LPUD countdown.
If you go to the Hivebuzz website (https://hivebuzz.me/), you can check how long until the Power Up. You have 24 hours to participate and you can only participate one day per month, this day coincides with the 15th day of each month.
Conclusions
Last time I had managed to make a Power Up of 80 LEO, this time I managed to reach the sum of 300 LEO. The Leo Finance platform is engaging me more and more and currently I consider it to be the leading platform where cryptocurrencies are discussed.

ITALIAN
Considerazioni
Oggi ho partecipato all'LPUD con 300 LP e questa è la mia seconda partecipazione a questo evento.
Il quindicesimo giorno di ogni mese avviene il Leo Power Up Day. In questo giorno la comunità di Leo Finance si muove e compie in maniera coordinata un Power Up generale.
Leo Finance è una piattaforma Social costruita su blockchain HIVE che tratta esclusivamente di argomenti finanziari. Possiamo trovare informazioni relative a Bitcoin, Ethereum, DeFI, mercato azionario, notizie di economia, notizie relative alla blockchain e alla tecnologia.
Il token LEO è un token di secondo livello ed oggi 15-11-2022 il suo valore è di 0,057$
Applicazioni:
Una delle applicazioni di Leo FInance che trovo abbastanza interessanti è Leopedia, un sorta di enciclopedia delle blockchain e delle criptomonete.
Link: https://leopedia.io/
Un'altra applicazione di Leo Finance è Leo Dex, un exchange decentralizzato di Leo Finance.
Qui di seguito il link:
https://leodex.io/tokens
Il conto alla rovescia del LPUD
Entrando nel sito di Hivebuzz (https://hivebuzz.me/) si può verificare quanto manca ancora per effettuare il Power Up. Si hanno 24 ore per partecipare e si può partecipare solo un giorno al mese, questo giorno coincide con il quindicesimo giorno di ogni mese.
Conclusioni
La volta scorsa ero riuscito a fare un Power Up di 80 LEO, questa volta sono riuscito a raggiungere la somma di 300 LEO. La piattaforma Leo Finance mi sta coinvolgendo sempre di più ed attualmente la ritengo la piattaforma principale dove si parla di criptomonete.
THE END
Posted Using LeoFinance Beta
---