💸💸💸Buy Risingstar NFTs Cards and Manage Staking
---
Hello to all Hive BlockChain Community Members!
Have a nice day playing Rising Star Game.
Rising Star Music Game is a Hive Game that we always play every day for Hive Game Players.
I pass the days easily while playing Risingstar Game. What do you think friends?
Today I bought some NFT Cards of Rising Star Game.
I would like to share the cards I purchased.
The first card was purchased from the CRAFTED Series. RSTAR P3333 Cards. Includes Luck 12.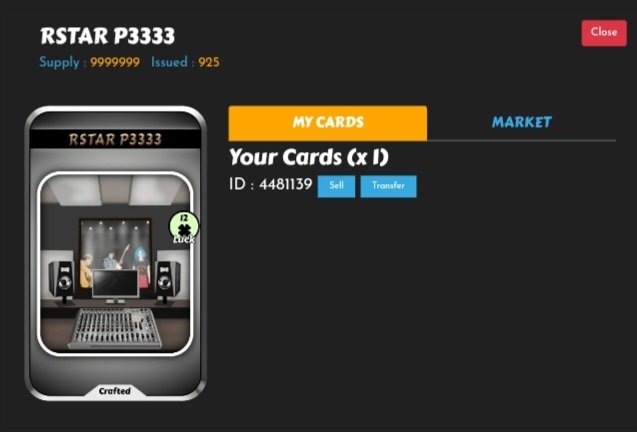 The second card was purchased from Records. A Funky Silent Night.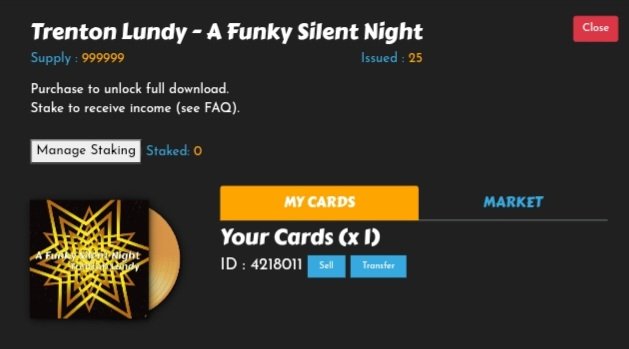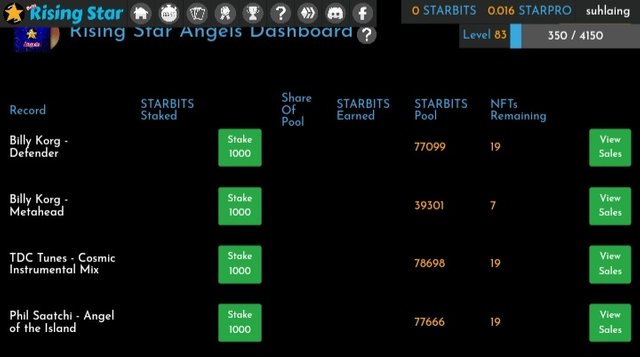 It is a card that can manage staking with Starbits from Risingstar. I still don't know how to benefit.
Friends, if you know, please share.
Friends, what NFT cards of Risingstar Game do you buy / sell? Please share.
May everyone be healthy.

Hive BlockChain Community Memberအားလုံး မင်္ဂလာပါ။
Rising Star Game ကစားရင်း သာယာတဲ့ ​နေ့​လေး ဖြစ်ပါ​စေ။
Rising Star Music Game ဟာ ကျမတို့ Hive Game Player တွေ အတွက် ​နေ့ရက်တိုင်းမှာ အမြဲတမ်း ကစားဖြစ်တဲ့ Hive Game တစ်ခု ဖြစ်ပါတယ်။
ကျမက Risingstar Game ကစားရင်း နေ့ရက်​တွေကို လွယ်ကူစွာ ဖြတ်သန်း​စေပါတယ်။ မိတ်​ဆွေတို့​ကော ဘယ်လိုထင်ပါသလဲ။
ဒီ​နေ့​မှာ ကျမက Rising Star Game ရဲ့ NFT Cards​အချို့ကို ဝယ်ယူခဲ့ပါတယ်။
ကျမ ဝယ်ယူခဲ့တဲ့ ကတ်​​​​​တွေကို မျှ​ဝေချင်ပါတယ်။
ပထမ Cardကို CRAFTED Series ထဲက ဝယ်ယူခဲ့တာဖြစ်ပါတယ်။ RSTAR P3333 Cardsဖြစ်ပါတယ်။ Luck 12 ပါဝင်ပါတယ်။
ဒုတိယ Cardကို Recordsထဲ ဝယ်ယူခဲ့ပါတယ်။ A Funky Silent Night ဖြစ်ပါတယ်။
Risingstarထဲက Starbits​နဲ့ Manage Stakingလုပ်လို့ရတဲ့ Cardဖြစ်ပါတယ်။ ဘယ်လို အကျိုးအမြတ်ရမယ်ဆိုတာ ကျွန်မလည်း မသိ​သေးပါဘူး။
မိတ်​ဆွေတို့ သိရင် မျှ​ဝေ​ပေးပါအုံး။
မိတ်​ဆွေ​တို့​​ကော Risingstar Gameရဲ့ ဘယ်လိုNFT Card​တွေကို ဝယ်ယူ / ​ရောင်းချပါသလဲ? မျှ​ဝေ​ပေးပါအုံး။
အားလုံး ကျန်းမာကြပါ​စေ။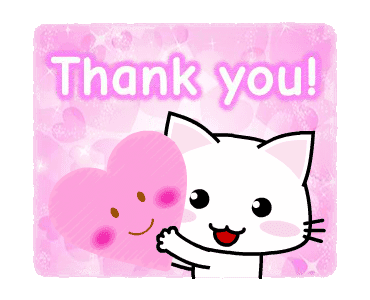 ---