My Hive Power Up Day 01 August 2022
---
What is Hive Power Up Day?
Hive Power Up Day happens on the first of every month. Those who are able to, take this time to power up some Hive, and/or cancel their power downs and pause trading/selling for the 24 hour span of the day.
The Hive Power Up Day (PUD) is taking place on the first day of every month and the next one of 2022 will occur today, on August 1st. On the 1st of each month.
Since power down takes 13 weeks, when you do a power-up together with the community as a whole, it's a great way to show support for our blockchain.
Today is my Sixth Hive power up day.
With my daily post pay out set to 50% HBD and 50% HP from December 12, 2022 on Hive, I was happy to try something from January 16, 2022 and started regularly moving my HBD down to Savings to earn that gives interest of 12%. But from April the interest rate is 20%. It required only 3 days to move it from Savings all the way up to Liquid HIVE.


Today I have only 18.906 Hive to power up.

** My todays HP is 772.901. I am going to powerup 18.906 Hive to HP.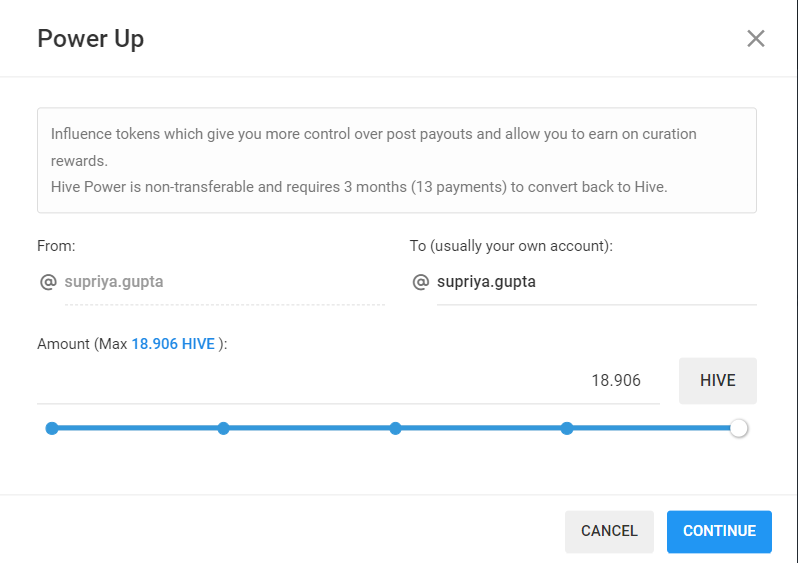 After powering up Hive my HP becomes 791.924 HP

Apart from powering up Hive, I also powered up Leo and CTP and Oneup.



After powering up Leo, CTP and Oneup


Thanks for stopping by.
Posted Using LeoFinance Beta
---