Boosters and Brawlers
---
There is just one day left in the Boosted VOUCHER drop that is emitted proportionally to SPS stakers at double the rate of the Presale, meaning that ~66K are being dropped daily. I am getting about 12 of these at the moment, which goes to show either how little SPS I have or, how much other people have. I don't feel like I have so little, but since 232 million SPS are staked, it isn't a huge comparative amount.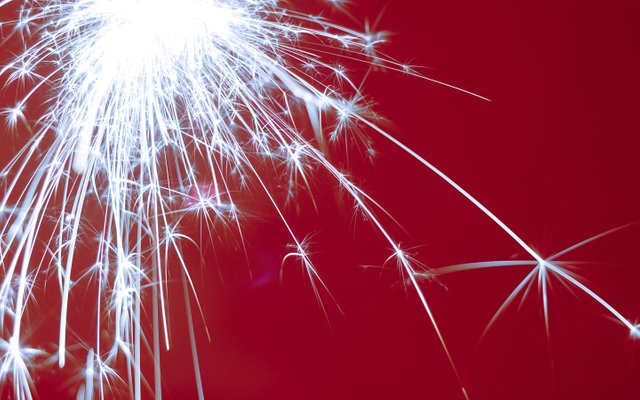 Give me a Boost
While the last boosted drop is tomorrow, 20K VOUCHERS will still be dropped daily to staked SPS, with them being needed if wanting to get bonus packs. For example, if a person is buying 100 packs in one go from in-game Splinterlands, they qualify for 10 bonus packs, but to get them, vouchers are needed. As the pack prices are $4 each, if the price of VOUCHER is less than 4 on the secondary market, it is worth buying 10 of them for a discount on packs - if buying in larger amounts during the general sale that is.

I have used some of my VOUCHERS already, but the last drop tomorrow should see me get over the line, to ensure that I have 400 VOUCHER to cover my expected purchase of 2000 packs at the open sale. This will mean my average pack purchase price is going to be $3.33. This is risky in many ways, as with the falling prices of cards, the value of the opened packs is often well below a dollar and I have opened quite a few where the market value is under 50 cents. This means that it might be better off purchasing individual cards instead of participating in the lottery of pack opening.

Drips and Drops
But, there are some other variables in this to consider also, with one being the cards that will be airdropped based on pack purchases (remember in-game purchases only - not secondary markets). The first round in the Presale of Doctor Blight was one for every 50 packs, but the next round is going to be one for every 300 packs. I am not very good at math, but I think that means that in this first round of drops (two cards included as they are released every million packs sold), there will be around half as many as there are of Blights.
However, I have also heard (and I am hoping it is true) that the first 24 hours of the open sale will be included in the pack count to qualify for the airdrop cards (can someone confirm this please?), so there might be a few more that go at that point. I think this is because of the "bulk purchases" that are being arranged by the game creators, as that will come out of the open sale packs and I assume are organized on the game side, not by the purchasers themselves.
The drop cards are a pretty big incentive and while there are far more than in previous editions, the expectation is that there are also going to be far more players coming into the game, meaning that scarcity still is an important factor. But, those players aren't here yet, which is why there is such a rapid decrease in prices of cards, as people dump what they don't want, for what they do. However, as more players come in and combination of cards starts to really happen, the scarcity is going to increase again on these cards too, just like it has in the past.
Many paths
Because of this, I am taking a bit of a hybrid strategy, as while in pretty deep already and getting deeper, I am hoping to get the packs bought so that I qualify for all future drops to a significant degree and, then start to pick up what I am missing for play from the market as individual cards.
In regards to investment strategy into Splinterlands, I am a reliant on the past of the game and, what people have told me about the future, as I have only got 6 months of experience myself. This is a financially risky move for me and might be very expensive, but if the game continues to grow, it should see a significant return in the future and people will be lamenting and reminiscing about the days where those crap cards were pennies on the dollar.
How low can you go?
What is good to remember is that Splinterlands cards are still a crypto like any other (in many ways) and therefore, can be thought about like those days of "dollar Bitcoin" or "ten cent HIVE". If you could go back to this day a year ago, you would have been able to pick up HIVE at 11 cents. That means that 1000 Hive would cost 110 dollars. That same 1000 today is worth 1640, so about a 1500% gain.
This is also a year ago: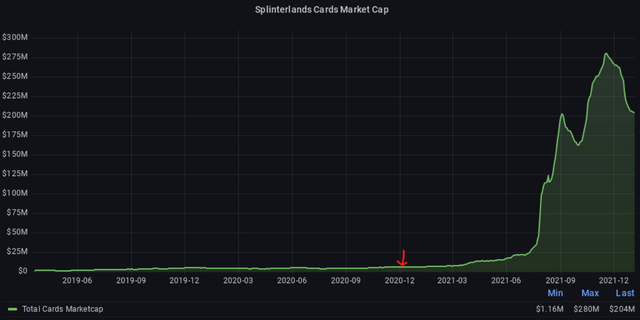 But even though I got in before that large parabolic price rise (about July), that doesn't mean the value of my cards have gone 10x in the last 6 months, because, I have DICE cards not the earlier releases. The majority of the value of the rise is due to the demand on the older cards by players like myself, who need them to compete. However, they are very high scarcity, so when so many new players came in with DICE, demand on old cards still outpaced supply. I am hoping that the same thing will happen with DICE cards, once the demand from players coming in with CHAOS LEGION releases want some more power - whether it be to play or stake to LAND.
Wakey, Wakey hands on Stakey
As said, Splinterlands cards act "just like any other crypto" in many ways, which means that they can be staked for a yield, which is essentially what LAND is going to offer holders. The difference being though, that instead of a largely useless yield token that does nothing, what asset owners will be yielding from their stake is, usable assets of various kinds that affect the outcomes of the game itself. This means that there are layers of utility that can earn in the cards to play, rent and stake, setting up tensions on the supply and demand.
If a lot of decent cards (collection power [CP] expected to be needed for LAND efficiency) get staked to produce additional assets, that means they are not available to buy or rent. This means that players will need to move to less CP cards, but will still need to fill the quota needed for their respective League. This means demand pressure on rentals should see rent value increase. But, depending on how lucrative LAND staking is, the demand to buy CP-heavy cards increases, putting price pressure on individual card value also.
But, on top of this, SPS will also be needed, DEC will be needed, VOUCHERS will be needed, but they aren't all needed by an individual account to enjoy the game, though some might be, for example some CREDITS to buy some packs or cards, or some DEC for rentals. But, the "full investor" is going to have a hard time keeping up with the ecosystem and it is likely going to be near impossible to optimize everything.
This is ideal.
Cannae do it all!
For real value to be spread, economic "inefficiencies" have to be achieved, where while there is better and worse paths to take, there are many paths and no one is able to really take advantage of them all equally. This leaves a lot of holes, where for example while a person is managing assets, they are unable to play their deck adequately, so they delegate it to a player who can play well, earn from it and, then split the takings. Or, while someone is buying LAND to stake on, they have to buy from someone who has cards to add to it, or pay for delegated SPS to maximize it. These "many tensions" creates a rich working environment where all kinds of participants can choose their own investment adventure through the Splinterlands.
Like anything, time will tell whether this is going to be a true success that survives long term into the region of decades, or dies in the space of a few years. But, while some people are umming and ahhing about what to do, others FUD and complain about current conditions and there is plenty of uncertainty surrounding all of it - there are sharks in the water circling, looking to take a bite out now, so that if that long-term success does happen, they are well positioned to be staked in the economy and then have more options as to how they continue to play the game.
Valued Feedback Loops
Now for me, there is more to it than Splinterlands of course, as I am also HIVE staked and stacked, with the value of my HIVE holdings well exceeding that of Splinterlands. But, this is another facet of my approach to the game, another variable complexity and I hope that each supports the other to create further demand and supply tensions internally and most importantly, from external entrants looking to see what all of the fuss is about. There are very few true crypto communities that are as rich in diversity as those on Hive and very few crypto games that have the complexity and support of Splinterlands - I think they work well together and the more this happens, the more value they will add to each other, not just economically, but also socially.
For many and me included, it is all very confusing to wrap the head around, so I will do what I can, as I can -
and hodl on.
Taraz
[ Gen1: Hive ]
Posted Using LeoFinance Beta
---