Increasing Combine Demand Restricting Future Card Supply
---
For those who don't know, at the end of a Splinterlands season (16 days), the league finishing position determines the EOS rewards, but more importantly now, it also informs the next season's starting league. For example, someone finishing in Champion League will start in Diamond, while someone finishing in Diamond will start in Gold, Gold to Silver, Silver to Bronze. This means that to "get back" to where one finished, it requires battling, as the final position isn't guaranteed.
But, there is no limit on the number of people who can get into a particular league, as it is determined by a point mechanism, so an account has to score enough points to qualify. However, it is getting harder and harder to get enough points now, which is due to the amount of competition that is possible with the new cards.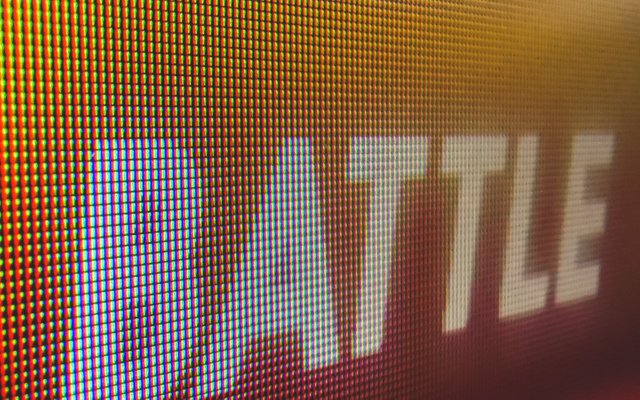 For me last season, I finished in my highest position yet, Diamond 1, which means that I started in Gold 1 at the start of this one. I battled for days to get back into Diamond, which isn't just because there are more people playing, but because more people are able to afford decent cards and, older cards too, since the price of rental costs are down. This means that it is a struggle to get through and I (not a great player) had to play hundreds of games to advance, as there are so many people battling at around the same level, meaning wins don't gain much, but losses can be very expensive in league points. I was in a constant loop.

However, once I was able to finally make it through to Diamond 3 (after about 4 days - I didn't play the first couple days at all), I was able to quickly move through and up to Diamond 2, because the competition thinned out rapidly. The difference is that in the Diamond League, MAX cards are usable, but in Gold they can't be used to their full potential in buffs and stats. This makes a huge difference, because for the most part, the rental markets have been largely optimized to create Gold level playing decks, but MAX cards are far more expensive.
But in Diamond, MAX matters for example: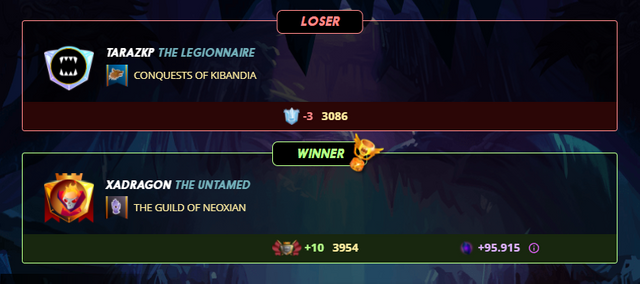 https://splinterlands.com?p=battle&id=sl_706eedd7a8db15024e80d8d006dba291&ref=tarazkp
This is a loss against one of the best players of Splinterlands who absolutely caned me, even though we have a relatively similar setup. The major difference is her Maxed Xenith Monk that has Magic reflect and Queen Mycelia that has "rust" to take away shields. I still would have lost as I had no magic reflect myself and she played all magic, but these small differences make a huge difference in outcomes. Note the difference in points - while I only lost three points, XA (she plays several accounts), she only gained 10, because there is a 900 point difference in League points. One of these days I will beat her -
and it will cost her!
But, I think that because of the difficulty of Gold, the relative easiness of Diamond, there is a *massive incentive to make it into Champion League, so as not to drop back to Gold and lose the buffs in a massive soup of players. But, because of this, the potential for rental cards changes too, where while most people look to rent Gold level cards, there could be an increasing demand for Maxed cards.
Hmm, this is interesting, especially in regards to the release of 15 million (eventually) Chaos Legion packs, so 75 million new cards into the supply. But, the league demand will likely affect the supply. For instance: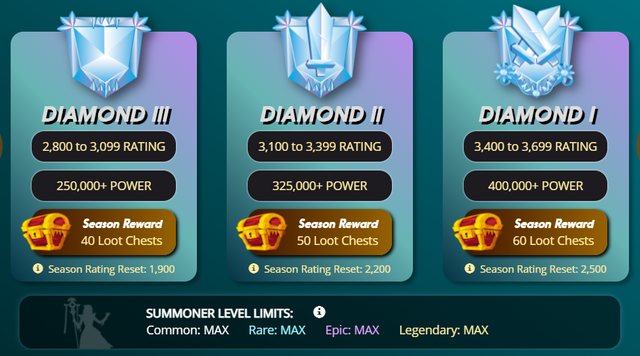 Diamond, all can be maxed.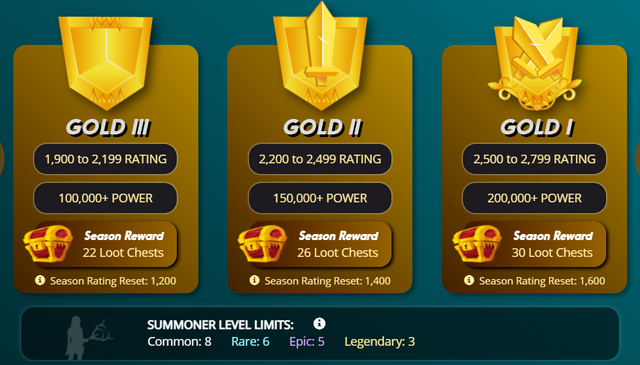 In Gold it is Common L8, Rare L6, Epic L5, Legendary L3.
Silver level:

Bronze level:

The card difference is quite severe on the supply.
Common Cards

Rare Cards

Epic Cards

Legendary Cards

So, for those who rent, they will notice that Level 1 cards don't rent very well and are extremely cheap, because bronze can take higher and, people want the highest cards they can get. But, for example for a common card, it is a move from 1 card to 14 cards. But, to go to a Silver level common card, it requires an additional combination of 46 more cards (total 60) and then to Gold, an additional 160 cards for a Level 8 - then for a max common, another 180 cards to move from L8 to L10.
This means that for the people who don't want to struggle for days in the gold leagues to get to diamond, they are going to want to try to touch into Champion League 3, which will require MAX cards. The more demand on Max cards, will see there value go up relatively in BCX rental price and therefore, more people will be incentivized to combine for rentals too, not just to play.
For every in-demand common card for Diamond and Champion Leagues, it will take an additional 45% to combine from 220-400. This obviously reduces supply, which effectively means for every L8 to L10 - The L8 that gets combined is taken off the market, but also, an L7 and an L4 are taken out of the supply and will never appear there again either - as once combined, they are combined for "life".
For every Rare card going from an L6 to L8 - The L6 is taken off, plus a potential L5 and L3.
For every Epic card going from an L5 to L6 - The L5 is taken off, plus a potential L3 and L2.
For every Legendary card going from an L3 to L4 - The L3 is taken off, plus a potential L2 and L1.
This makes for an interesting dynamic for supply and while prices are currently falling for cards and rentals as more cards are added to the supply, as more people can compete in higher leagues, there is more incentive to go higher again so as not to drop back. With the lower prices on the cards and rent, this will create demand for both and effectively force more combinations of cards to compete, which will lower supply of the cards again, pushing rental prices and card values incrementally back up again.
Obviously, this doesn't happen overnight, but as people are incentive driven, more people will be making the decision to try and compete in higher levels, because not only is it "easier" in many ways as there isn't the struggle through the crowds, the DEC rewards and number of loot boxes are higher also. While DEC is down in value and the rewards in the boxes seem insignificant, as these combinations start happening, the value of those cards increases again, backdating to all rewards cards gained in the past - something that Shouldn't be lost on the people who have been playing a long time for rewards, as they have seen first hand how some of those "worthless cards" have appreciated in value.

While there are 27,531 Furious Chickens (a reward card) in circulation, there are only 113 of these cards (in various combinations on the market to buy and the cheapest maxed version is going to currently cost $1049 dollars - And single card is almost 30 dollars. However to rent a maxed card which is suitable for Diamond+ it is only 32 DEC a day, An L6 for Gold is 24 DEC, an L4 for Silver is 15 and an L2 For Bronze is 25. So, it is *cheaper to rent for Gold than for Bronze - strange, eh? Even an L1 chicken which is not optimized for any league is almost 4 DEC a day.
Now, I don't know if it is going to pan out this way, but I figure that unlike in the past, because of the rental market now and the incentive in both rewards and convenience of upping the league, combinations are going to become increasingly common and especially in the new CHAOS LEGION cards, which while there is a massive amount more supply than there was, it is going to get drastically reduced due to gameplay. This affects the card prices and the rental values in the long term view, with that "long" not necessarily being that long at all. Eventually, a new equilibrium will be found, with more people looking to up their league, putting demand pressure on higher level card combines.
My current frustration and the hundreds of games it has taken me to get into the Diamond league, is a good thing for the game and for the investors, as it is going to affect the way people play and what they are willing to pay, as there is an play-to-earn model and a *pay-to-play model going on concurrently, with various tensions of reward, incentive, return and other factors all complicating the dynamics.
It is going to be interesting to see how all of these factors, including LAND to come are going to affect the combinations, and therefore the supply of cards and what the "final count" of the 75 million CHAOS LEGION cards will be in two years from now, as well as the reward cards that have a high print rate, but are already getting combined rapidly due to falling price and growing need.
These kinds of factors and considerations are definitely part of the fun of Splinterlands for me - but hopefully I can make it into Champion 3 for the first time this season, so I don't have to spend 6 days struggling through Gold.
It's a Battle on many levels.
Taraz
[ Gen1: Hive ]
Posted Using LeoFinance Beta
---