You've lost that market feeling
---
Feeling it yet?
I knew this photo of my daughter would come in handy.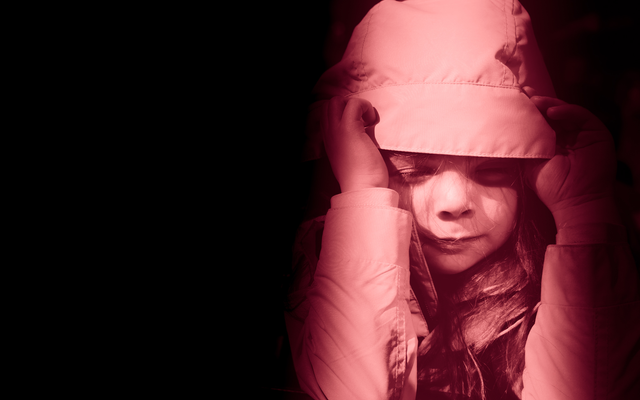 Some are calling for 2025, so -
what are you going to do til then?
Three years is a very long time.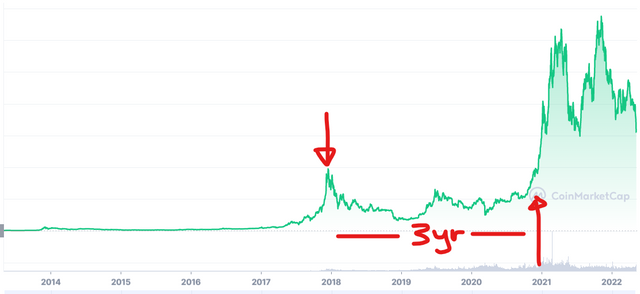 Unless you are already old.
You know how time goes faster as you age? That is because our experience of it works based on what we know, so for example, three years for my daughter who isn't quite six, is over half her age. For me how ever, it is less than 7% of mine.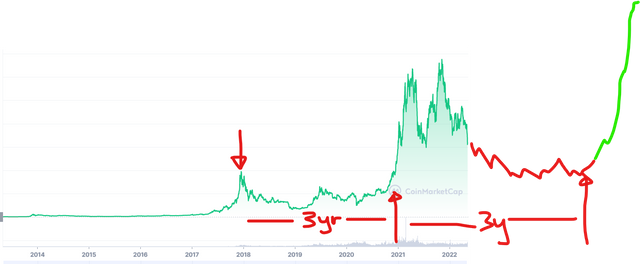 In the meantime, I suggest getting a job. Not just to make ends meet with rising inflation, interest rates on debts and a whole lot of geopolitical uncertainty - though that is of course necessary - but because if you are serious about wanting to benefit big from crypto, this might be your last opportunity - or are you going to wait six years?
Let's say the bottom of BTC is going to be 20K (which was the previous high), the lowest low between was about 3500, before it moved up to 67K. That took about 3 years and perhaps if you were on the ball, you might have caught the 2020 5K dip also, which is a decent entry. But, where do you think your personal finances are going to be at that next "lowest low" - how much can you afford?
The 1 BTC price at the lowest low in the last bear, would only buy 0.175 BTC if the next is at 20K and, 20K is going to seem very cheap, isn't it? However, how much have your personal finances changed in the last 3 years since, are you earning 6x as much? Probably not on your job at least.
However, if this is the bear and you don't take the opportunity in the next three years, what are your finances going to look like at the "next, next low"? What will that low be?
While it is not impossible, I don't think we are going to be seeing 10K again, but that is already 3x the last low and how many people were willing to put 3.5K in for a full BTC? Did you? How many of those same people are now prepared to put in 20K, or even 10K?
Unlikely, huh?
So, if that ridiculous future happens and Bitcoin on the next run hits 100, 150, or 300K - are you going to benefit from it or, are you going to be in a similar position you are now, or were at the last high?
I suspect that most will be in a similar position.
It is far easier to say you are going to "buy the fucking dip" than to actually buy the fucking dip, isn't it? And when that dip really arrives, people will hesitate and find any reason not to buy. But, for those who are consistently buying, up, down, sideways or backwards - they are going to be up whenever the price is above their average and the expectation is that eventually, that price is going to be ludicrous.
Anything can happen though.
But, this is also why it is a good move to continuously buy small amounts, rather than spending large amount every now and again, because small amounts are easily absorbed, large amounts are felt and often impact on living conditions that month, or that quarter. But, either way, the money has to be available to spend and lock away for an extended period of time. An indefinite period of time.
So, what will you do in the meantime?
Learn to earn. Consolidate finances. Improve financial literacy. restructure debts. cut back on unnecessary expenses. Learn to save and, learn to spend savings on what has the potential to generate value, not dispose of it.
Get a job. Another job.
Find ways to be able to earn and put extra away and most importantly, be prepared to invest it and consistent in your actions. You might not be where you want to be today, but in three years from now, I really hope that you are a hell of a lot closer and glad that you recognized,
It wasn't that long after all.
You can stare at the charts all you want - the markets will do what the markets will do. What you do in the markets however, that is up to you.
Taraz
[ Gen1: Hive ]
Posted Using LeoFinance Beta
---