Bitcoin Pizza Day And Its Significance To Crypto As A Whole.
---
Today marks 12 years since the first real time Bitcoin transaction took place when Laszlo Hanyecz, the Florida based developer bought a box of Pizza with 10,000 Bitcoin worth around $41 at the time. The Bitcoin spent on a box of pizza on 2010 now worths over $300 million that's also why this day is quite historic in the crypto world. It has been 12 years since that event took place and the crypto world has changed so much.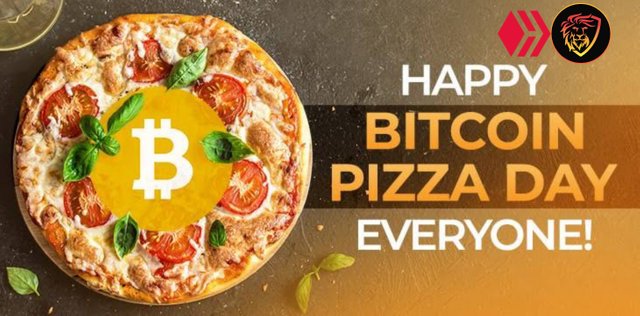 Image Source
This day is special and commemorated by the crypto community for so many reasons. One is because this day marked the first time Bitcoin was used as a transaction to buy something in real time. This event broke the barrier between cryptos and real time events and showed the possibility of transactions using cryptos.This day is also quite important to the crypto community because it is a reminder of how the value of Bitcoin as a cryptocurrencies and the value of the cryptocurrency industry has gone far beyond the imagination of most people who were involved in cryptos 12 years ago.
Laszlo Hanyecz, the guy who bought the Pizza has been regarded as one of the most important figures in history of Bitcoin and the crypto world as a whole not only for his purchase of a box of heaven but for his contributions to the development of Bitcoin in its early stages like being the first developer to release the Bitcoin code for Mac OS and the transformed the Bitcoin mining landscape
Yeah, we can agree he'll probably have found another option to purchase the box of Pizza or stay hungry if only he knew how much Bitcoin would be worth today, but while we wait for a time machine, it's best to know he's a Bitcoin whale and one of the most influential crypto personalities in the world. His actions have contributed to what Bitcoin is today and what the cryptocurrency industry could be in the coming years.
---