How to earn crypto in a Bear market ?
---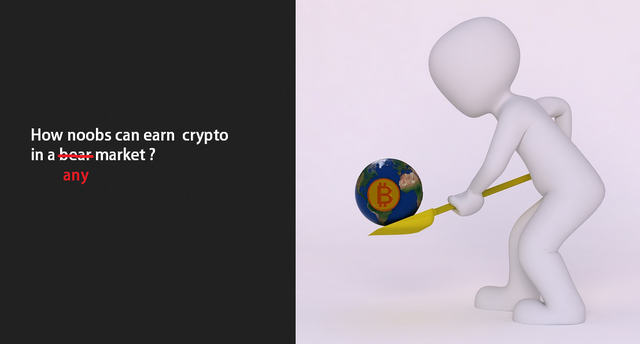 Do you want to earn crypto money in the bear market ?
Well you are in luck for we are in the middle of quite a severe crypto winter or a bear market as it is called.
That being said you would be surprised to know that it is relatively easier to earn crypto in a bear market then a bull market.
Why is it easier to earn crypto in a Bear market ?
A bear market typically means that the prices of various cryptos are depressed.
What this means from investment point of view ?
This means if you invest $100 during a bear phase of the market you would get more crypto as compared to the bull phase where the same amount of money that is $100 would get you less amount of crypto.
With BTC at $19140, $100 would get you 0.005223 BTC
While if you has put $100 into BTC when BTC was at $69045 (~ATH Price)
you would have got approx 0.00144833 BTC
How the price of crypto matters in terms of its fiat valuation ?
Suppose you take up a job assignment which would get you $ 100 worth of BTC
In the current times and rates you would get 0.005223 BTC
However the same assignment at ATH BTC price would have got you only ~ 0.00144833 BTC
Though both may seem to be tiny fractions of a number however the bear time valuation 0.005223 BTC > 0.00144833 BTC by a substantial amount.
A 0.005223 BTC added to your crypto balance takes you that much closer to 1 whole BTC then adding 0.00144833 BTC
With a crypto like BTC these fractions matter a lot and do add up to make a little fortune.
There is less frenzy and less FOMO in the market. The prices are not over heated and no mad rush to acquire crypto.
These conditions can go in your favor if played right and help you in your journey of acquiring crypto.
Here are a couple of things you can do to earn crypto in a bear market. However they still work during a bull phase.
for a lot of novices who have no money here are a few things they can use to get started with minimum or zero investment.
Once they begin to accumulate some crypto I would list the methods where you earn crypto with crypto.
The no initial money methods are as follows.
Play a crypto faucet
A would say being in the crypto space is all about discipline, diligence and seizing the opportunity.
Playing a trusted every day or every hour helps you build a rigor towards your goal of getting a sizable amount of BTC or other crypto.
The first crypto faucet that I remember playing way this one It still runs and gives you a chance to win a couple of hundred worth of BTC every hour.
In the bear phase of the market the rewards from the faucet are relatively more then those When BTC prices are up.
Another very reliable site called cointiply can be found here
This site offers you tons of ways to earn crypto. You can earn crypto here in multiple ways like
playing the faucet
taking Surveys
Playing games
Installing apps
Completing task from the wall and many more
The good part is that it pays out in BTC as well as Doge coins.
It is relatively easy cash out every few days as the payout threshold is low and so many different activities help you grow your balance rather quickly.
Play games to earn crypto (Most games you can start for free however you may need crypto to build and grow your account)
There are plenty of games in this category. However talking of reliability of payment and a constant demand many people would vouch for Splinter
As a game they play2earn.

Earn crypto to walk (No capital needed)
A lot of move to earn app in the health and fitness sector have come to the scene which reward you for doing daily physical activity like walking.
You can earn crypto for walking by installing a step counting app from here
I have done a detailed post in this regard here
Earn crypto by blogging (Zero money needed to begin)
Platforms like hive, Steem, Publish0x.com are great place to blog and create interesting articles.
Earn crypto by creating short twitter type messages (Zero money to start)
If long posts is not your thing then try the leo threads on leofinance.io it is the go to platform for creating interesting and interactive twitter like messages and posting on the threads on leofinance.io
Each message you post is referred to as thread and in response to your message the likes and up votes you receive gets you crypto rewards.
Airdrops (Zero money needed)
Here you would need to have social media accounts like twitter, Facebook, Instagram, telegram youtube etc.
If you choose twitter you can follow the #airdrop hash tag.
similarly there are groups on Facebook, Instagram etc. which enlist ongoing airdrops.
This method require some effort and some time.
Though you need to develop an eye for spotting fake airdrops.
One done you are sorted.
However remember that not all airdrops would make you rich or be rewarding.
However if you keep at it the crypto money would happen.
Do ensure that you double check the authenticity of social media accounts before you participate in an airdrop.
Genuine crypto, blockchain or financial services based accounts have a blue tick mark next to their handle on twitter.
Another thing to note is the number of followers.
By the time a genuine project is in a state to do an airdrop it usually has not just a tick mark but also hundreds of thousands of followers.
Earn by staking (Requires some initial crypto)
POS or proof of stake coins can be staked and earn you a APR which is displayed in advance.
Another flavor of staking is pool staking where you add two crypto assets into a pool and once you do it you earn a staking pool reward that usually comes from the fee generated anytime a user interacts with the pool and makes a deposit or withdrawal.
Conclusion
I have listed some of the easy to follow methods that can help a new person start earning crypto with out any initial investment.
This is a low risk approach and requires some time and luck to accumulate crypto.
Once you have some crypto in your wallet you can use it like the initial capital for pool staking.
This way your risk exposure would be minimum.
Please ensure that once you start earning crypto it is very important to take regular profits as crypto projects are cyclic in nature and you might experience that one day your crypto is worth a lot of money and then the market corrects and erodes the value of your portfolio.
Posted Using LeoFinance Beta
---