Getting Ready For New Splinterlands Reward System
---
Hi Everyone,
If you have been following my blog for my Splinterlands journey, I have been slowly buying cards weekly to keep up with my CP plus the slow accumulation plan I've started this year. My aim is to slowly increase my card collection to collect rent plus the bet on the prices of cards to increase when the land comes out. As the current reward system has flaws, recently the team has announced the new structure and it is definitely favouring those who own the cards over those who are just using fantom cards to play for rewards. Of course, once the announcement came out, the prices of cards have shot up including the current reward cards so I guess people are getting ready. I took the opportunity to upgrade a few more cards in prep for the new reward system and hopefully, this will be a good investment and pay off in the long run for me.
Spirit Hoarder is one I've been always wanting to upgrade for a while. I was lucky to get 6 of them earlier on but I didn't want to combine all of them yet as I don't see myself using it all the time plus the single card price has been pretty steady so thinking I should keep them as is. But when I saw the prices of them were coming down to around $6.20, I knew this was my chance so I bought 3 of them and combined the others so now it is at level 3, ready for game play. Just looking at the single card price, it is back at $10+ so I guess it was a good buy after all.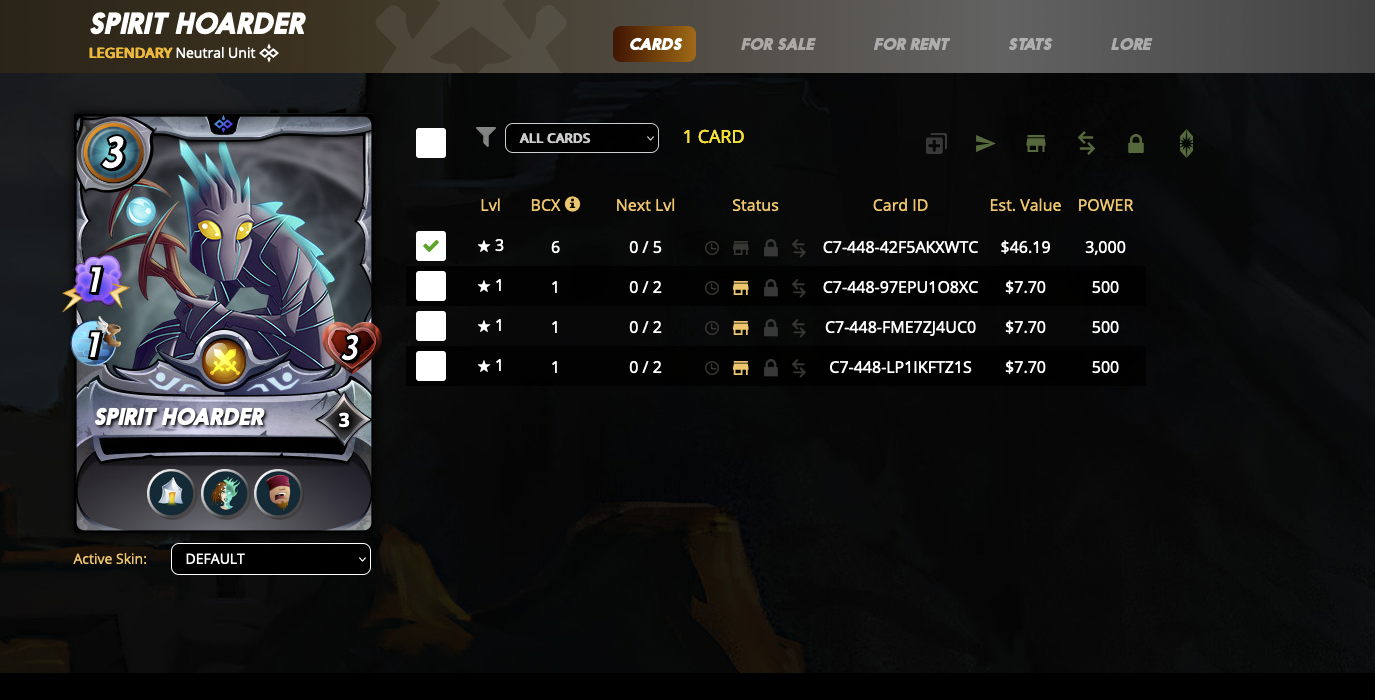 The new one I ended up buying was a level 5 gold foil Chaos Knight. I really wanted a level 6 or 7 but at the time, the level 5 was only $4.70 which was way cheaper than buying them separately and combining them so that would have to do for the time being. If I had to buy the single cards now and combined them, it would cost me $8.50, so getting it 50% of the price isn't too bad. I love gold cards, they give you an extra 10% DEC bonus for wins so well worth the price.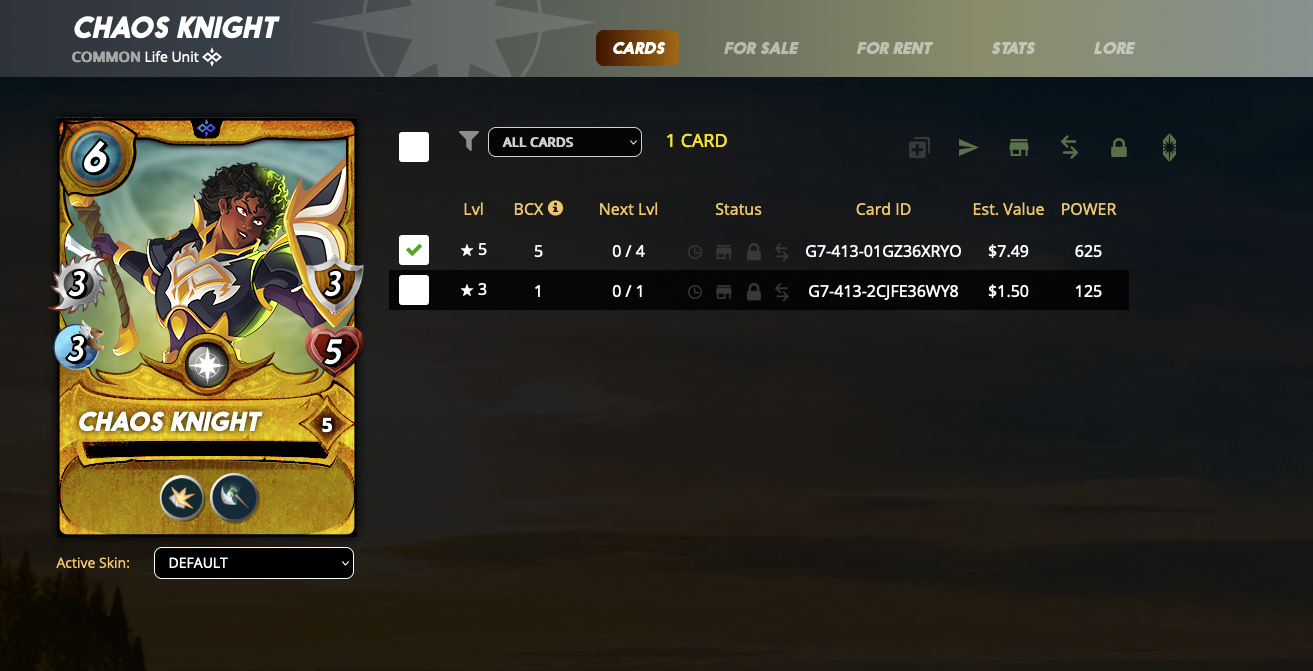 Finally the reward card Venari Bonesmith from level 4 to Level 6 due to the lower prices of single cards from the market. I bought a whole heap of the single cards over time and having a look at what I'm lacking in the collection, this one is due for an upgrade. It won't be one that I will be selling, anything I upgrade will be purely for personal use, and hoping that I would be able to maintain my Diamond 1 or 2 levels to get some nice rewards under the new reward system. I am always on the lookout for more cards to buy but with the current situation, the prices of cards have gone up 50% or 100% for some which are good in a way for those who have heaps of cards but sad for those like me who have yet to accumulate enough from those low prices.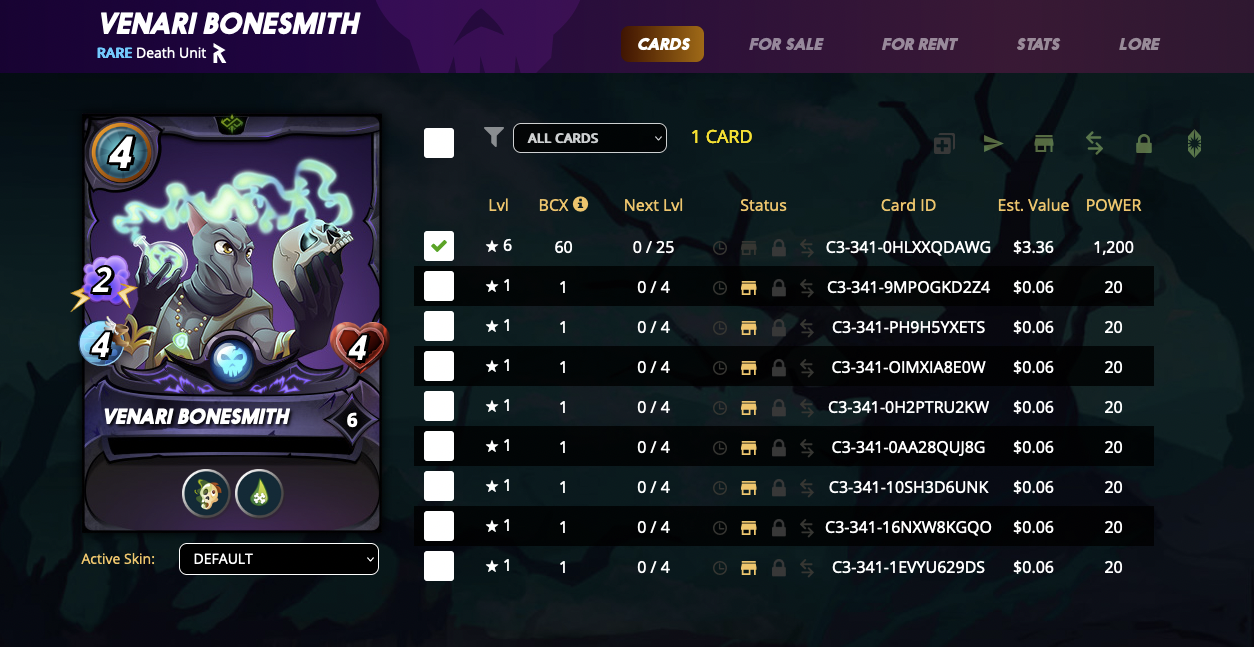 Source - Splinter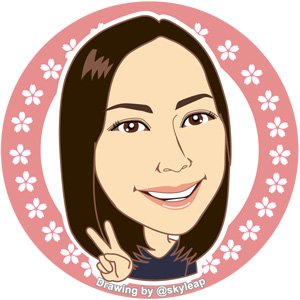 ---
Thanks for reading. If you like my post, please follow, comment and upvote me. There will be more exciting posts & destinations to come.
All photos & videos are taken by me & co in all my blogs/stories unless quoted.
Posted Using LeoFinance Beta
---