SBI Giveaway #5! 30 SBI Worth of Prizes!
---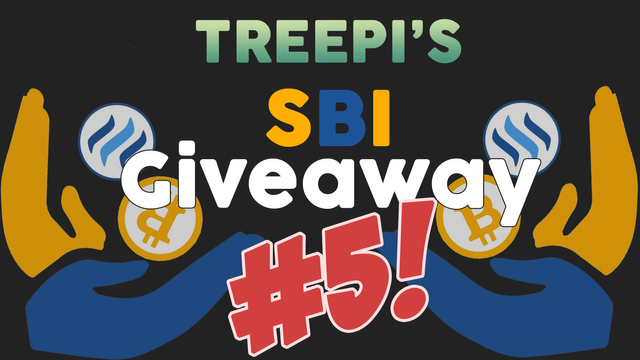 SBI Giveaway #5!
Welcome! This will be the 5th installment of my weekly SBI giveaway! The rules for being entered in this week's giveaway have changed a little bit. So, be sure to read them or else you will not be entered in the drawing! Many people have failed to follow all the steps in the previous weeks and I am now verifying every entry so it is fair to those who do follow the rules.
How to Enter
Resteem and upvote this post.
Leave a comment here when you have done that so I can verify the rules were followed.
Thats it! Winners will be chosen randomly at post payout! I will make a video while picking the winners as I did with the last 4 giveaways.
Prizes
I have increased the 2nd prize from 5 SBI to 10 SBI!
1st prize - 20 SBI
2nd prize - 10 SBI
Good luck to all who enter!
Congrats to @golddeck and @bitandi who won my last giveaway! Hope to see both of ya'll here again!
Also, if you have time, check through some of my affiliate offers below! They are all services I use myself and if any of them pique your interest, give them a try! It will help support me and these giveaways a tiny bit! :)
And finally, thank you to previous participants. I will tag you all in case you want to enter again!
@qwerrie @sunravelme @golddeck @bitandi @monsterbuster @gramesh @yorra @kelpy @parth7878 @issymarie @barmbo @investinthefutur @kirstin @wanderingmoon @dragonblades @threejay @travoved @blog-beginner @gamemods @eli @richatvns @lesmann @contrabourdon @eng.ramy @yorra @dromihete
---
Support
Support me by donating or using an affiliate link before. I only post affiliate links for products/services I actually use and endorse personally! No spam or crappy services.
ChangeNow - Swap over 180+ cryptocurrencies INSTANTLY!
Lolli - Earn BTC as cashback while shopping online! $10 Bonus with my link!
Binance - The best place to trade/buy BTC, Steem, & other cryptos!
KuCoin - Another great exchange that offers many coins not found on Binance.
Coinbase - The best fiat-to-crypto on ramp. Get $10 bonus with my link!
HoneyMiner - An easy and simple way to mine BTC!
BTC: 13ymKo2NDKnfYQcH13aKv5HaAnCPrAa7Vx
BCH: qrayawp5zgemg9judwjfvkhr7nvfudrrg5g4t0zlrx
DOGE: DAp31VrRfZVJxYkCpx2yk5ckWF312sDLb2
ETH: 0x256E202Dd9c87F5d19000173fa29E6dC3fac4637
XMR: 4B7YCMkMhkpfH1zcZ5fMcsVFBGFT8uhZ2bxRBWAGDq2jVT6REjedbTUCGqp2ihkf1F8DNHY5hkvxNcjrby33JPMJFM6Hq4N
I'm always looking for new projects and collaborations. If you are interested and would like to get in touch with me, please do so via Loki Messenger using my public key: 052825837b9e8932e614b3195afba511dcdcb8de27ca30202840388ec8f14c6328
Or Discord: treepi#7668

---