Splinterlands Basics #1 Battle Mechanics
---
I thought I'd make some posts about the basics on how Splinterlands works. Because we are always getting more users who are super confused about the game.
I want to talk about. . .
Battle mechanics
Quests
Card Combining
DEC
Market
(Maybe I'll add/remove something from this list, and maybe I'll combine some into one post)
I won't go too deep on these topics, because I want to make fairly simple guides for new users.
Battle Mechanics
From the top menu you want to go to the BATTLE! tab.
This is where you will be spending most of your time.

Under the battles, there are 4 modes (Ranked, Challenges, How to play and Practice)
You will 99,9% of the time use Ranked mode. There is no reason not to play ranked mode, unless you are too drunk to even see your monitor.
Ranked mode is where you can earn DEC, and Quest Rewards.

This section is where you can see what quest you have to do, or how long until the next quest.
This is important, because most of your income from Splinterlands will come from completing quests.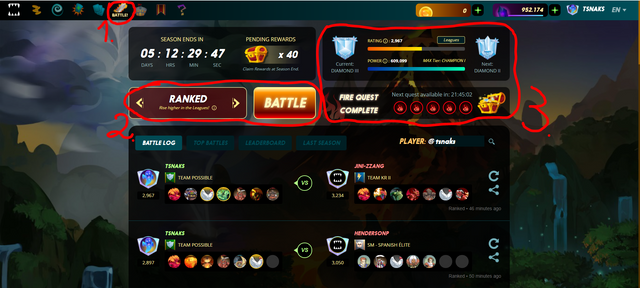 Once you click BATTLE
You will start seeking for an enemy.
Once you find yourself an opponent you will see information about the upcoming battle.
On the top is less important information (Your opponents name, and their information)
On the bottom you see the Rules, Mana Cap, Splinters and Timer. Which you can still see after clicking "Make Team" (Unless you are a coward and will choose to Surrender)
So don't spend much time on this screen.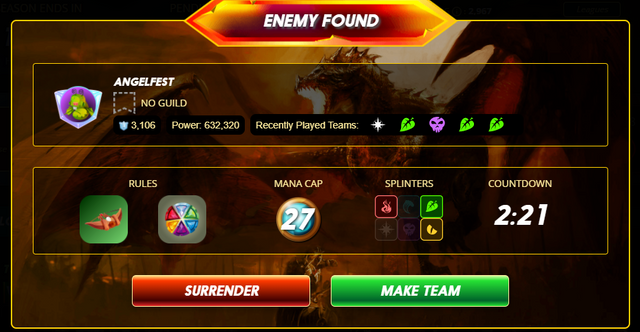 Next up you will meet your summoners.
Summoners determine which Splinter monsters you will be using. (Neutral cards can be used with every summoner)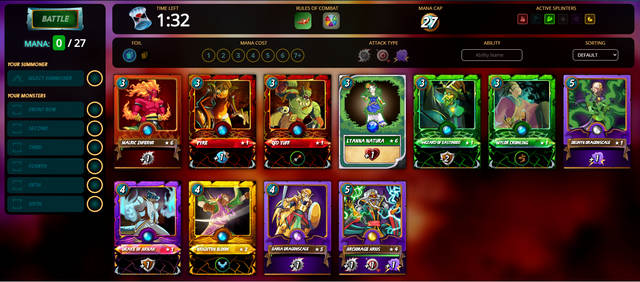 Before choosing your monsters, you need to know some basics.
There are 3 attack styles in Splinterlands (Melee, Ranged and Magic)
Most Melee monsters can only attack from the Front Row and nowhere else. (Unless they have an ability that says otherwise)
Ranged monsters can attack from everywhere other than the Front Row. (Unless they have an ability that say otherwise)
Magic monsters can attack from every position.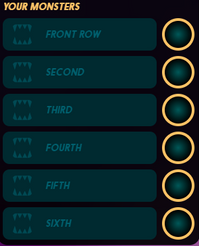 Now you will be choosing your monsters you want to send out onto the field.
First you want to acknowledge the mana cap. which currently is 5/27 (5 mana was consumed by the summoner)
You always want to use up the maxiumum amount of mana given to you.
Make sure you read the Rules of Combat, as they change every battle. (By hovering your mouse over them)
You can also hover your mouse over the monsters abilites to read what they do.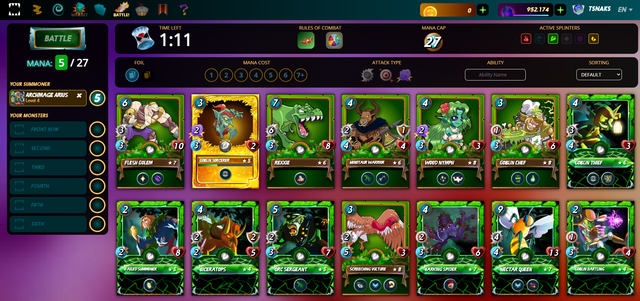 Once you've submitted your team to Battle, your job is done.
Now all that is left to do, is to watch the battle and hope for the best, as your monsters to the battling for you.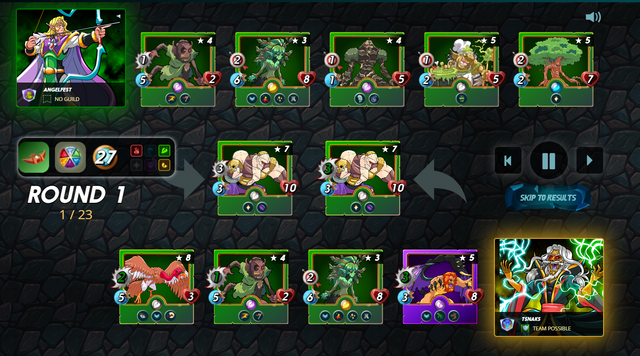 after the battle you will see the Battle Results
Here you can see how many trophies you won/lost and how many DEC the winner gained.
(Only the winning person will recieve DEC)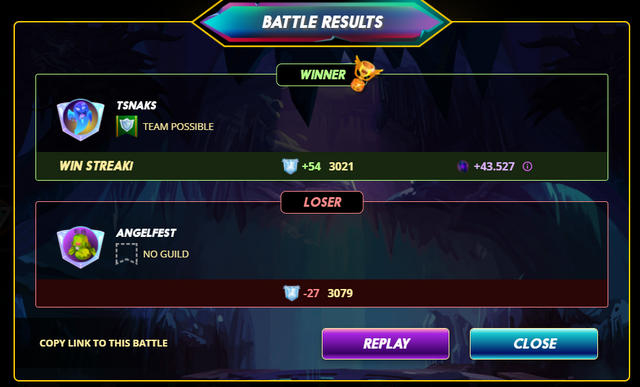 Thank you for reading my post.
Join Splinterlands Now!
---