April was Hard on My Goals - Looking forward to a Powerful May
---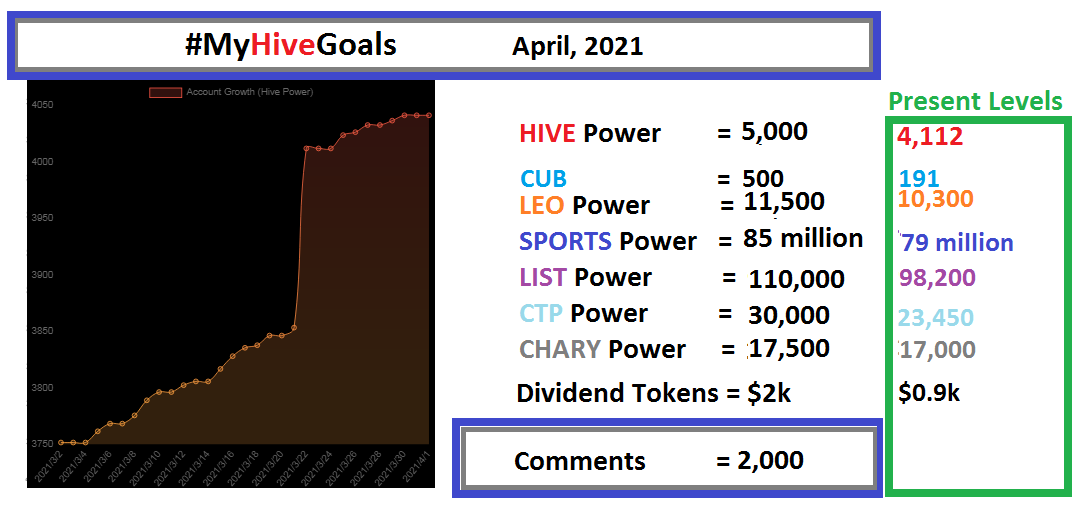 He friends, I never thought I'll stay for two weeks without posting on Hive but it happened and lo, no regrets, it was all for good. Some off-chain projects I embarked on ha so consumed my time and needed my apt attention. Will share details with you soon. What's happened on Hive over the last two weeks and what were the new additions to the system?
Glad to see my friends @Jongolson, @ph1102 and others scaling with their #hivegoals and I'm sure I'll join the cruise and make it better in the month of May 2021. I was literally unable to hit my targets for the month of April since I had to make some withdrawals to fund my ongoing project that requires a chunk of funds. Thanks to auto curation that at least helped me to stay abreast with some token earnings while away.
Looking at #MyHiveGoals foe April 2021, I could only boast of 10% actualization of the goals. No regrets, we'll make up and move forward on May even beyond the goals we did set for April. Areas that I'll really love to up my game is on engagement. 50 comments per day should be my daily baseline. On good days, scaling for 100 to 150 comments is what I'll venture to. I believe that 2k comments per day is possible and that on many frontends.
A shoutout to all my friends and followers that missed my contents over the last two weeks. I'm back to thrill you all with my motivational piece and much more. We can only get better. May promises to be great and that the middle of the second quarter. I'm trusting that many projects that were billed for Q2 would begin for roll out.
My promotion of Hive and the Hive communities I represent - @LeoFinance @Sportstalksocial @Hivelist @Clicktrackprofit @Chary @NeoxianCity and @Creativecoin will scale out in top gear. We want to make it big and my intention is to bring in some more investors that can pool at least $2k into Hive. I go for young people and I love that class with a bid to help each one stand to become financially free.
As for my stakes on LEO, SPORTS, LIST, CHARY, CTP, and CUB holdings, they are billed to grow in the coming month. My target is to hit a $30 daily curation rewards for all the tokens put together, not minding the price of HIVE. Let's do it.
Posted Using LeoFinance Beta
---