How to wrap HBD into pHBD for pHBD-USDC PolyCUB DeFi Pool
---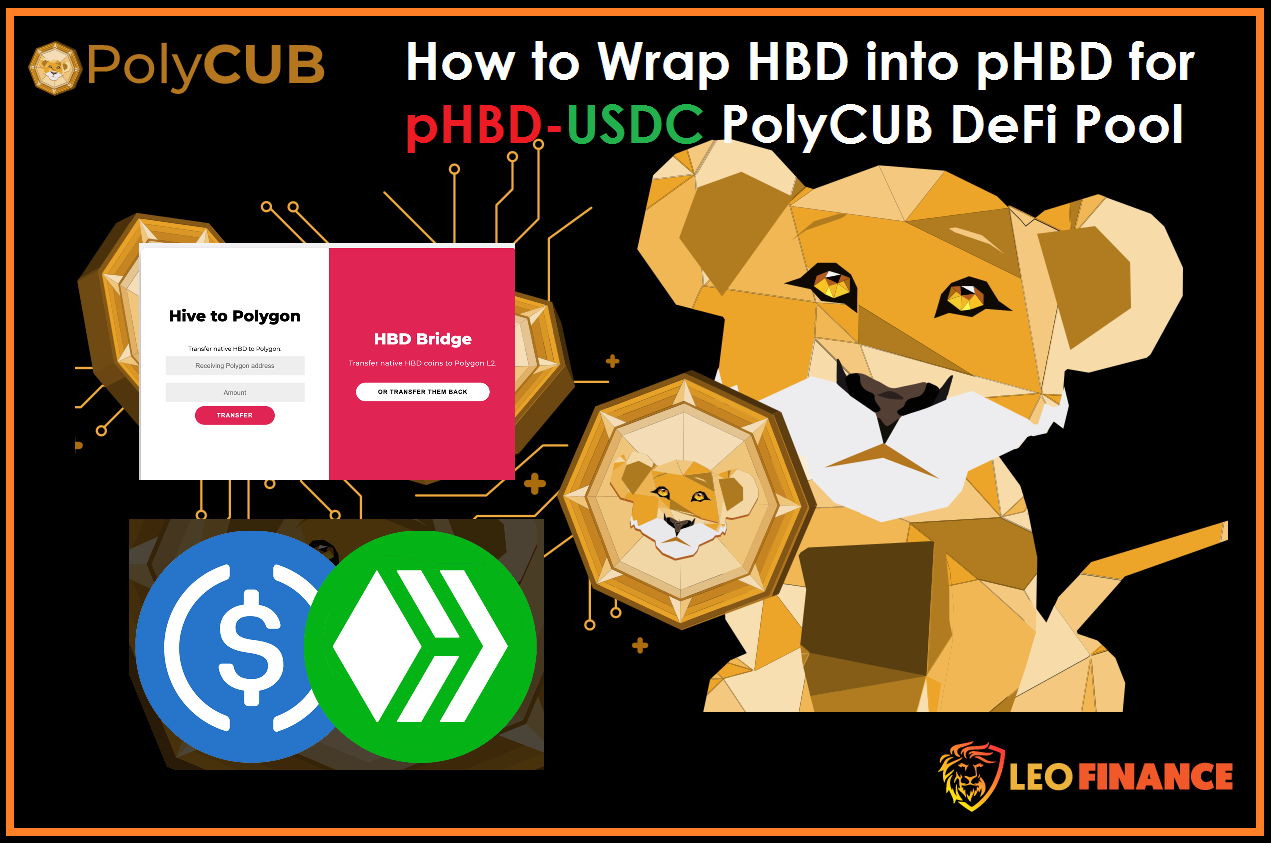 The long awaited pHBD-USDC pool on PolyCUB farms is now live. This is LeoFinance's latest novel crypto-finance service aimed at providing deep liquidity for the the longest-standing algo-stablecoin known as Hive-backed Dollars (HBD). HBD is native to the Hive blockchain and is a unique type of trustless stablecoin that is backed by the underlying value of the Hive blockchain itself and pegged to the USD. source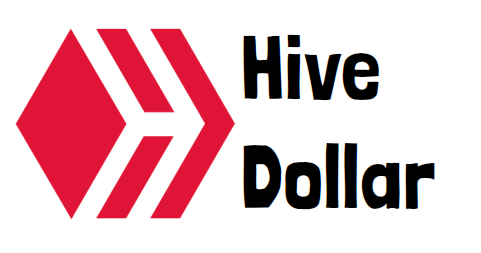 source
As announced in the today's update, @LeoFinance, has again proved it resolve to better the lots of blockchain it leverages while adding value to cryptocurrency. The anticipated size of the pHBD-USDC pool is $5 million although there are indications that it will far surpass that mark in the coming days and weeks.
I am excited to be a part of this great move. I decided to push in $100 HBD into PolyCUB for the pool and its yummy rewards. It is more interesting that the sum pushed into the pool was earned from marketing PolyCUB with my LeoFinance posts overnthe last few days. I am happy to be a part of the virtuous cycle to Financial freedom as created by LeoFinance linking its SocialFi solution to its DeFi solution.
How to Wrap HBD into pHBD on Polygon
The essence of this post is to show you how to wrap your HBD into pHDB for onward staking in the pHBD-USDC pool on PolyCUB DeFi. The benefits of participating in this DeFi cannot be over emphasized especially as PolyCUB models as the best yield optimizing DeFi yet in the crypto-verse.
HBD is the native rewards token of the Hive wen3 socialmedia. You have to wrap HBD into pHBD on Polygon before providing liquidity to the pHBD-USDC pool. Before we go into the graphic tutorial, here are a few links that will be very useful for the process.
1). Visit the UI for Wrapping/unwrapping HBD - https://wleo.io/hbd/
2). Enter your Polygon Wallet Address - This is also your MetaMask wallet address where you want to receive your pHBD.
3). Enter the Amount of HBD you wish to wrap Into pHBD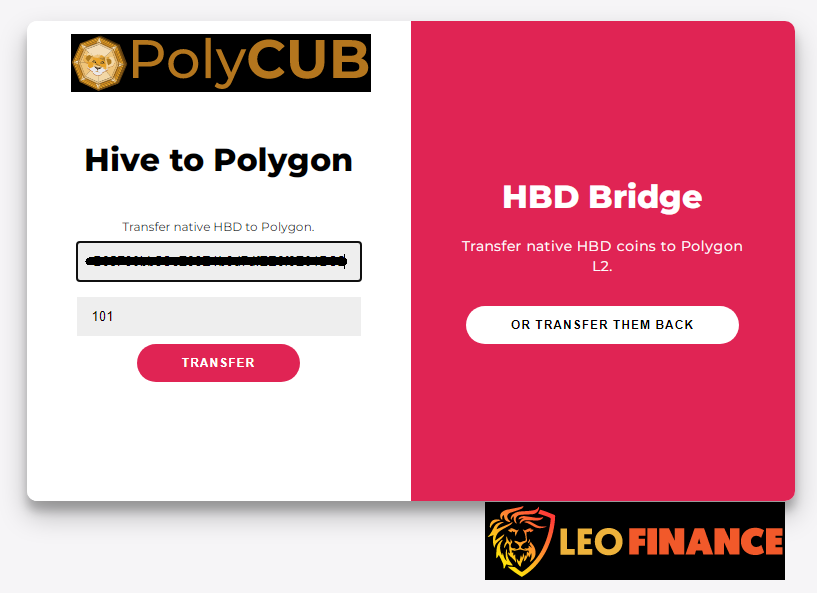 4).Click the "Transfer" button
5). Confirm the Transaction with Hive Keychain or Hive Signer - it will automatically pop up if installed.
After your HBD is sent, wait for a few seconds for your pHBD stablecoin to arrive to your Polygon (MetaMask) wallet address.


Transaction Hash
You can confirm if your HBD has left your Hive Wallet from hive blockchain explorer. The memo in the transaction (if successful) will show the transaction hash of the transfer. See mine below the above screenshot.
You will need to add pHBD as a custom token on Metamask since this is a novel creation and the first time you're wrapping it.
How to Add pHBD as a Custom token on MetaMask
To do this, just follow the following steps:
1). Open your Metamask Extension and Click "Add Token". It is at the bottom of the extension.
2). Paste the pHBD Contract Address (0x6d969cea201e427d2875724fd4e8044833fbc7f4). The other fields will automatically fill up)
3). Click "Add Custom Token"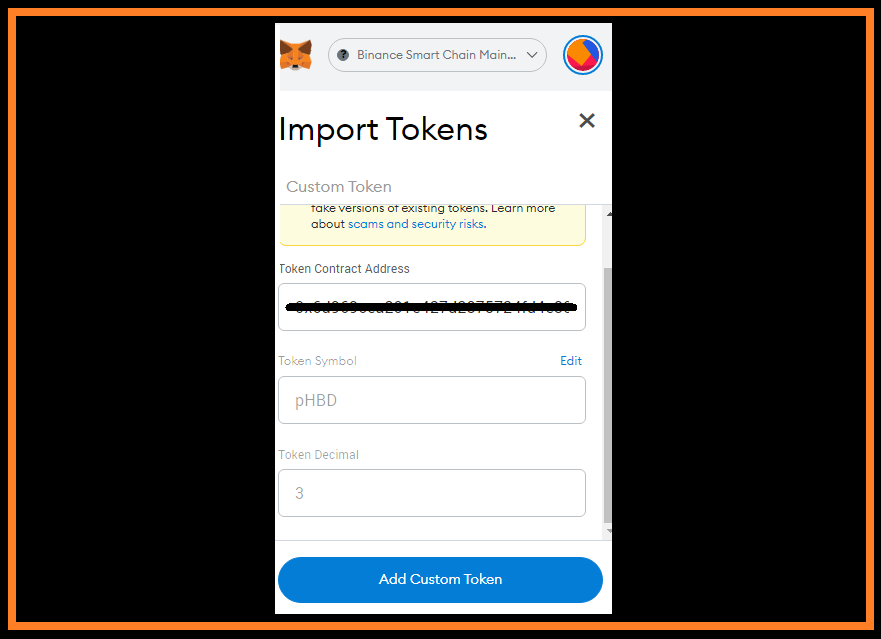 4). Visit https://app.sushi.com and add pHBD to the tokens list. DO this by pasting the contact address (0x6d969cea201e427d2875724fd4e8044833fbc7f4) in the token search box.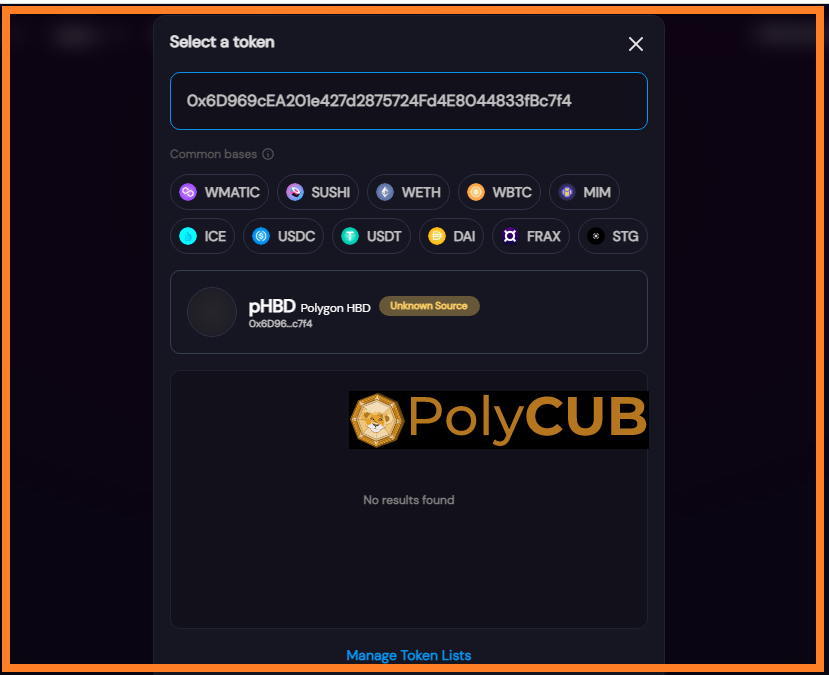 I successfully wrapped my 100 HBD to pHBD and successfully provided liquidity to the pHBD-USDC pool on PolyCUB. In the next post, I will give a detailed step-by-step procedure on how to provide liquidity for the pHBD-USDC pool on PolyCUB.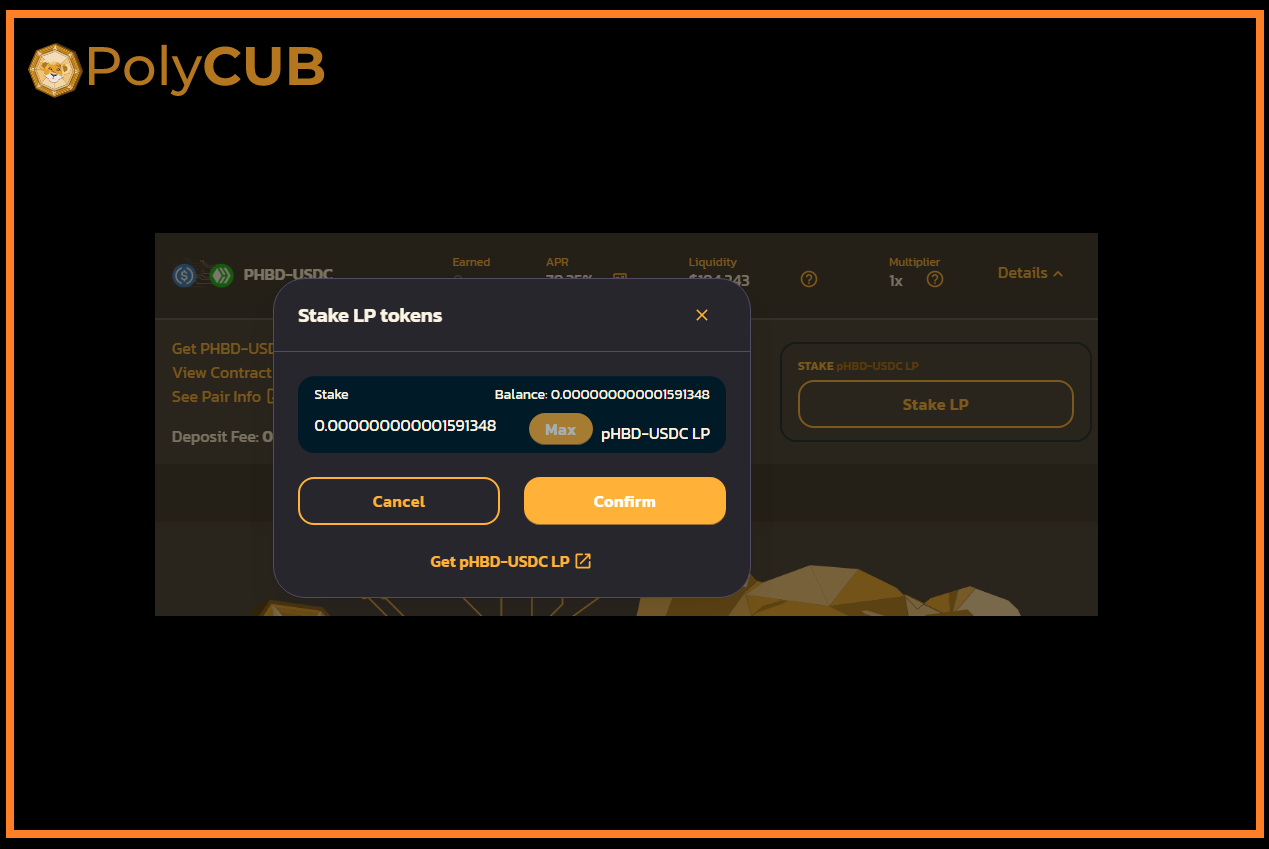 It is interesting that within few hours, over $226k worth of liquidity has been added to the pHBD-USDC pool. You have to add yours too quite sooner to garner the early bird pool reward.

Final Thoughts
The journey to high and stable passive income on Hive begun. While the Hive witnesses sets HBD savings interests to 20%, it is cool to earn as much as 70% from same HBD by providing liquidity to the pHBD-USDC pool. This goes a long way to making possible for high budget investors to buy into HBD stablecoin and that will improve the entire economy of the Hive blockchain.
Learn more about POLYCUB - the Best Sustainable DeFi?
These posts would be of benefit in explaining more on the DeFi 2.0 pioneered in PolyCUB and how it plays out as a game-changer in the DeFi space, optimizing yield and serving long term decent profits to investors. They are: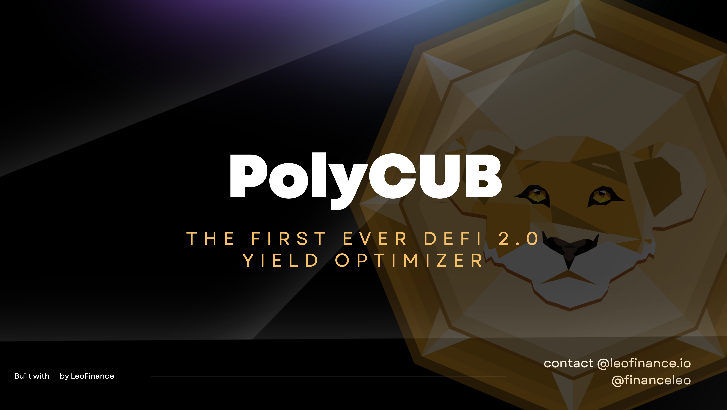 Are you yet a part of this fast evolving change in the cryptocurrency industry. The earlier the better!

What is LeoFinance?
LeoFinance is a blockchain-based Web3 community that builds innovative applications on the Hive, BSC, ETH and Polygon blockchains. Our flagship application: LeoFinance.io allows users and creators to engage and share content on the blockchain while earning cryptocurrency rewards.
LeoFinance | CubFinance | Hivestats | LeoDex | LeoFi
Delegate HP & Earn 16% APR, Paid Daily. Currently @ 2M HP
---
Join Hive Here and start a new work!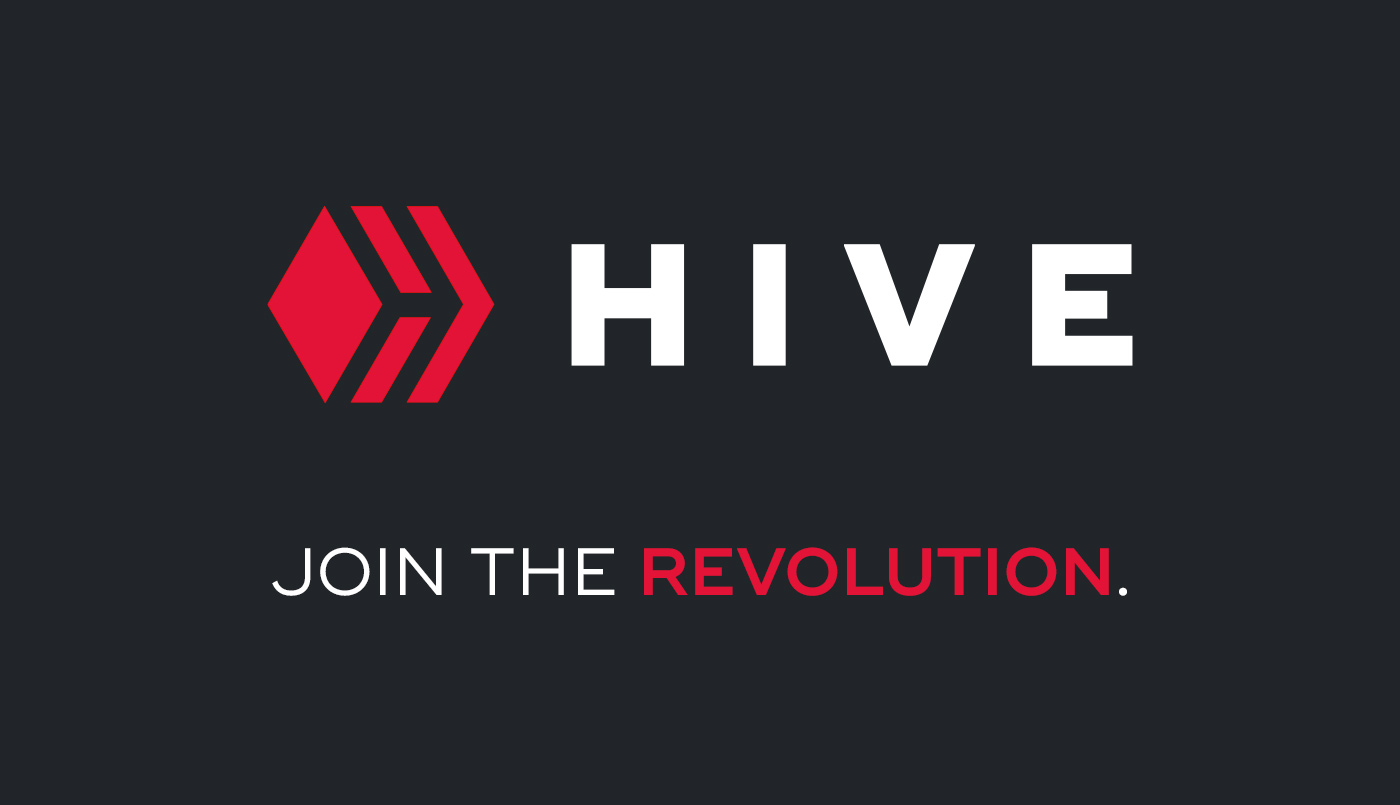 What is Hive?
Hive is an innovative and forward-looking decentralized blockchain and ecosystem, designed to scale with widespread adoption of the currency and platforms in mind. By combining the lightning-fast processing times and fee-less transactions, Hive is positioned to become one of the leading Web3 blockchains used by people around the world. source
About me...
I am a called teacher, a serial entrepreneur and a Graduate of Agricultural Engineering. Nigeria is my root and a place full of opportunities. I dropped out of a Master's Degree program due to funds, yet I do not regret growing the courage to start my business from the scratch. Today, I've built layers of Businesses on the Hive blockchain in terms of Curation and it's a sustainable passive way of earning crypto while learning.
I am your favourite Hive Tribes Promoter and Curapreneur!
I am @Uyobong.
Let's connect on Twitter
Posted Using LeoFinance Beta
---