LeoThreads: The New Face of Microblogging + Earn LEO for good name alternatives
---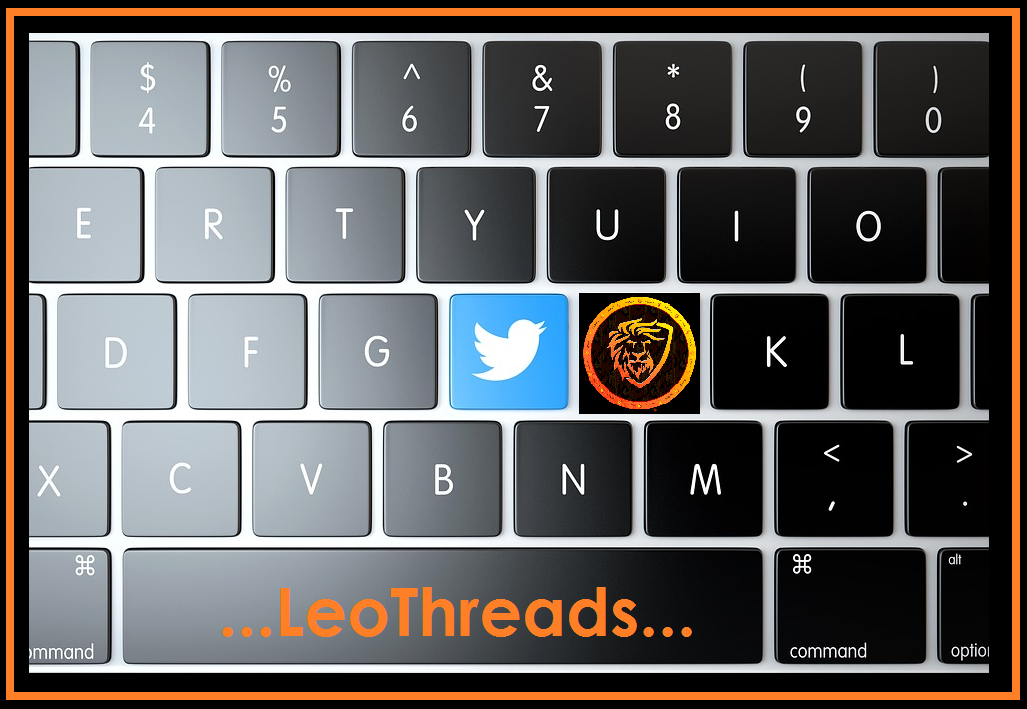 LeoThreads: The New Face of Microblogging
@LeoFinance's commitment to get web3 into the palms of everyone hat is using a smartphone gets more intense each day passing and it is obvious that every front is being pushed to achieve this mission while this bear season lasts. While we are yet to assimilate the buzz around vexPOLYCUB that is creating a huge utility for POLYCUB, the long awaited #ProjectBlank now captured as LeoThreads looks achievable in the near term.
LeoThreads is somewhat of a live beta test of ProjectBlank infrastructure while also delivering a Crypto Twitter experience to LeoFinance.io.
Microblogging is in high demand in the socialblogging space. It involves the duo of instant messaging and content production. Twitter, Instagram, Facebook and Pinterest are the popular platforms for microblogging, with web2 infrastructure.
According to Wikipedia, microblogging is an online form of blogging different from a traditional blog in that its content is typically smaller in both actual and aggregated file size. We can see the buzz that platforms like Twitter, Instagram, and ors are pooling and we see this coming to web3 via LeoThreads.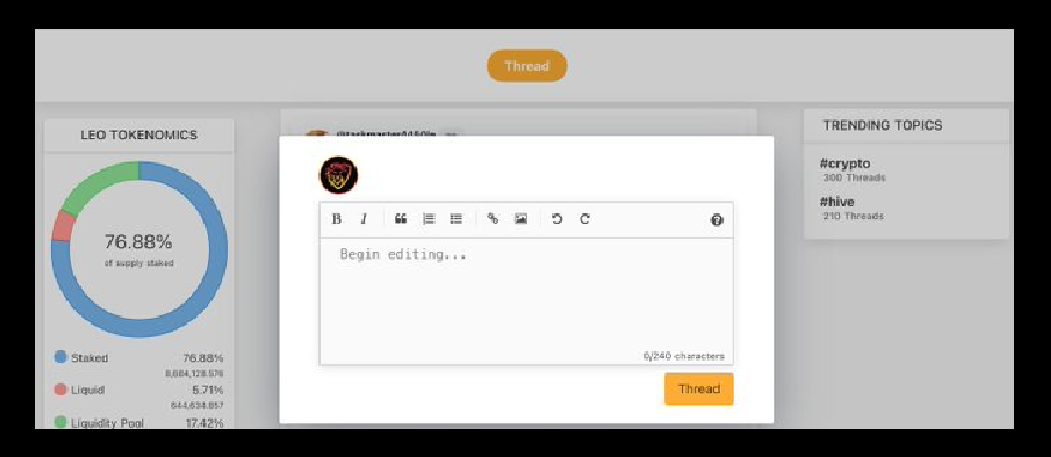 It is exciting that ProjectBlank which we have mused for close to two years is becoming a reality. Thoughts about LeoThreads led to the creation of @Leomarkettalk by @Taskmaster4450le to help users scale their engagement prowess in preparation for a microblogging arm of LeoFinance which is believed top help onboard the masses to Hive.
Many social media users are used to short contents that require less time input to be able to maximise their fun of using social platforms. Hive changed the narrative to blogging though categorized there, by demanding high quality and more lengthy contents. Such users find it difficult to integrate to Hive and some fall into the scum of plagiarism in a bid to create lengthy contents.
Seeing Khal make a few demo shots of the alpha version of LeoThreads is very intriguing and we are seeing the emergence of a new face of microblogging with crypto rewards attached.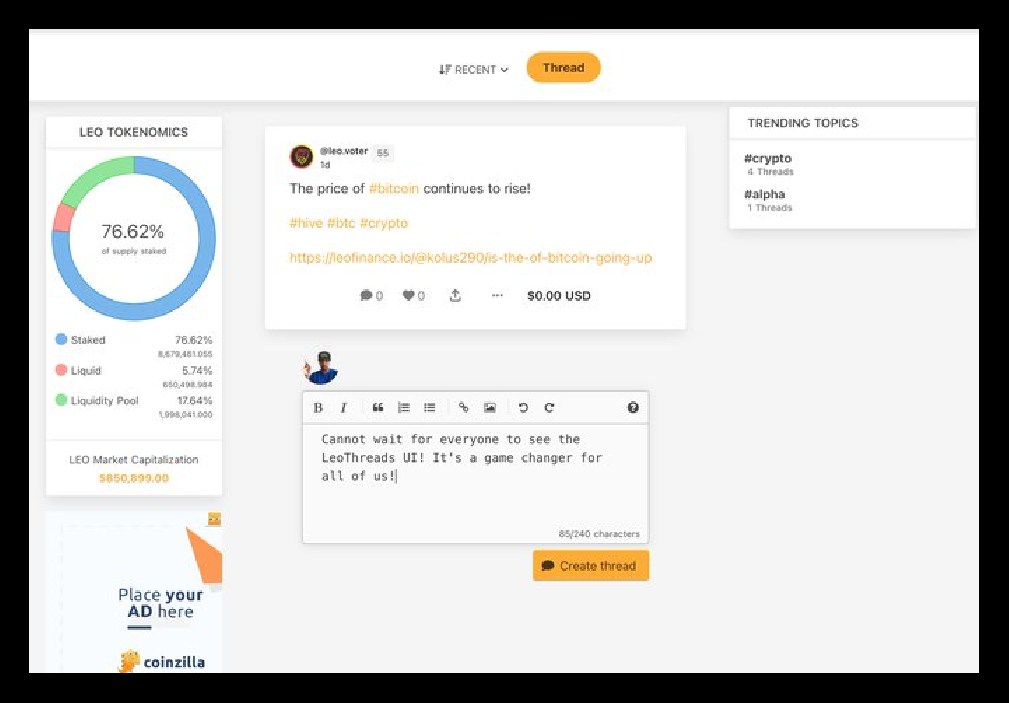 Earn LEO for good name alternatives
The roll out of development of LeoThreads already comes with a reward package for a user who will suggest a more fitting name. In this tweet, there is a $LEO bounty for a creative suggestion.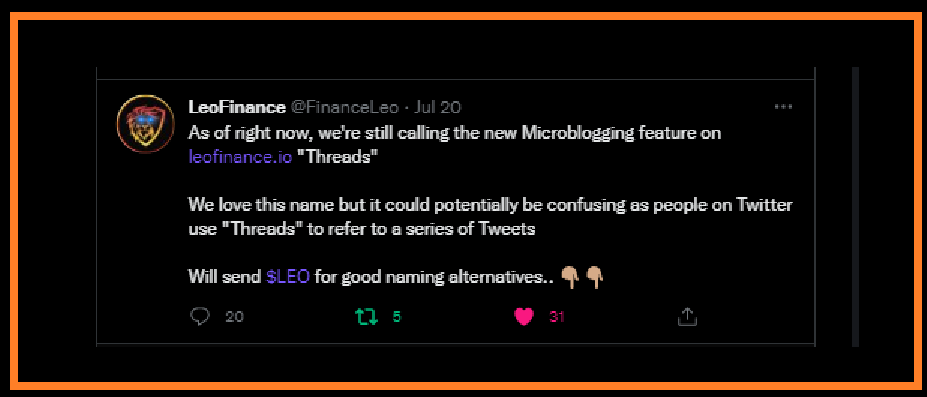 Tweet
As of right now, we're still calling the new Microblogging feature on http://leofinance.io "Threads"
We love this name but it could potentially be confusing as people on Twitter use "Threads" to refer to a series of Tweets
Will send $LEO for good naming alternatives.. 👇🏽👇🏽
Do well to head to the tweet to make your suggestion entry as a reply. DO well to retweet to create more awareness. LEO is a scarce asset and earning them for free could be a great earning option.
---
---

What is LeoFinance?
LeoFinance is a blockchain-based Web3 community that builds innovative applications on the Hive, BSC, ETH and Polygon blockchains. Our flagship application: LeoFinance.io allows users and creators to engage and share content on the blockchain while earning cryptocurrency rewards.
LeoFinance | CubFinance | Hivestats | LeoDex | LeoFi
Delegate HP & Earn 16% APR, Paid Daily. Currently @ 2M HP
LeoFinance's mission is to put Web3 in the palm of your hands.
Twitter: https://twitter.com/FinanceLeo
Discord: https://discord.gg/E4jePHe
Whitepaper: https://whitepaper.leofinance.io
---
---
Thumbnail Image Source
---
Posted Using LeoFinance Beta
---