100 days left until the end of the SPS Airdrop
---
265 days of the Splinterlands (SPS) token airdrop have passed, which refers to the governance of the Splinterlands (formerly SteemMonsters) game.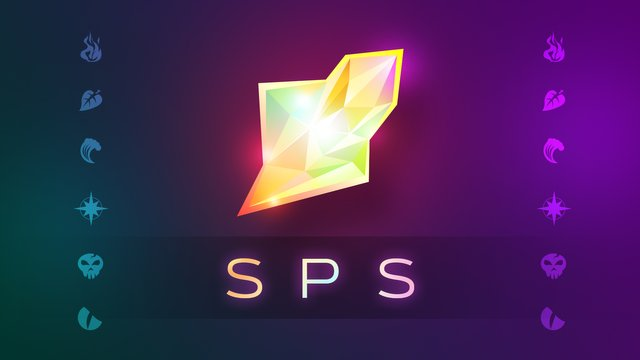 Splintershards (SPS) 2022 Roadmap
Splintershards (SPS) is the official governance token for Splinterlands. The purpose of the token is to empower players to participate in the evolution of the game. Over time, it will become possible for SPS owners to influence the direction of the game in a wide variety of ways! From creating proposals to voting on gameplay options to reviewing new third party applications that support the ecosystem, SPS gives you a voice to help shape the future of gaming!
SPS owners will gain access to special promotions, receive extra rewards from promotions, and more! To get all the details, check out the Whitepaper above.
For you to earn SPS you need to have airdrop points, which are updated daily, and there are 10 ways you can get them. Each way has a unit value because of its difficulty to obtain.
Collection Power: This value reflects the size and quality of your entire character card collection. (1)
DEC (Dark Energy Crystals): Based on the amount of DEC you own. (1)
DEC Liquidity Pools: Based on the amount of DEC you have contributed to qualified liquidity pools. (2)
Card Packs: Based on the number and type of card packs you own. This includes the following pack series: Alpha (4,800), Beta (2,400), Orb (2,400), Dice (900), Untamed (600), and Chaos Legion (300).
Land Plots: Based on the amount of Land you own. (10.000)
Champion Points: Based on the amount of Champion Points you have. (10)
SPT (Splintertalk Tokens): Based on the amount of SPT you own. (0.25)
Card Skins: Based on the number and quality of Card Skins you own. (Common 1,000 / Rare 2,500 / Epic 5,000 / Lengedary 10,000)
Totems: Based on the number and quality of Totems you own. (Common 1,000 / Rare 5,000 / Epic 25,000 / Legendary 100,000)
Titles: Based on the number and quality of Titles you own. ( [Untamed / Explorer] 100,000 / [Praetorian / Custom] 1,000,000 )
Which are the easiest to win?
In my view DEC and SPT
You just play, to earn DEC's and make publications using the front-end https://splintertalk.io/ or using the SPT tag in your publications (regarding the game, don't be a tag polluter).
Currently one SPS unit is costing $0.127
I currently have 3,000 SPS and I hope to reach the end of those 100 days with something around at least 4,000 and at most 5,000. If I have any surplus (which I highly doubt), I'll think about what to do with the resource.
Time is ticking, don't stand still, start rescuing your SPS.
Posted Using LeoFinance Beta
---