My 2021 HIVE Highlights! 500 HP Achieved😀
---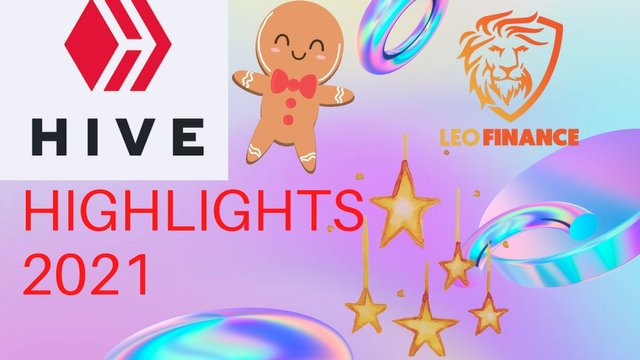 Throughout the course of this year I have learned many things, yeah I have started late on Hive making a comeback after more than 3 years this May and after that I have become more constant with Hive.
Now I do not let the times that I do not get rewards discourage me because I have evolved a lot as a blogger and I would love that the journey of the next year all that I have learned can prove it completely, for that date I hope I have found a better organization in my day to day to be able to dedicate it in time and creativity that requires an active HIVE user, I want a lot that at that time my community is functioning excellently and has excellent a lot of concurrence of interesting publications.
In May I have started with just 5 Hive Power in my account, things had been quite slow in starting, than I found POB Community and that really helped me grow in Hive as well. Since I have started writing on Leofinance as well, my account growth has increased significantly and that too in past 2 months, thanks to all my curators and Hive Community. I am really grateful of Hive Community and Wonderful Tribes like LEO, POB, VYB etc. Here is my Hive Growth Chart of Past 30 days :
src https://hivestats.io
Here is the list of major Tokens I hold on Hive Blockchain so far and My goals for Next Year.
| Token | 2021 | 2022 Goal |
| --- | --- | --- |
| HIVE | 500 | 2000 |
| VYB | 14700 | 30000 |
| POB | 8600 | 20000 |
| LEO | 420 | 2000 |
| CINE | 2100 | 5000 |
| NEOXAG | 4700 | 15000 |
I would love to say that 5000HP Goal but to achieve those numbers it takes a lot of work and time, so in view of my reach during this next year I aspire to have at least 2,000 HP, and I will definitely work hard to achieve it. I've already drawn my goal of 500 HP this year and I'm sure I can Achieve the next one too, in the same way I will continue to strive to increase those numbers more and more. In parallel to growth on other Hive Communities as well. I am already having good stakes in POB and VYB Community, I will keep increasing it and curating in those communities. Now I need to invest more time and efforts to grow myself in Leofinance Community. Leo Community has always excited me, it is one the most popular and strong Hive Community and I definitely want to be a part of it.
At what price (USD) HIVE and HBD Expected to reach next year?
It would be great for the HIVE to reach $10 USD, it would be fantastic for sure but I am positive enough we could surely achieve that one day, and as for 2022 $5 is pretty achievable and we could see Hive price stabling near 3$😊, the HBD on the other hand would be well to reach the value of $2 USD, these would be the ideal prices for me, however it would be much better than despite the Price you have, both coins will be stable and so also give them stability to each user. Hive Dollar (HBD) is giving 12% interest on Savings and I am glad to have more than 450$ in my HBD savings account, although I had targeted it to reach 500$ till year end but it seems to wait for next month I guess. I am much amazed and impressed by stability of HBD and Its interest rate, giving more ways to save and allocate their money on Hive Blockchain.
I had always advised my fellow users to keep increasing their portfolio on Hive Blockchain and be the part of Future. We must and should keep adding value to this platform and help each other to grow. Hive is the best.
It is wonderful to be part of the evolution of HIVE and be part of its growth sum value to the experiences lived within it. Make your Hive goals for next year and let's work together to achieve it. HIVE is just getting started...
Enjoy the festivities and beautiful vibes.I greet you with great enthusiasm, wishing you Merry Christmas, Happy Holidays and A Happy New Year. 😊🙏🤗
Posted Using LeoFinance Beta
---