Mozilla "has evolved", banning Bitcoin and proof-of-work donations 🙈
---
Warum stirbt Firefox? Mozilla hat mobile und web3 verschlafen und stoppt jetzt auch noch Bitcoin / proof-of-work Spenden. Bannt die wichtigste Kryptowährung.
Was sagt ihr dazu?
Damit hat es sich Firefox auch noch mit der Krypto-Community verscherzt.
Andererseits wäre es für den Browser-Markt wichtig, dass Firefox überlebt, aber mit dieser sturen ideologischen Ausrichtung könnte es schwierig werden.
Was denkt ihr?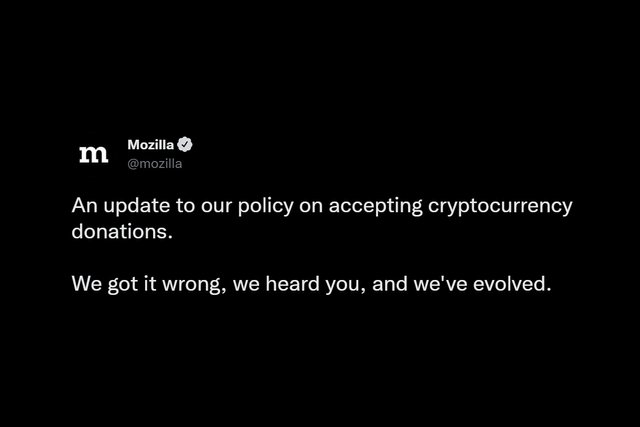 https://twitter.com/mozilla/status/1512106462163746818
Reactions
https://twitter.com/ov3rlo4d/status/1514536581176217604
https://twitter.com/BTC_Mullick/status/1515231785419956226
https://twitter.com/Maercurial1/status/1479936692274487298
English
Why is Firefox dying? Mozilla missed mobile and web3 and now even stops Bitcoin / proof-of-work donations. Banning the most important cryptocurrency.
What do you say to that?
With this, Firefox has also made it worse for itself with the crypto community.
On the other hand, it would be important for the browser market that Firefox survives, but with this stubborn ideological orientation it might be difficult.
What do you guys think?
Source
[1] Mozilla: Reporting Back on Mozilla's Cryptocurrency Donation Policy https://foundation.mozilla.org/en/blog/reporting-back-on-mozillas-cryptocurrency-donation-policy/
Live your Secrets and Hive Prosper 🍯
xx Viki @vikisecrets
---