Welcome to the Daily Crypto News: A complete News Review, Coin Calendar and Analysis. Enjoy!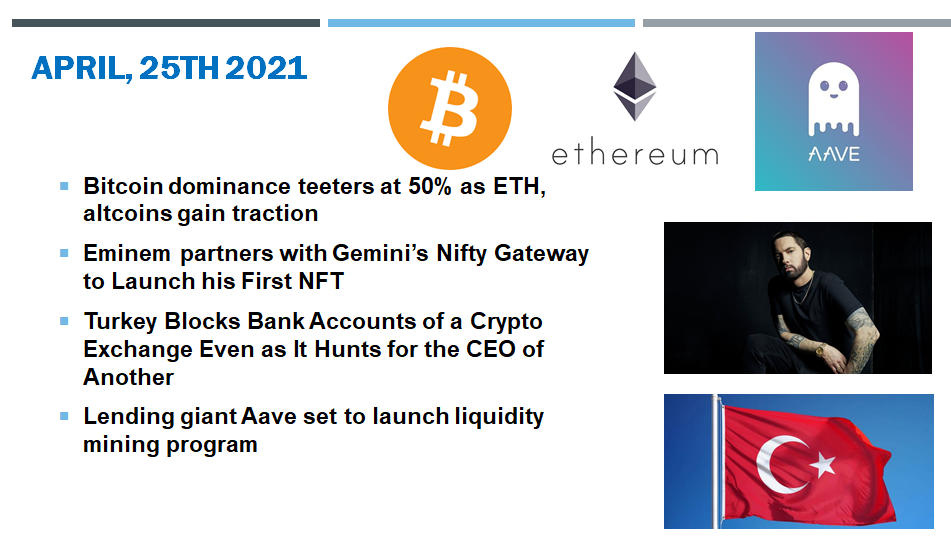 Bitcoin (BTC) dominance briefly fell below 50% last week for the first time since January 2018, sending a strong signal that more speculative bets on altcoins were on the rise.
The Bitcoin dominance index, which measures BTC's market capitalization relative to the broader cryptocurrency market, reached a low of 49.35% on Thursday, according to CoinMarketCap. At the beginning of 2021, BTC dominance was 70.68%.
Ethereum (ETH), meanwhile, accounted for nearly 15% of the overall market at its peak on Thursday. ETH dominance is up nearly 4 percentage points since the start of 2021.
ETH has outperformed BTC over the past seven days, charting an impressive 9.5% return. The second-largest cryptocurrency by market cap is down 10% from its previous all-time high whereas Bitcoin has corrected over 20%.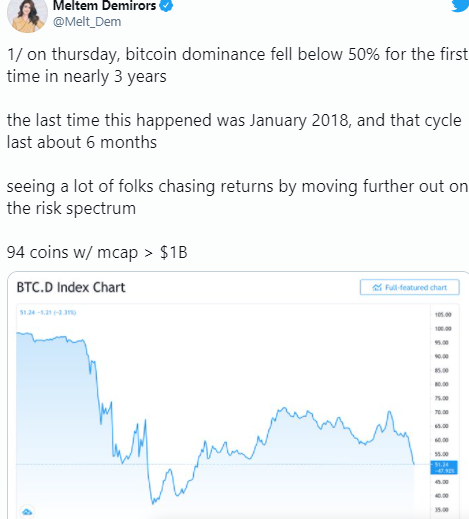 Demirors also observed that 94 cryptocurrencies now have a market capitalization of $1 billion or more. At the time of writing, that figure had fallen to 87, according to CoinMarketCap. An additional seven projects were valued at $900 million or more.
Eminem is launching a set of NFTs.
They'll drop during Shady Con, an online festival devoted to his NFTs.
Just in time for Oscar Sunday, iconic rapper and Oscar winner for "Lose Yourself" in 2003, Eminem, in partnership with Nifty Gateway, has unveiled his first NFT at Shady Con. The world-famous artist, born Marshall Mathers, is the latest in a line of celebrities, musicians, and athletes getting in on the NFT craze. Eminem has partnered with Nifty Gateway, the NFT platform owned by Gemini, to release his first NFT this Sunday, April 25, 2021.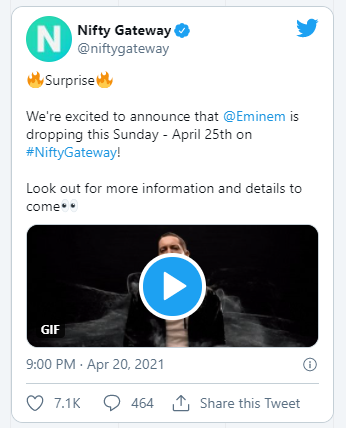 It may have been the recent Saturday Night Live (SNL) skit on NFTs that piqued the rapper's interest. In the skit, a rapper played by SNL cast member Pete Davidson explained what NFTs are to the tune of Eminem's "Without Me."
Turkish authorities blocked all onshore bank accounts of cryptocurrency exchange platform in the country, the state-run Anadolu news agency said.
The action late Friday came after crypto exchange Vebitcoin announced that it stopped all of its activities citing financial strains, Anadolu said.
*The Turkish Financial Crimes Investigation Board has launched an investigation of the exchange and its managers, the state-controlled agency said.
*The move against Vebitcoin comes a day after the agency reported police detained 62 people in connection with criminal complaints filed against crypto exchange Thodex.
The Thodex crypto exchange went offline April 18 with its CEO subsequently going missing, fleeing the country according to reports. Users have reportedly filed a complaint alleging hundreds of millions of dollars have been stolen, Anadolu reported.
With a liquidity mining program set to launch on Monday, Aave could be on the cusp of becoming the dominant decentralized finance (DeFi) ledning protocol.
Earlier today, Aave Improvement Proposal (AIP) 16 reached quorum, meaning that starting on Monday, 4/26 liquidity providers and borrowers in Aave's USDC, DAI, USDT, GUSD, ETH, and WBTC pools will earn stAAVE rewards in addition to their standard interest yield.
Per AIP 16, providers and borrowers in these pools will split 2,200 stAAVE tokens per day from the protocol's current 2.9 million AAVE Ecosystem Reserve, currently worth nearly $1 billion.
The proposal, written by Aave investor Parafi Capital's Anjan Vinod, notes that the goal of the program is to "drive lending and borrowing activity across markets," as well as increase the decentralization of the protocol's governance by distributing governance tokens to more users.
A recent Tweet from Aave developer Emilio Frangella indicates that the new program will bolster yields by orders of magnitude, and notably offers yield to borrowers — yield which, at current rates, would well outstrip the APR borrowers owe on their loans.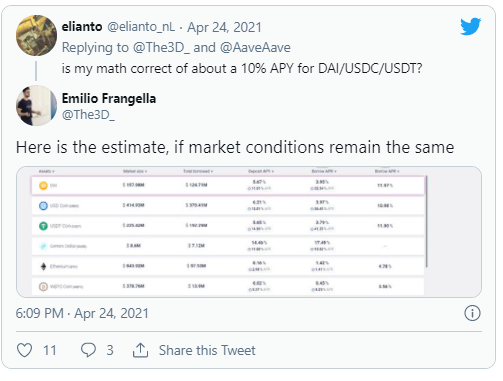 🗞 Daily Crypto Calendar, April, 25th💰

"Balanced: coming to you live, April 25 at 6pm PDT."
Theta Network (THETA), Theta Fuel (TFUEL)
"NFT + DIGITAL ASSETS NFTs Market Place Powered by Theta Native Chain."
"SparkSwap: New Features and UI/UX Improvements."
"Cross margin trading for assets on Uniswap and Sushiswap. Trade and farm MFI ETH BTC BOND and more with up to 5x leverage."
Avalanche (AVAX), Trustswap (SWAP)
"Avalanche (AVAX) & Trust Swap (SWAP) have joined forces to bring the first-ever Launchpad to Avalanche,"


➡️ Youtube
➡️ LBRY
➡️ Twitter
➡️ Hive
➡️ Publish0x
➡️ Den.Social
➡️ Torum
➡️ Spotify
➡️ Be paid daily to browse with Brave Internet Browser
➡️ A secure and easy wallet to use: Atomic Wallet
➡️ Invest and Trade on Binance and get a % of fees back
➡️ Check out my video on Unstoppable Domains and get 10$ off a 40$ domain purchase
➡️ Get 25$ free by ordering a free Visa Card on Crypto.com using this link or using this code qs4ha45pvh
Posted Using LeoFinance Beta