Welcome to the Daily Crypto News: A complete News Review, Coin Calendar and Analysis. Enjoy!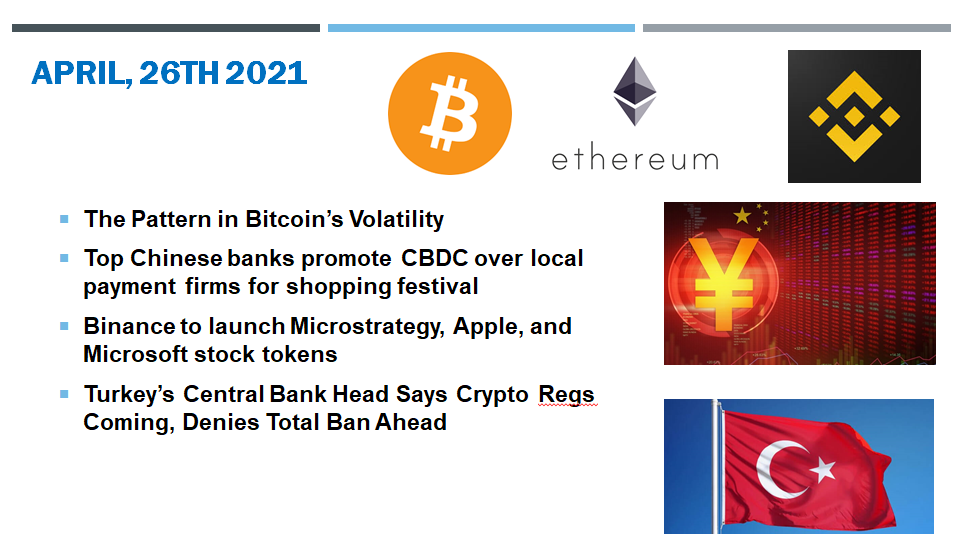 Bitcoin's volatility has been moving in a downward direction, and the price of the currency seems fixed in a band between $50,000 and $60,000. Is the current market for bitcoin (BTC, +5.97%) a temporary lull between lurches? Or is it a long-term trend toward lower volatility that could change the way bitcoin is perceived?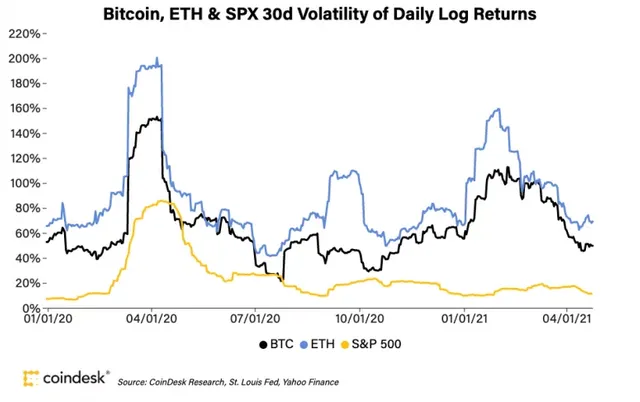 The answer is, it's too early to tell. The chart above shows bitcoin's volatility has been on a steady decline. (Ether (ETH, +10.97%) and the S&P 500 are included as references.) However, it's still in an approximate mid-range, historically.
Using the table below as a guide, bitcoin's stretch of middling volatility is likely to continue. At 43 days, it is still rather young, as these things go.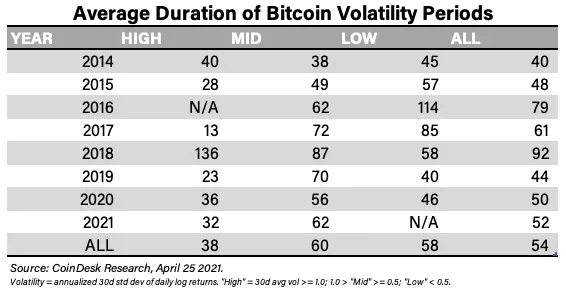 The data in the table is based on dividing bitcoin volatility into three ranges: high, mid and low. High is volatility at or above 100%. Mid is volatility at or above 50%, and below 100%. Low is volatility below 50%. Volatility is the 30-day standard deviation of daily log returns, annualized at 365 days of trading.
These ranges aren't entirely arbitrary. Since October 2014, bitcoin volatility's top tercile has been above 79% and its middle third has started at 51
Some of China's largest state banks are actively promoting the digital yuan as a superior means of payment to the country's two leading payment providers, Alipay and WeChat Pay.
In an April 26 report, Reuters revealed that six of China's largest banks are promoting China's nascent central bank-issued digital currency, or CBDC, in Shanghai ahead of an online shopping festival on May 5.
The report noted that one bank official appointed to CBDC trial's rollout in Shanghai under the guidance of the People's Bank of China specifically described the digital currency as superior to Alipay and WeChat Pay, who stated:
"People will realise that digital yuan payment is so convenient that I don't have to rely on Alipay or WeChat Pay anymore."
The rollout of China's digital yuan will allow the central government to gain control over a share of the massive troves of financial data that are being hoarded by the country's top payment providers.
Top crypto asset exchange Binance has announced it will list three new stock tokens over the coming week, following the launch of tokens tracking the performance of Tesla and Coinbase shares earlier this month.
On April 26, Binance announced it will launch tokenized stock pairings for leading business intelligence firm, Microstrategy (MSTR), in addition to multinational tech firms Apple (AAPL) and Microsoft (MSFT).
The tokens will allow users to trade fractionalized units of the share tokens, with minimum trade sizing set at one one-hundredth of a token.
Binance's expansion into stock tokens appears to demonstrate increasing competition between it and Hong Kong-headquartered crypto derivatives platform, FTX — which launched fractionalized stock trading in October 2020, including derivatives tracking Tesla and Apple shares.
The head of Turkey's central bank ruled out a total ban of cryptocurrencies and said a wide range of crypto regulations is coming within two weeks, Trade Moneta reported.
Speaking on state-run channel TRT, Governor Şahap Kavacıoğlu said, "You cannot fix anything by banning crypto and we do not intend to do this."
Kavacıoğlu's comments come less than a week before a planned ban on the use of cryptocurrencies for payments is due to go into effect. The announcement of the ban, which came as the use of cryptocurrencies in the nation has soared due to a plunging lira, drew protests from the government's political opponents.
The comments also came shortly after the detention of employees of two crypto exchanges that are being investigated by the government.
Without giving details about the coming regulations, Kavacıoğlu indicated they would clarify the legal definition of cryptocurrencies and regulate how they should be stored by institutions, Trade Moneta said.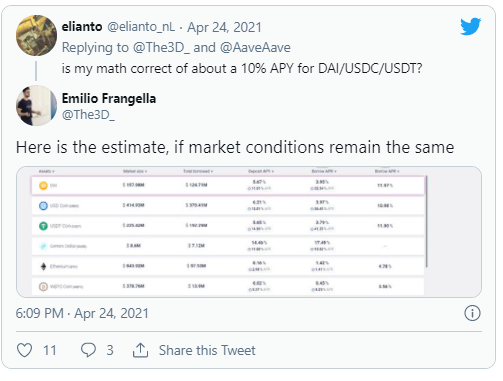 🗞 Daily Crypto Calendar, April, 26th💰

"It's exciting to announce #TomoFinance will be launched on 26th April!"
Ethereum (ETH), Genesis Vision (GVT)
"Genesis Vision Protocol launch Programs with GV Liquidity on Ethereum."
Two billion FREE burned.
Cover Protocol (COVER), Cover Protocol [old] (COVER)
"Mushrooms-Finance extended Rewards for Coverage Providers and Market Makers"
Team updates at 3:30 PM UTC/ 11:30 AM EDT: Engineering, Node network, Product/UX, Helpdesk, Legal, BD, Marketing, CEO Closing thoughts, AMA.


➡️ Youtube
➡️ LBRY
➡️ Twitter
➡️ Hive
➡️ Publish0x
➡️ Den.Social
➡️ Torum
➡️ Spotify
➡️ Be paid daily to browse with Brave Internet Browser
➡️ A secure and easy wallet to use: Atomic Wallet
➡️ Invest and Trade on Binance and get a % of fees back
➡️ Check out my video on Unstoppable Domains and get 10$ off a 40$ domain purchase
➡️ Get 25$ free by ordering a free Visa Card on Crypto.com using this link or using this code qs4ha45pvh
Posted Using LeoFinance Beta