Welcome to the Daily Crypto News: A complete News Review, Coin Calendar and Analysis. Enjoy!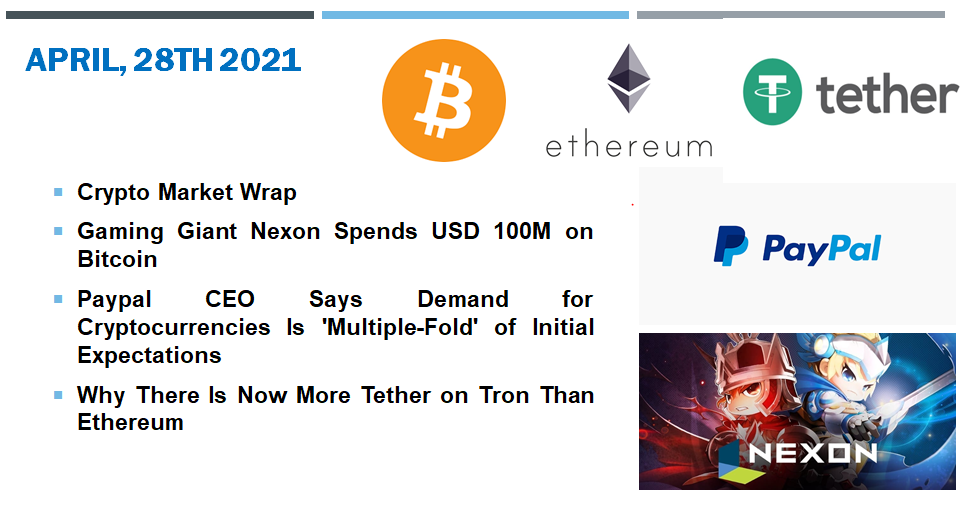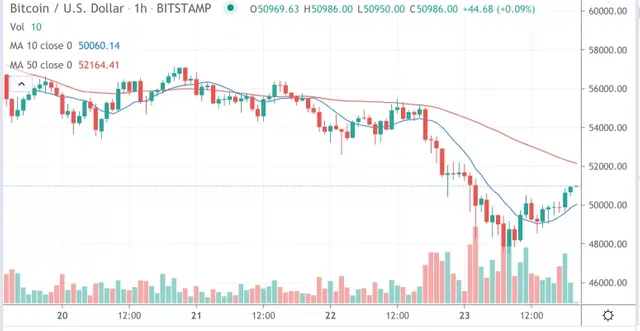 Bitcoin was up Tuesday despite lower-than-average spot volumes. Meanwhile, ether's price hits record high and the cyrpto's dominance is back at February levels.
Bitcoin's 24-hour range: $52,722-$55,261 (CoinDesk 20)
BTC near the 10-hour and well above the 50-hour moving average on the hourly chart, a bullish signal for market technicians.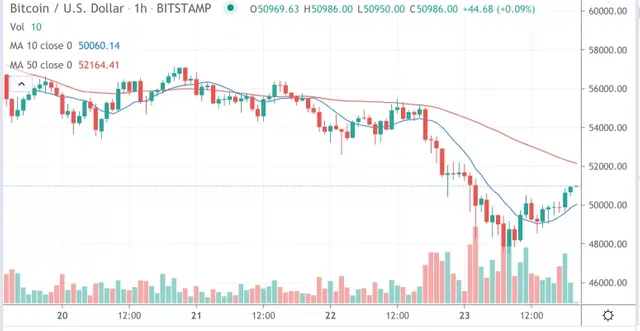 "A test of the $56,000 mark will soon follow, then will most likely roll back," said Constantine Kogan, a partner at investment firm Wave Financial.
According to CoinDesk 20 data, bitcoin was last at $56,000 on April 20, when it declined from the all-time high price of $64,829 reached April 14.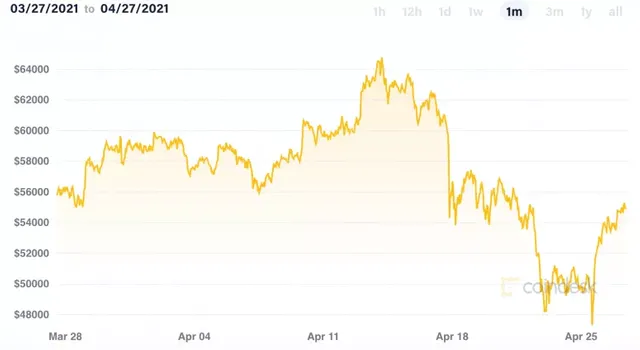 Ether price hits fresh new high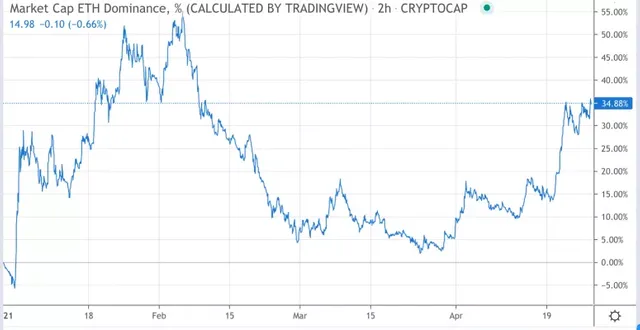 Ether rose Tuesday to a record high price near $2,700 after a powerful three-day rally.
The price of ether, the native cryptocurrency of the Ethereum blockchain, climbed as high as $2,683.30 around 16:00 UTC (12 p.m. ET), based on CoinDesk data.
The new high came after three straight daily gains totaling 19%. The move extended the cryptocurrency's stunning rally this year. Ether's price has tripled thus far in 2021, in part thanks to trader enthusiasm over growth in decentralized finance (DeFi) and non-fungible tokens, both of which use the Ethereum blockchain. Bitcoin (BTC), by comparison, is up 89% this year.
Asian listed gaming behemoth, Nexon, said it acquired BTC 1,717 for around USD 100m, paying on average USD 58,226 per BTC, inclusive of fees and expenses.
This purchase represents less than 2% of Nexon's total cash and cash equivalents on hand (as of December 2020), they added.
"Our purchase of bitcoin reflects a disciplined strategy for protecting shareholder value and for maintaining the purchasing power of our cash assets," Owen Mahoney, President and CEO of Nexon, was quoted as saying in the announcement.
According to him, in the current economic environment, bitcoin "offers long-term stability and liquidity while maintaining the value of our cash for future investments."
The CEO of payments giant Paypal, Dan Schulman, has revealed that the demand for cryptocurrencies has been "multiple-fold" of his company's initial expectations. Paypal's Venmo recently began rolling out cryptocurrency features to enable Venmo users to buy, sell and hold cryptocurrencies, including bitcoin.
Demand for Cryptocurrencies Exceeds Paypal's Expectations
Paypal CEO Dan Schulman talked about cryptocurrency, particularly bitcoin, in an interview with Time Magazine, published Sunday. Paypal is present in more than 200 countries and deals in more than 100 currencies. Last year, the company processed 15.4 billion payments, with a value of $936 billion. The company has about 30 million merchants in its network.
Schulman began by sharing his story of how he used Paypal's crypto service to buy boots and paid for them with bitcoin. Noting that it only took a few clicks and a few seconds to buy with the cryptocurrency, he said that "It was pretty cool." A big initiative of his company is "helping move digital currency into the mainstream, by adding cryptocurrency services," the CEO described.
Stablecoin Tether has broken new records with its market cap.
It's also breaking records with how much of it is being used on the Tron blockchain.
Experts explain why.
Tether, the most widely traded crypto asset in the market (even more than Bitcoin), yesterday hit the $50 billion mark in terms of market cap. It's an impressive milestone for the controversial stablecoin: just in February it stood at $30 billion.
What's more, there's now more Tether (USDT) being used on Tron's blockchain than on Ethereum: $1.6 billion-worth more, to be exact. Right now, the amount of Tether on Tron is $26 billion; on Ethereum it is $24.4 billion, according to Coin Metrics data.
Nevertheless, on-chain data demonstrates that the coin is extremely popular, especially in Asia, according to crypto tracing firm Chainalysis. It remains the most widely traded cryptocurrency by a considerable margin.
Those in the cryptocurrency world use Tether because for a number of reasons. But it is mostly useful for exchanges. Tether trading pairs (i.e. Bitcoin/Tether) are a common way to denominate prices in fiat currency, like dollars or yen, as it is easier to get your head round.
🗞 Daily Crypto Calendar, April, 28th💰

DeFi Yield Protocol (DYP)
Automated yield farming contract with Compound Integration and support for ETH, WBTC, USDC, USDT, DAI.
Polkacity will release NFT marketplace with Certik Audit.
"... Something like April 28th at 16:00 UTC would be a safer bet [for network upgrade]"
Steve Kokinos (Algorand CEO) is a guest speaker at the inaugural DMI Symposium.
Atari (ATRI), Decentraland (MANA)
"Join us for the grand opening and launch party of the brand new Atari Casino in Vegas City with over $10k USD in prizes, free..."


➡️ Leofinance
➡️ Youtube
➡️ LBRY
➡️ Twitter
➡️ Publish0x
➡️ Den.Social
➡️ Torum
➡️ Spotify
➡️ Be paid daily to browse with Brave Internet Browser
➡️ A secure and easy wallet to use: Atomic Wallet
➡️ Invest and Trade on Binance and get a % of fees back
➡️ Check out my video on Unstoppable Domains and get 10$ off a 40$ domain purchase
➡️ Get 25$ free by ordering a free Visa Card on Crypto.com using this link or using this code qs4ha45pvh
Posted Using LeoFinance Beta