Welcome to the Daily Crypto News: A complete News Review, Coin Calendar and Analysis. Enjoy!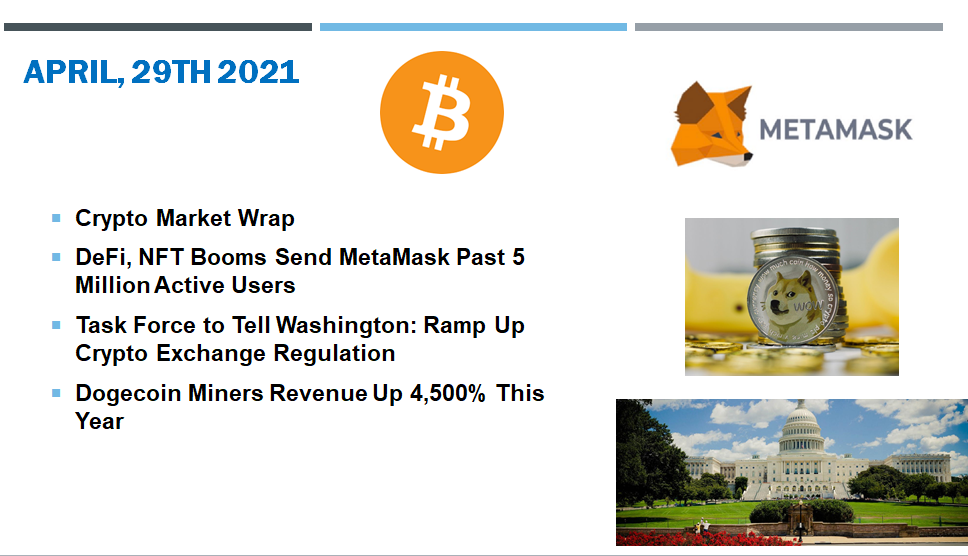 Bitcoin's 24-hour range: $54,046-$55,710 (CoinDesk 20)
BTC above the 10-hour and the 50-hour moving averages on the hourly chart, a bullish signal for market technicians.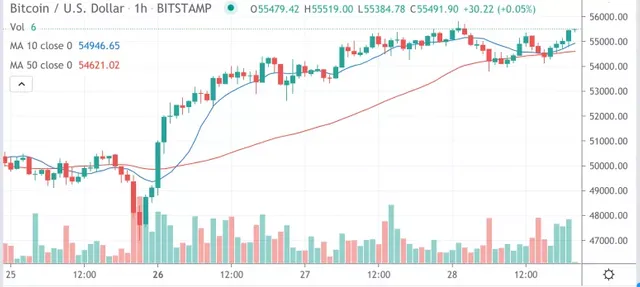 Bitcoin's price was holding steady on Wednesday, showing little change over the past 24 hours. At around 02:30 UTC (9 p.m. ET Tuesday), the world's largest cryptocurrency went as high as $55,710. It then lost steam and returned to the $54,000 level but was at $54,925 as of press time.
Over-the-counter crypto trader Alessandro Andreotti says bitcoin's stagnant market is due to investors continuing to explore other cryptocurrencies. "Bitcoin has, in fact, gone up, but I see it as a consolidation move to a new price range," Andreotti said. "It's staying relatively stable right now while alts moon."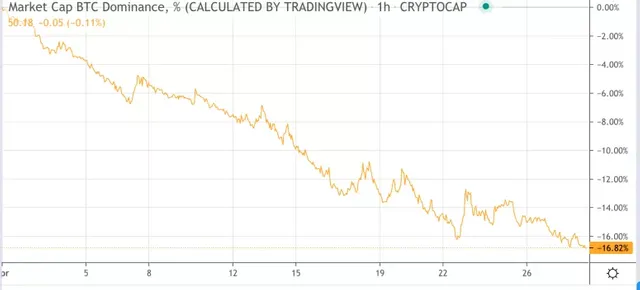 Ether price, fundamentals hitting new highs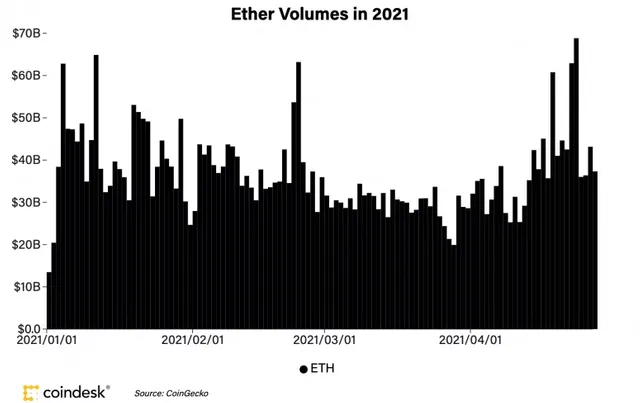 Ether (ETH), the second-largest cryptocurrency by market capitalization, was up Wednesday, trading around $2,723 and climbing 3.9% in 24 hours as of 21:00 UTC (4:00 p.m. ET). ETH has hit a new all-time high, with the record now standing at $2,743, according to CoinDesk 20 data.
Total value locked in the Ethereum ecosystem has crossed $64 billion for the first time, a fresh high as investors plow more money into DeFi.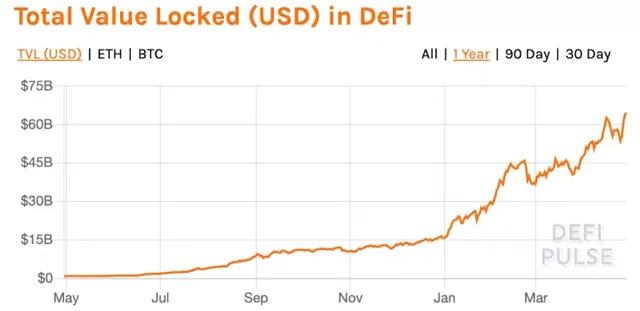 "Ether prices follow total value locked," said GSR's Rosenblum. "ETH is much more correlated to DeFi even though BTC is technically DeFi, too." As of press time, 9.9 million ETH is locked in DeFi, worth over $27.1 billion. Meanwhile, 155,748 BTC, worth $8.5 billion, is parked in various DeFi apps.
MetaMask is an Ethereum wallet that helps people access blockchain applications.
It's grown from 1 million active users in October to 5 million this month.
MetaMask, an Ethereum-based cryptocurrency wallet, has registered five million active users, according to its creator, blockchain software firm ConsenSys (which also funds an editorially independent Decrypt.)
MetaMask is a browser extension and mobile app that allows people to interact with decentralized applications (dapps) on the Ethereum blockchain via a wallet where they can store the keys to their tokens. Those dapps run the gamut from CryptoKitties and other NFT marketplaces for digital collectibles to decentralized exchanges such as Uniswap, where users can swap cryptocurrencies directly with their peers.
The 500% growth MetaMask has experienced in the last six months has been driven not just by DeFi, the project states, but also by NFTs. Short for non-fungible tokens, NFTs are unique digital tokens that serve as contracts of ownership; they're commonly attached to digital art, virtual collectibles, and even MP3s. According to data site DappRadar, NFT sales took in $1.5 billion in transaction volume from January through March.
An advisory body will reportedly tell the American government to increase the level of its policing of crypto exchanges – with a new spate of anti-money laundering (AML) measures possibly incoming at trading platforms operating in the country.
Per a report from Reuters, the Ransomware Task Force, a public-private body made up of secret service officials and industry experts and charged with mitigating malware, cybercrime and other cyber-risks, is set to advise Washington that it needs to step up its regulatory game in the crypto industry.
The news agency wrote that the task force will recommend policy changes, and will likely advise extending know-your-customer (KYC) "regulations to currency exchanges," as well as "imposing tougher licensing requirements for those processing cryptocurrency."
The daily revenue of dogecoin miners rose to a record high of $3.6 million on April 26, marking a 4,575% rise from the New Year's day tally of $77,000, blockchain data provided by ByteTree shows.
Revenue estimates assume miners, who operate predominantly on cash, sell their coins immediately.
Miners receive newly created coins and transaction processing fees as a reward for mining blocks and processing transactions on the distributed ledger.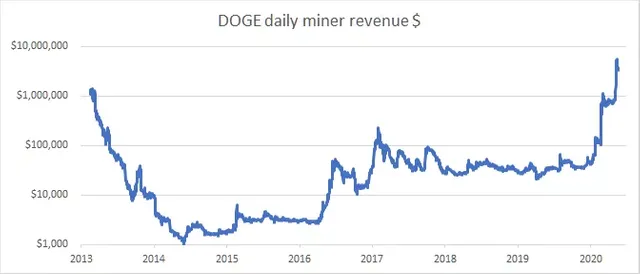 The price of dogecoin has rallied by 7,000% this year, sending miner revenue skywards.
The meme-based cryptocurrency reached a record high of 45 cents on April 18 and was last seen changing hands near 32 cents, up nearly 20% rise on a 24-hour basis.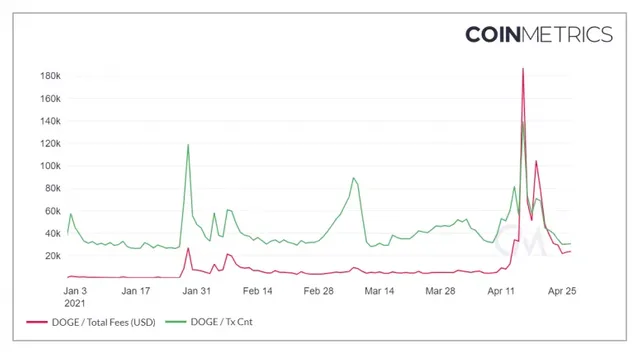 🗞 Daily Crypto Calendar, April, 29th💰

"In place of our regular Cardano360 this month, we are bringing you something extra special... Cardano Africa."
Ethereum (ETH), Genesis Vision (GVT)
"Genesis Vision Protocol launch Funds with GV Liquidity on Ethereum."
Join us next Thursday for a virtual Meetup open to everyone across the Holochain ecosystem!"
"SXP Will Be Listed on Coinsuper."
"The ability to auto compound on Pancakeswap platform will be live this Thursday."


➡️ Leofinance
➡️ Youtube
➡️ LBRY
➡️ Twitter
➡️ Publish0x
➡️ Den.Social
➡️ Torum
➡️ Spotify
➡️ Be paid daily to browse with Brave Internet Browser
➡️ A secure and easy wallet to use: Atomic Wallet
➡️ Invest and Trade on Binance and get a % of fees back
➡️ Check out my video on Unstoppable Domains and get 10$ off a 40$ domain purchase
➡️ Get 25$ free by ordering a free Visa Card on Crypto.com using this link or using this code qs4ha45pvh
Posted Using LeoFinance Beta