Welcome to the Daily Crypto News: A complete News Review, Coin Calendar and Analysis. Enjoy!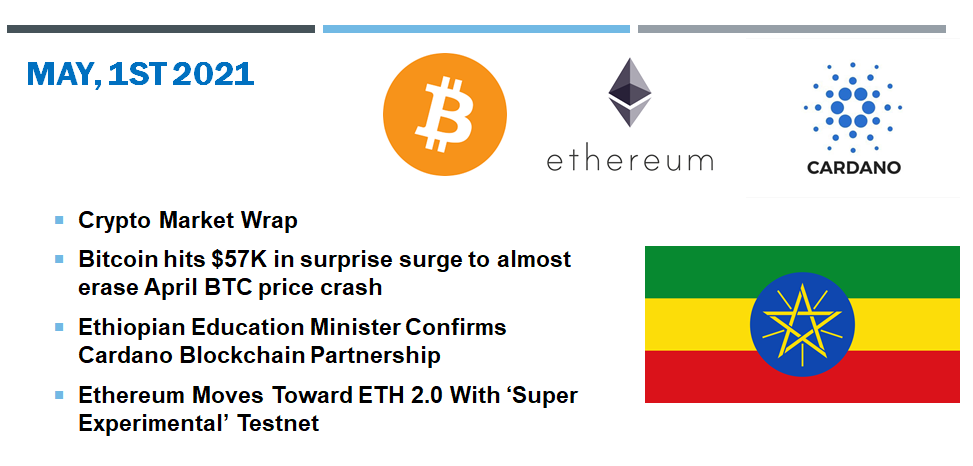 The derivatives market likely played a role in pushing bitcoin's spot market price to a level not seen in almost two weeks. Meanwhile, the ether market seems to be decoupling from bitcoin, for now.
Bitcoin's 24-hour range: $52,604-$57,219 (CoinDesk 20)
BTC above the 10-hour and the 50-hour moving averages on the hourly chart, a bullish signal for market technicians.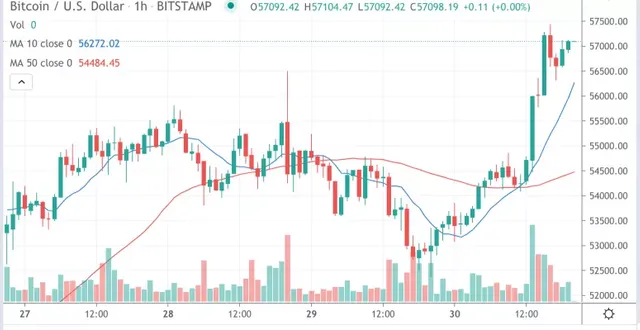 "One reason we may be seeing the upswing in bitcoin's price is because of the expiration of $4.2 billion in bitcoin options contracts today," noted Steve Ehrlich, chief executive officer at investment firm Voyager Digital. "Historically, there have been price dips in the days leading up to a bitcoin options expiry, only for it to rebound thereafter."
For most of this week, bitcoin's price struggled to make gains. The last time bitcoin traded at the $57,000 level was almost two weeks ago, on April 17.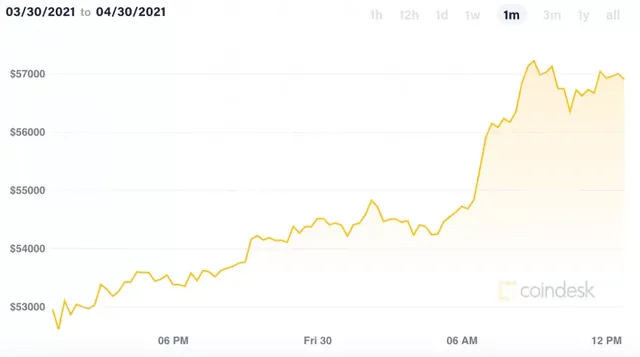 Ether is surprisingly flat; is it decoupled from BTC?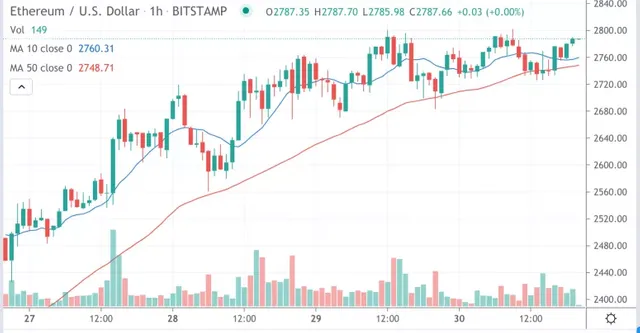 After hitting fresh record highs several times this week, ether was struggling to make gains Friday, a stark contrast from the bitcoin price pop. Analysts are mixed on whether ether's correlation is completely decoupled from bitcoin.
"ETH now has a completely different play, making the most due to the DeFi projects," noted Constantine Kogan, partner at investment firm Wave Financial. "My guess is they will be more and more decorrelated."
Some of this gain is a function of price, but the amount of crypto deposited remains steady, meaning investors are not withdrawing crypto from DeFi to deploy elsewhere, which is a bullish sign.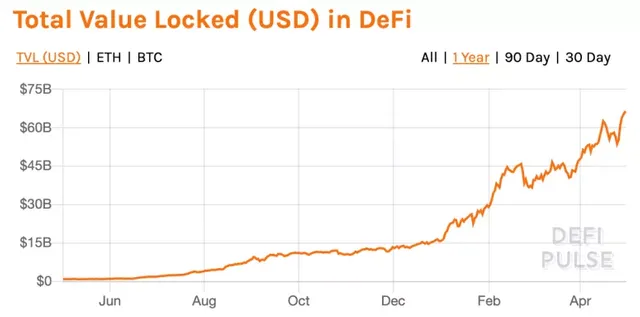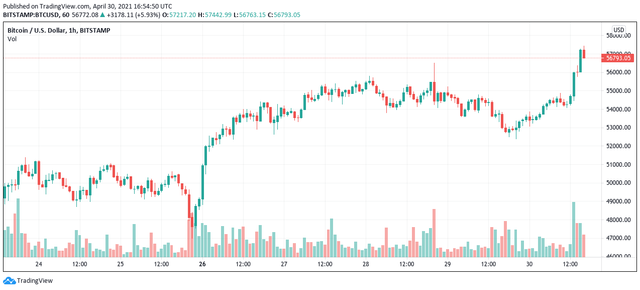 $4.2 billion expiry gives way to big Bitcoin gains
Data from Cointelegraph Markets Pro and Tradingview showed BTC/USD climbing 5% in hours on Friday to come within inches of a green monthly close for April.
At press time, $57,000 still formed a focus, with the pair needing to clinch $58,800 to avoid April's monthly candle turning red.
On social media, traders pointed to this month's $4.2 billion options expiry being out of the way and thus allowing Bitcoin room to move.
"This Bitcoin price surge is driven by spot. Funding even decreased a bit," he noted.
Moskovski referred to funding rates on exchanges, with a decrease implying that short positions are "paying" longs in a classic sign that upward momentum would continue.
Ethiopia's Minister of Education confirmed the government is working with IOHK, the company behind the Cardano protocol, on a blockchain-based system to track student performance in the African country's schools.
"This initiative is about bringing technology to improve the quality of education," said the minister, Getahun Mekuria, in a video conversation with John O'Connor, IOHK's director of African operations, livestreamed by the company Thursday. "It's very practical to think of the blockchain technology [as a way] to improve the quality of education."
The much-touted project is still in its early stages. O'Connor told CoinDesk the company is only beginning to develop the code for this project, and does not expect to launch anything before January 2022.
Steklo launched today.
The testnet involved participation from Eth1 and Eth2 clients.
Ethereum 2.0—the forthcoming proof-of-stake blockchain that promises to be faster and cheaper than the current network—is getting ready to deploy.
Developers at several Ethereum software labs, as part of the ETH Global Scaling Hackathon project called Rayonism, today launched what one researcher termed "a super experimental Eth1-Eth2 post-merge testnetwork."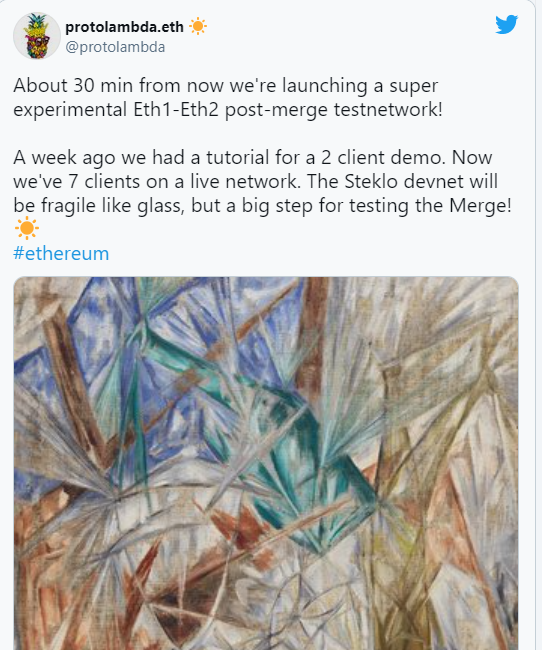 Ethereum 2.0, which was launched in December but is not yet a functional network, changes that. Currently in development, the new proof-of-stake blockchain will rely on users locking up their Ethereum as a way of verifying the legitimacy of transactions. Validators who keep connected to the network and help secure it earn ETH as a reward. Those who try to attack the network or fail to stay online can lose their "staked" deposit.
🗞 Daily Crypto Calendar, May, 1st💰

BasketCoin Thunder week - 7 days of constant promotions with influencers, AMA's, news and events regarding BasketCoin project.
Cover V2 Launch
"May 1st: Through Blind Boxes Launchpad, creators can host decentralized crowdfunding campaigns. Here creators can sell customized..."
The Oraichain Developers Studio, a developers hub to build dApps using the Oraichain Mainnet.
Staking Launch


➡️ Leofinance
➡️ Youtube
➡️ LBRY
➡️ Twitter
➡️ Publish0x
➡️ Den.Social
➡️ Torum
➡️ Spotify
➡️ Be paid daily to browse with Brave Internet Browser
➡️ A secure and easy wallet to use: Atomic Wallet
➡️ Invest and Trade on Binance and get a % of fees back
➡️ Check out my video on Unstoppable Domains and get 10$ off a 40$ domain purchase
➡️ Get 25$ free by ordering a free Visa Card on Crypto.com using this link or using this code qs4ha45pvh
Posted Using LeoFinance Beta