Welcome to the Daily Crypto News: A complete News Review, Coin Calendar and Analysis. Enjoy!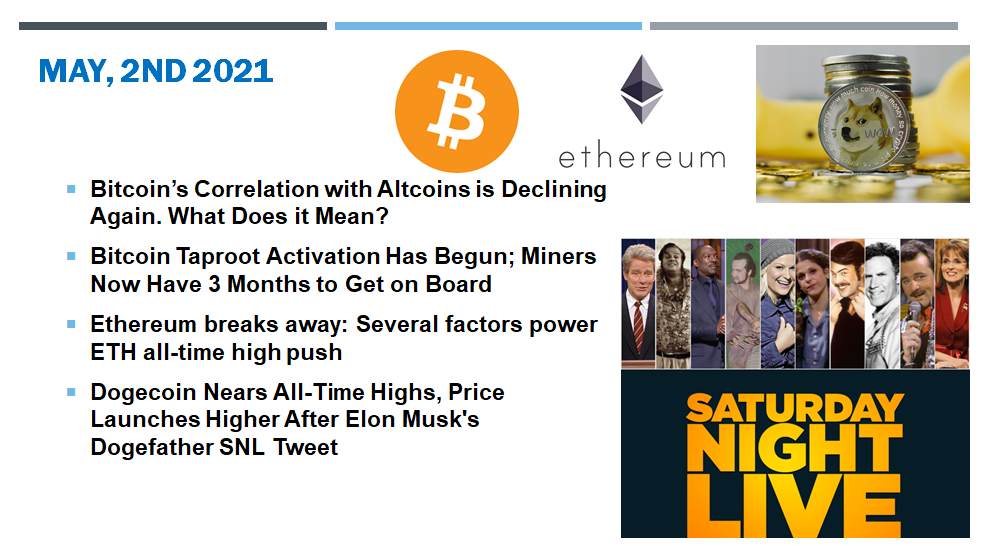 "Market participants are learning that many cryptocurrencies offer different value propositions."
"What we are seeing now is an overhyped and oversubscribed market."
The weakening correlation opens up more opportunities to trade.
Bitcoin (BTC) has long been accustomed to being the dominant cryptoasset, yet recently its share of the overall crypto market capitalization has declined. From standing at around 70% at the start of the year, it has since fallen below 50%, highlighting how other cryptoassets are increasingly starting to take a bigger share of recent gains.
The logical extension of this decline in dominance is that correlations between bitcoin and other coins have also begun to subside. As far back as a year ago, pretty much all the leading cryptoassets had a correlation with BTC of 0.9 and above (1 being the maximum), but in recent weeks this figure has sunk below 0.3 for many of the top-ten cryptos.
Been there, done that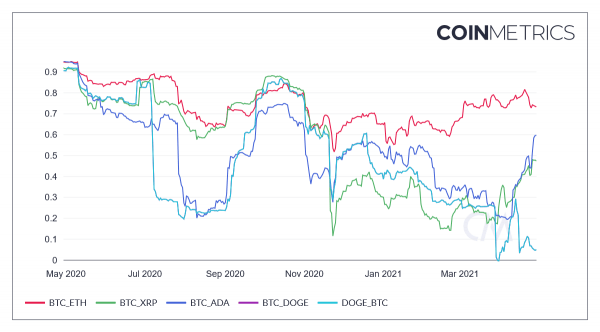 There was a gradual subsidence up until July/August, when bitcoin (and to a lesser extent, ethereum) began rising in price, leaving many altcoins behind. Despite a recovery in correlations in October, things began to drop again from November, when bitcoin's bull run really began picking up momentum.
"The weakening correlation between major altcoins and bitcoin in a bull market is not new. As ETH and top altcoins rally during bullish spells, they often post higher returns compared to BTC, which in turn causes the correlation to drop," said Robbie Liu, a market analyst at OKEx Insights.
Bitcoin's Taproot update has finally begun its Speedy Trial.
Today's difficulty adjustment kicks off the first phase of activation for the upgrade, Bitcoin's biggest in years which (among many things) will make Bitcoin multi-signature transactions cheaper, more private and easier to deploy.
Starting today, miners who wish to adopt the upgrade can signal their support by including special data in the blocks they mine called a "signal bit." If 90% of the blocks mined during this difficulty period (or any of the other roughly two week difficulty periods that occur between now and the August 11 timeout), then the upgrade is "locked in" for activation in November of this year.
Taproot when?
This isn't likely, though. Miners have already pledged their support for Taproot, so it's really a matter of when, rather than if, said Poolin VP Alejandro del la Torre, who ran the original mining pool survey to gauge Taproot support among the mining community
"I am confident it will happen," he told CoinDesk, adding that "up to now, there has not been one complaint from our miners at Poolin about our wish to upgrade to Taproot."
After a recent slump across cryptocurrency markets, Ether has surged to new all-time highs off the back of a number of important events and metrics. Overall, 2021 promises to be a crucial year for the Ethereum blockchain as developers continue to work toward the network's integration with Eth2, which will see the blockchain part ways with its original proof-of-work consensus algorithm in favor of the touted energy and cost-efficient proof-of-stake consensus.
While the technical details may not concern many day-to-day Ether (ETH) users and traders, the recent price action of ETH, coupled with a number of significant events, suggests that the momentum that has led to ETH hitting a new all-time high at the end of April could continue for some time.
The price of ETH has risen by around 15% over the past week, which is also noted as the world's second-biggest cryptocurrency by market capitalization, reaching a record $312 billion. The price of ETH continued to rally on April 28 as news broke that the European Investment Bank is launching a "digital bond" sale on the Ethereum blockchain.
One step closer to London
Ethereum's evolution toward a proof-of-stake future also continued this month as the latest Berlin upgrade introduced a couple of important Ethereum Improvement Proposals to the blockchain protocol.
The infamous meme-crypto dogecoin has seen double-digit gains in recent days after Tesla's Elon Musk tweeted about his upcoming Saturday Night Live appearance on May 8. On Wednesday, Musk tweeted "The Dogefather SNL May 8," and a great number of people assume dogecoin will be mentioned to some degree on the show.
Dogecoin Captures a $50 Billion Market Cap
This weekend, dogecoin (DOGE) has started to surge again, as the token featuring the likeness of the Shiba Inu dog is nearing the asset's all-time high (ATH). The last dogecoin ATH was two weeks ago when the cryptocurrency reached $0.44 per token.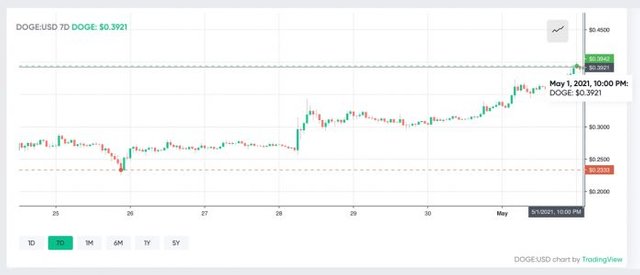 Just before the weekend, Tesla's Elon Musk, who tweets about dogecoin often, mentioned his upcoming SNL appearance scheduled for May 8. In fact, Musk has been fielding Twitter for ideas for certain skits he could do on the show.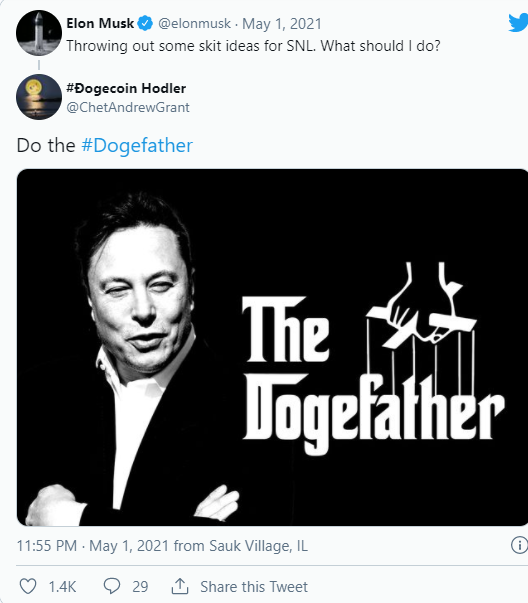 Queries for Dogecoin Reach the Highest Score on Google Trends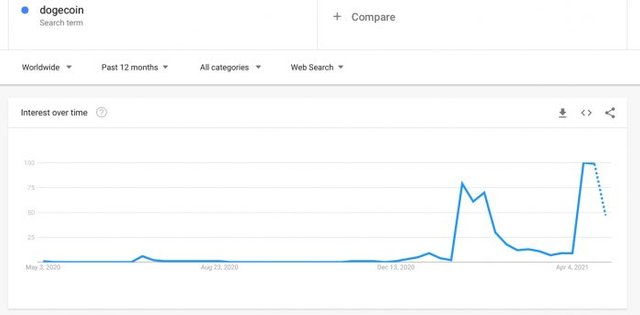 🗞 Daily Crypto Calendar, May, 2nd💰

Maki Finance (MAKI), UniLayer (LAYER)
"The MAKI airdrop for all Unilayer (LAYER) token holders will be able to claim (MAKI), The snapshot at 5:00PM ET (NY TIME)"
"The GOAT pele. May 2, exclusively on ethernity.io."
"DFY burn to take place May 2nd."
"BitMart Lists AFEN Blockchain (AFEN), 5/2/2021 11:00 AM (EDT).
"The Bogged.Finance Token Sniper launches on Sunday the 2nd of May."


➡️ Leofinance
➡️ Youtube
➡️ LBRY
➡️ Twitter
➡️ Publish0x
➡️ Den.Social
➡️ Torum
➡️ Spotify
➡️ Be paid daily to browse with Brave Internet Browser
➡️ A secure and easy wallet to use: Atomic Wallet
➡️ Invest and Trade on Binance and get a % of fees back
➡️ Check out my video on Unstoppable Domains and get 10$ off a 40$ domain purchase
➡️ Get 25$ free by ordering a free Visa Card on Crypto.com using this link or using this code qs4ha45pvh
Posted Using LeoFinance Beta