Welcome to the Daily Crypto News: A complete News Review, Coin Calendar and Analysis. Enjoy!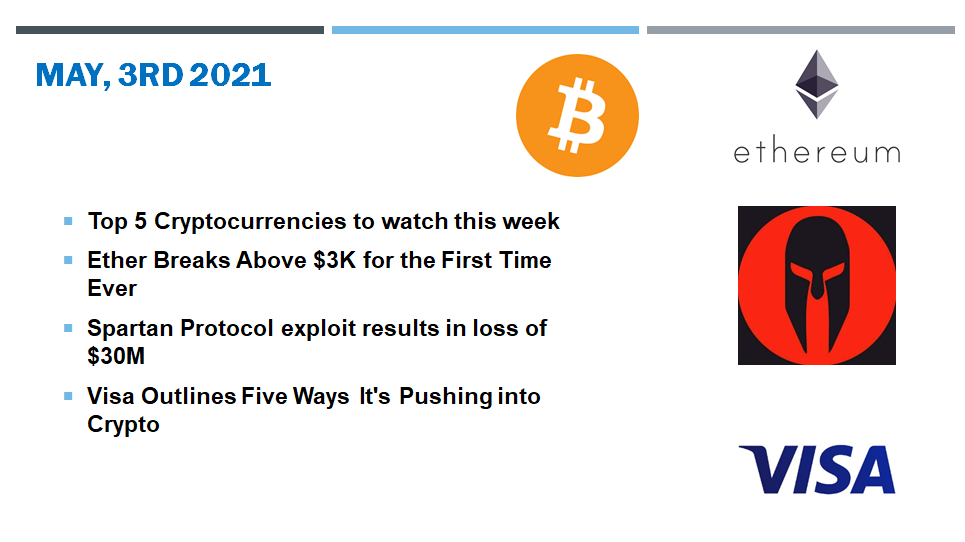 Bitcoin (BTC) price closed the month down 1.98% which according to data from Bybit, was its first negative close in April since 2015.
In the same month Ether (ETH) price soared over 44% to hit a new all-time high close to $3,000. This wide divergence between the top two cryptocurrencies shows that the markets have matured and Bitcoin's underperformance is not affecting altcoins as much as it did in the past.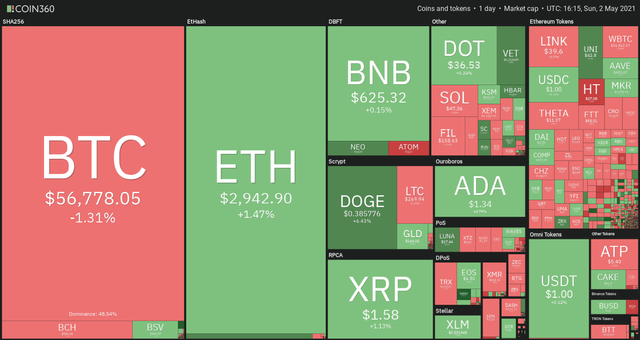 BTC/USDT
Bitcoin soared above its moving averages on April 30 but the bulls have not been able to build on this strength. The Doji candlestick pattern on May 1 and the drop below the 50-day simple moving average ($56,833) today suggests the bears are selling at higher levels and have not given up.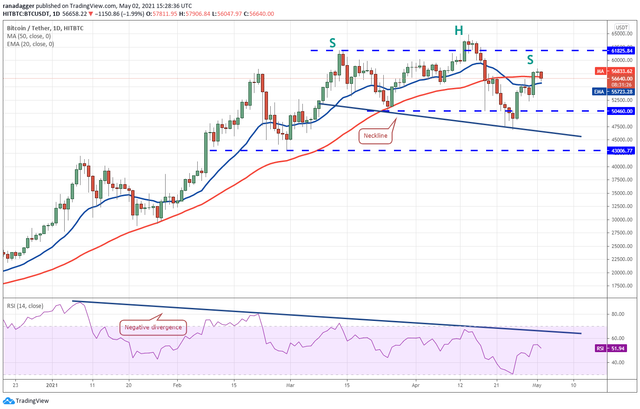 SOL/USDT
Solana (SOL) broke above the $48.64 resistance on May 1 and hit a new all-time high at $49.99 today. However, the $50 psychological level is acting as a resistance and the bears have pulled the price back below $48.64 today.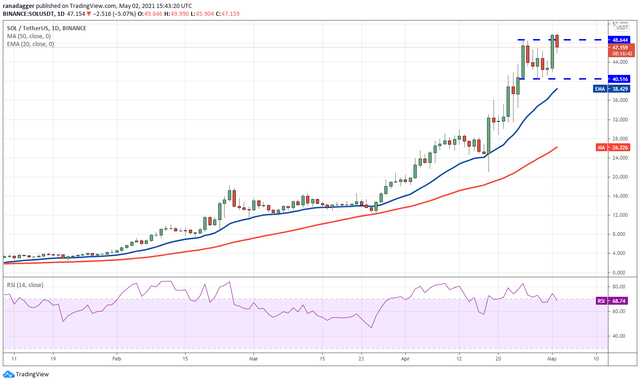 HT/USDT
Huobi Token (HT) surged above the resistance at $26.89 on May 1 and hit a new all-time high at $29.54 today. However, the bears are trying to pull the price back below the breakout level and trap the aggressive bulls.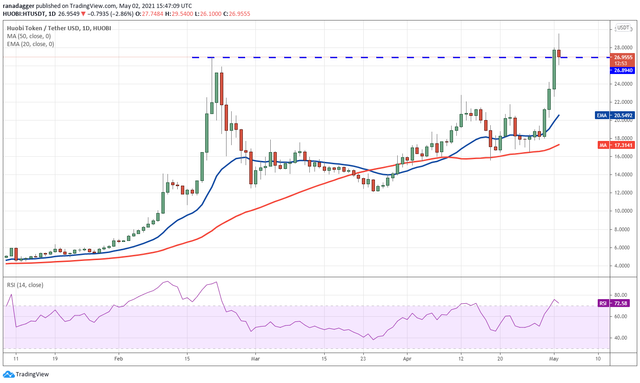 ...
Ether (ETH, +6.08%) (ETH), the second-largest cryptocurrency by market capitalization, went above $3,000 Sunday for the first time in history, according to CoinDesk 20, after setting multiple all-time highs last week.
At press time, ether's changing hands at $3,026, up more than 2.5% in the past 24 hours.
Ether is now up about 300% on a year-to-date basis versus a 95% rise for bitcoin (BTC, +2.02%).
Ether's impressive gains came as the demand for the second most valued cryptocurrency has soared.
The total market capitalization for decentralization finance (DeFi), recently hit above $100 billion, with some of the most popular DeFi projects being built o
There are more than $68 billion worth of value locked in DeFi, per data from DeFi Pulse.
Spartan Protocol, a liquidity platform for synthetic assets on the Binance Smart Chain, was drained of $30 million in a coordinated attack on its liquidity pool late Saturday.
The exploit targeted a "flawed liquidity share calculation" in the SPARTA/WBNB liquidity pool, which enabled the attacker to withdraw the funds, blockchain security company PeckShield explained. The security expert continued:
"In particular, the specific hack inflates the asset balance of the pool before burning the same amount of pool tokens to claim an unnecessarily large amount of underlying assets. The consequence of this attack results in more than $30M loss from the affected pool."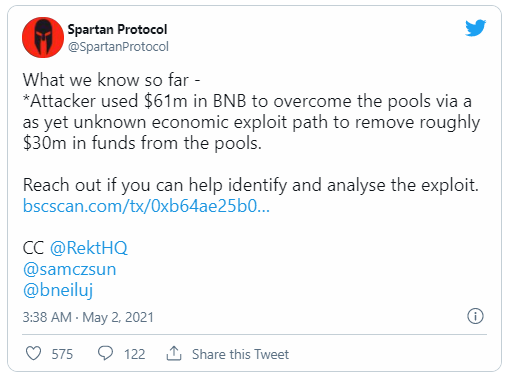 Spartan Protocol's latest update on the matter came early Sunday, where it linked followers to the PeckShield report: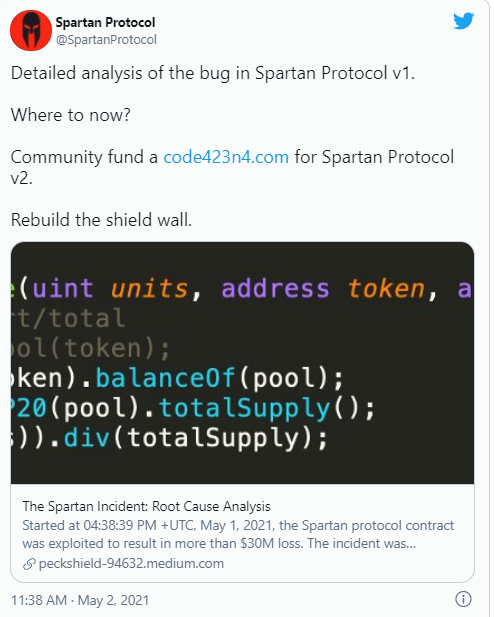 The attack goes down as one of the single largest monetary exploits in DeFi history, according to Rekt. Only five other DeFi exploits resulted in the loss of more funds: EasyFi ($59 million), Uranium Finance ($57.2 million), Kucoin ($45 million), Alpha Finance ($37.5 million) and Meerkat Finance ($32 million).
Visa wants you to buy and spend crypto.
The payments company has partnered with crypto companies and financial institutions.
Visa's also eyeing central bank digital currencies.
Visa chairman and CEO Al Kelly said in a quarterly earnings call on April 27 that the company has ambitious plans for digital currencies.
"I would say that this is a space that we are leaning into in a very, very big way and I think are extremely well-positioned," Kelly said.
Helping you buy crypto
Helping you spend crypto
Crypto in everyday finance
Settlement of crypto
Central bank digital currencies

🗞 Daily Crypto Calendar, May, 3rd💰
On 03.05.2021, the $CLO block reward will be reduced by 40%.
"The REN Mainnet will upgrade to v0.4.0 on Monday, May 3, 2021 Through Sunday, May 9, 2021."
"FXF Platform Launch"
"Join Me on Monday 19:00 UTC at My New Telegram AMA Group for an Exclusive Update."
"EQL is coming to binance smart chain Mainnet on Monday may 3rd"


➡️ Leofinance
➡️ Youtube
➡️ LBRY
➡️ Twitter
➡️ Publish0x
➡️ Den.Social
➡️ Torum
➡️ Spotify
➡️ Be paid daily to browse with Brave Internet Browser
➡️ A secure and easy wallet to use: Atomic Wallet
➡️ Invest and Trade on Binance and get a % of fees back
➡️ Check out my video on Unstoppable Domains and get 10$ off a 40$ domain purchase
➡️ Get 25$ free by ordering a free Visa Card on Crypto.com using this link or using this code qs4ha45pvh
Posted Using LeoFinance Beta