🔥 $CUB kingdoms are increasing the burns and more are coming !
---
Hello HODLers, Hello CUBs,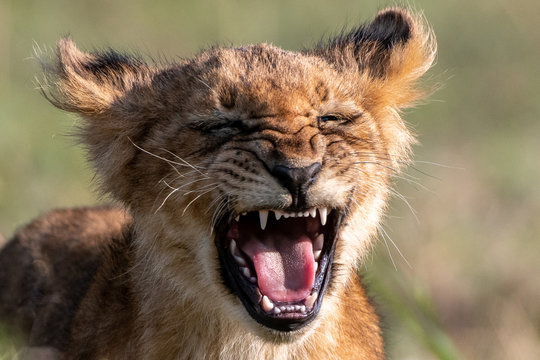 Exactly a week ago I published a post named 🏰 Kingdoms are a game changer, you just do not realize it yet ! $CUB 🏰
One of my account's Kingdoms holding on June, 3rd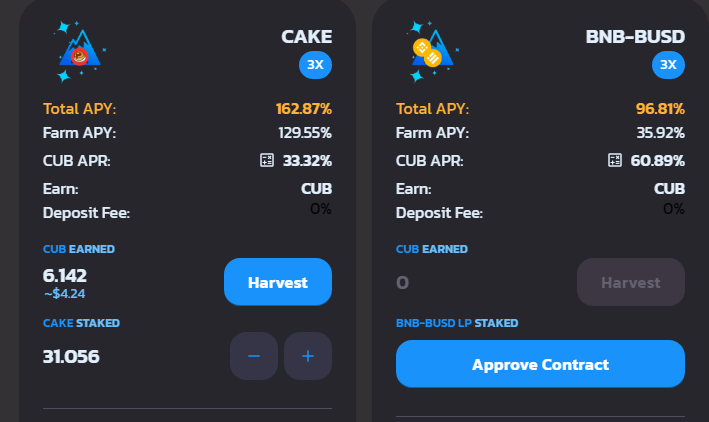 What I expected is the CUB APR of these Kingdoms to go lower and lower as the other asset APR to stay somwehat constant (more mature platform).
I would agree that the fact that $CUB lost a lot of its value is also a big part of this lower $CUB APR. But I really believe we are in a place now that we could sustain.

This same account holdings on June, 10th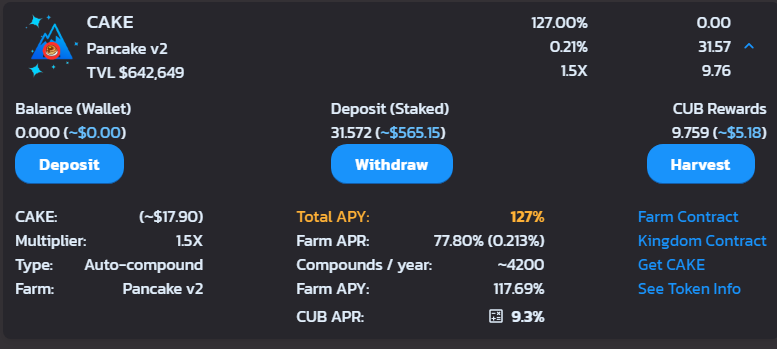 I also was expecting the fees to start kicking in and help us hold the $CUB price at these 0.5-0.6$ levels.
It seems both of these are happening. $CUB has been quite stable over the past week but most impressive; the $CUB APR in the $CAKE pool collapsed while the $CAKE APR stayed quite constant.
It went from 33% to 9.3% today. Meaning that just taking the fees into account on this pool, 10% of the $CUB generated by that pool are automatically burned. If things continue that way and with the roll-out of further Kingdoms and other burning processes such as Lottery, etc...
We might finally come to a very sophisticated and high burning mechanism.
Pancakeswap has managed to grow and reward very well its users while having a high burn which allowed their token $CAKE to stay expensive and even increase over the past months.
I can only wish this to happen to cubdefi.com.

More Kingdoms to come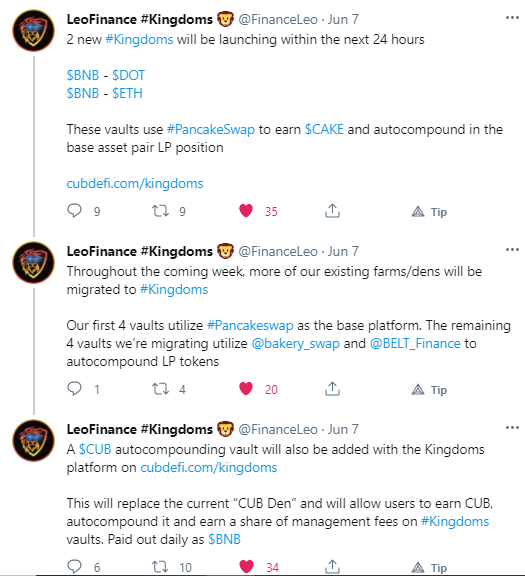 Very exciting right? And tomorrow I will write a post to explain the impact on the $CUB printing / burning mechanism after these 2 new Kingdoms will be live. And it seems this is just the start.
I hope we learn more cool news on tomorrow's AMA :D
Latest Analysis

➡️ Leofinance
➡️ Youtube
➡️ Odysee
➡️ Twitter
➡️ Publish0x
➡️ Den.Social
➡️ Torum
➡️ Minds
➡️ Spotify
➡️ Be paid daily to browse with Brave Internet Browser
➡️ Invest and Trade on Binance and get a % of fees back
Posted Using LeoFinance Beta
---