Will you literally sell your eye for free WorldCoin?
---
Hello HODLers,
I do not know if you heard the latest drama about a new crypto project backed by many VCs called: WorldCoin.
It recently completed a funding round of c.$25mn valuing the overall company at c.$1bn.
Their biggest hurdle was: "How to distribute fairly the coin to every human, while not using ID which could be used for someone else?"**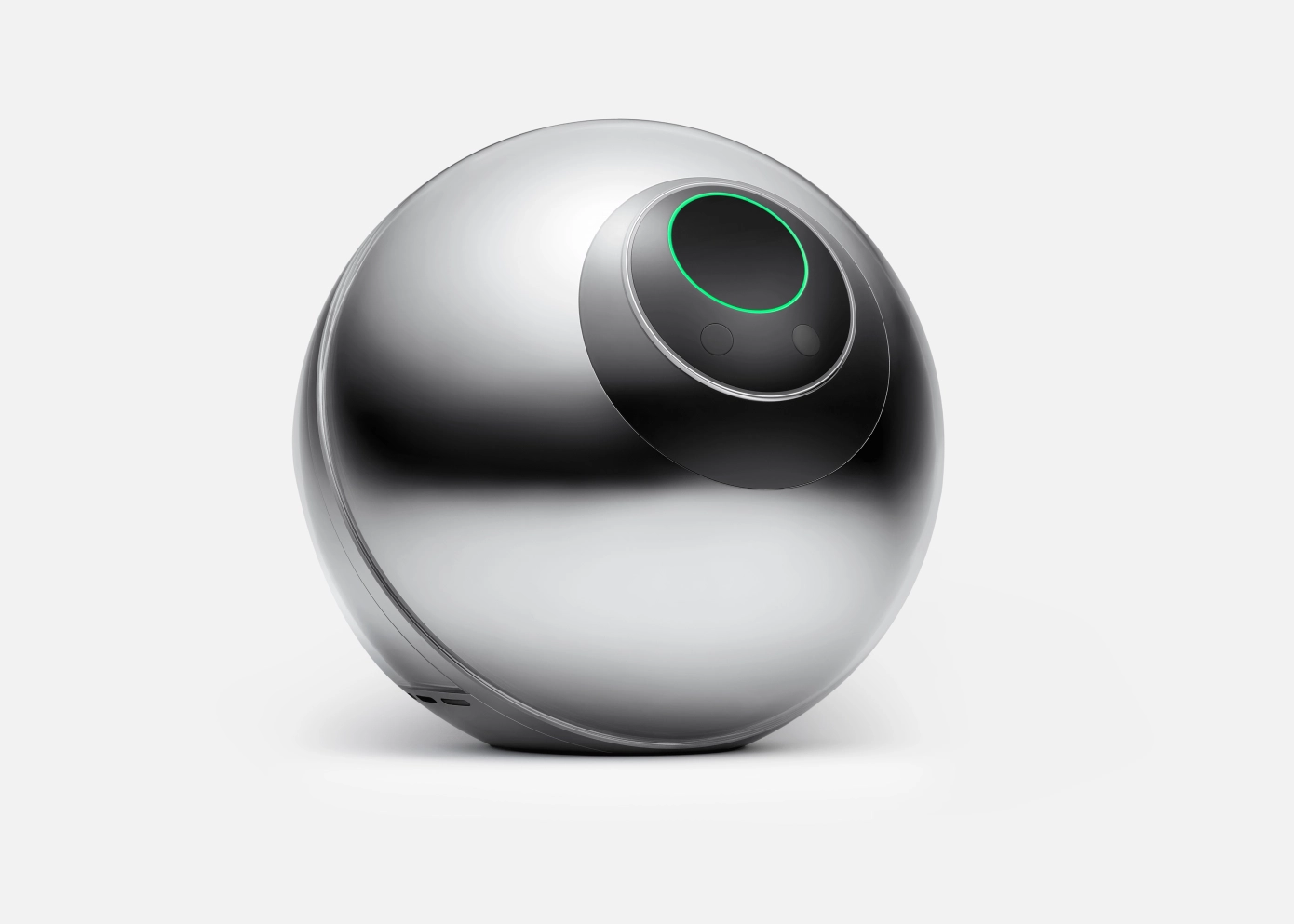 They decided to ID each and everyone of us using our eyes ! Yes, you read it right: our eyeball. You would need to scan your eye and iris which will generate a tx checking if you already subscribed and if you are truly a new user: It will give you your WorldCoins.
Edward Snowden who I do not need to present sees this initiative as a threat to our privacy !
Worldcoin's team has defended themselves saying that they do not store iris pictures as it is not needed. They give a specific hash for each picture which is supposed to be unique,
As Snowden points out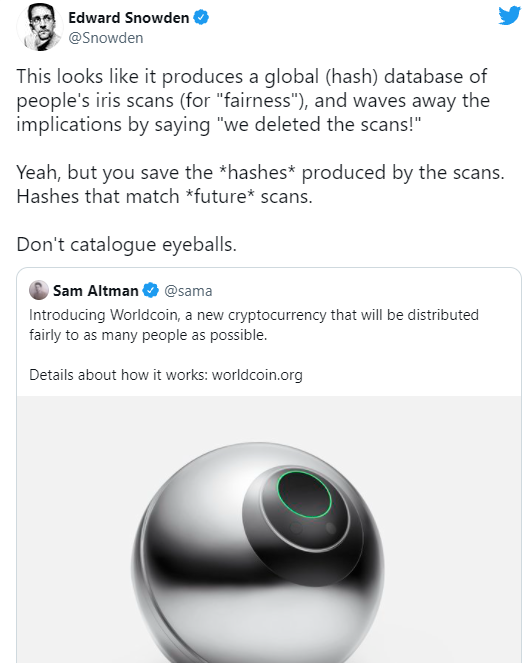 Tokenomics
80% of the Worldcoin supply will be given to users onboarded to the service (virtually share equally by every human)
10% will be reserved for the company
10% going to the organization's investors
So WorldCoin is supposed to be the fairest and most decentralized coin EVER in order to replace Bitcoin but 20% is premined by the team and investors behind the project?

List of VCs behind this project a.k.a the ShameList
Here is the list of some VCs who participated in this last round of funding. It is quite disappointing to see the most famous crypto names in there:
Andreessen Horowitz led this funding with participation from:
Coinbase,
Reid Hoffman,
Day One Ventures,
Multicoin,
FTX's Sam Bankman-Fried and
Variant's Jesse Walden, among others
Shame on you !
Exclusive picture of the 2 guys wanting your eyeballs !
If you see them in the street, close your eyes !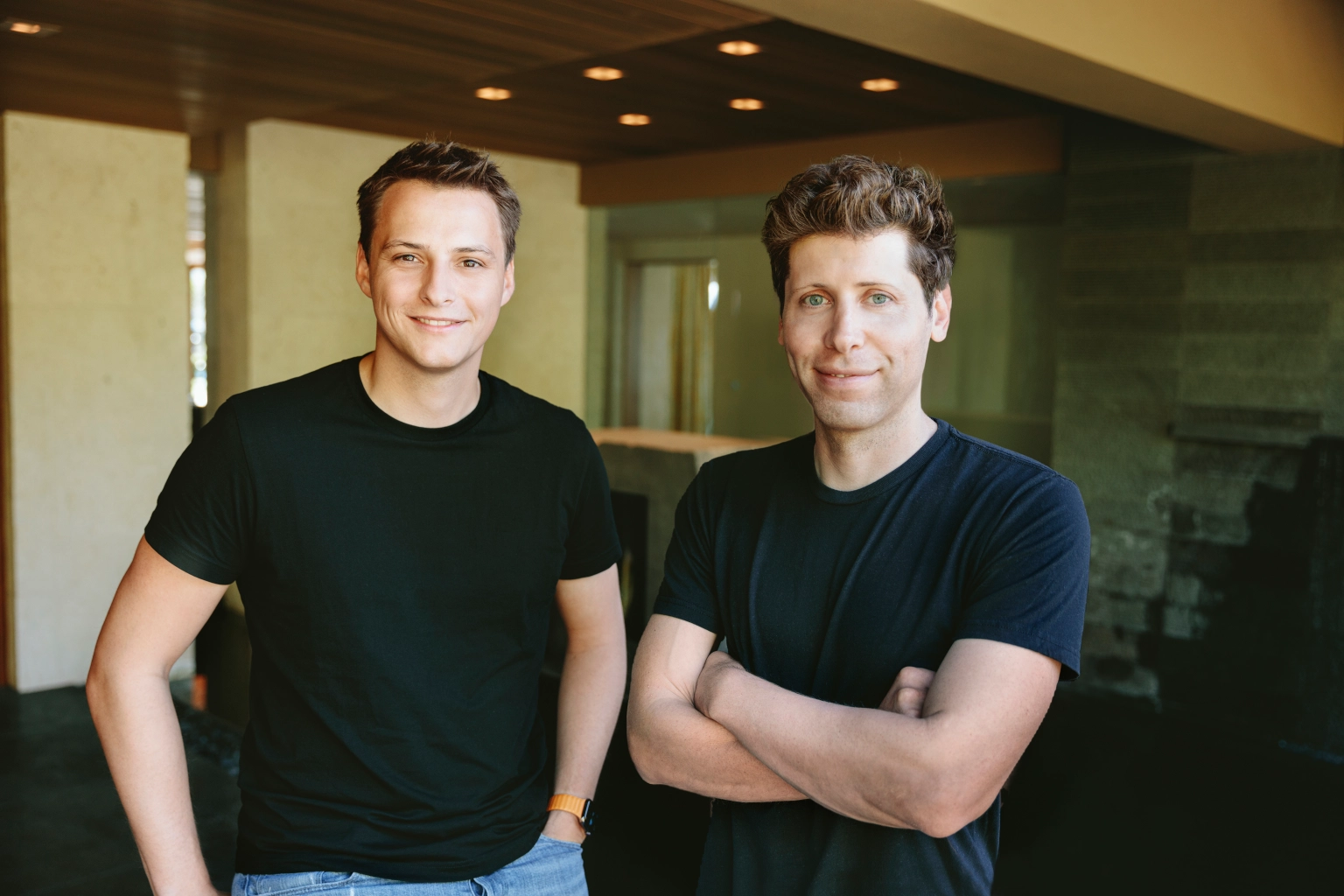 Sad Fact: People will still give their eyeballs...
I guess as I read somewhere:
Worldcoin will have to hope the promise of free crypto is enough to dissuade those concerns.
Well, in crypto; a lot of users are okay with those concerns as long as they might benefit financially from it in the future. Unfortunately...
On my side, this is not a trade-off I am ready to make. Ever.
Sources:
Edward Snowden Slams Sam Altman's Worldcoin: 'Don't Catalogue Eyeballs', Decrypt
Sam Altman's Worldcoin wants to scan eyeballs in exchange for crypto,Tech Crunch

Latest Analysis
Posted Using LeoFinance Beta
---