30 Whales and 8690 Minnows
---
Stats from June 16th, 2018 on the ole Steem blockchain.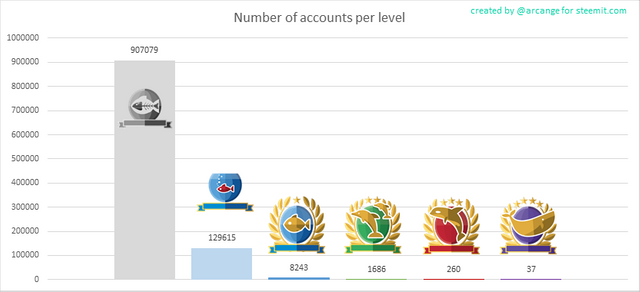 arcange stats from June 2018
Source: https://steemit.com/statistics/@arcange/steemit-statistics-20180617-en
We had:
37 Whales
260 Orcas
1686 Dolphins
8243 Minnows
129,615 Red-fish
Today: May 11, 2021 - Nearly 3 years later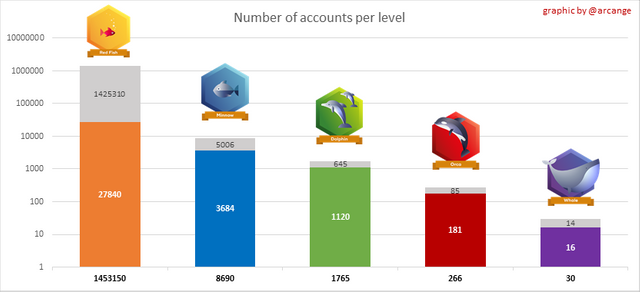 Source: https://leofinance.io/@arcange/hive-statistics-20210510-en
WE HAVE
30 Whales
266 Orcas
1765 Dolphins
8690 Minnows
27840 Active Red Fish. (in the previous version of stats, active and inactive didn't show)
Since this is a look at wallet values
These stats have nothing to do with active users, voters, etc. It has to do with how many people hold a Hive wallet and choose to hold HIVE for whatever reason.
Many Account holders have cycled in and out of Hive and we have some new users, but I think it is fairly shocking how the numbers are so similar.
It needs to be stated that many of us hold more than one account as well, but still the number of wallets and stake are fairly consistent for 3 years later and in the middle of a Bull Market that has been great for most Alt coins.
As far as daily users we have yet to see any sort of break out in use of the platform as well. (wallets lag behind use usually)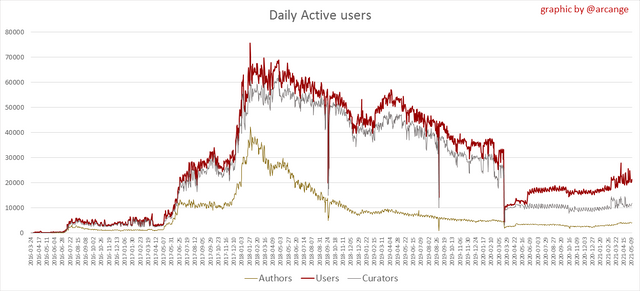 All time daily user chart doesn't look great, but look below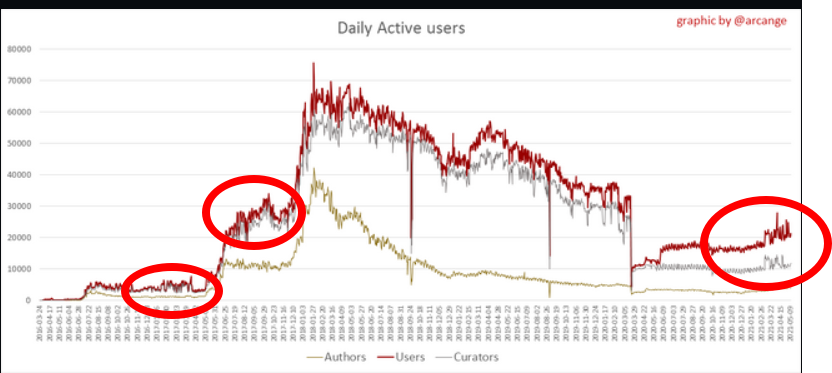 The Orcas and Dolphins are the most active groups, not surprising since they probably bought and or earned their stake. Probably some of both in those categories.
Do you think Hive will see a breakout in this bullrun? I honestly don't know, I still see the potential but everything feels stagnant and as a long term member of the community, I am still not clear on where Hive wants to head.
There is a lot of talk about moving rewards to a 2nd layer, but no commitment. There is very little talk of onboarding anymore. It seems stakeholders talk about recruiting developers or apps, but I haven't really seen any evidence there is any outreach happening. Many of us have found a community or app that we use and I don't pay much attention to Hive politics anymore.
Last bull run when it was Steem, it lagged behind and hit ATHs after the rest of the bull-run had already peaked, maybe it will follow that route again.
I still see the potential in Hive and I love some of the apps and most of the community, but it could just be a long term quiet project.. and I'm not sure there is anything wrong with that either.
For now for me, it's a HODL. Not a BUY not a SELL, just wait and see.
Posted Using LeoFinance Beta
---