Bitcoin Maxis And Bitcoin Dominance - 42.26%
---

#Confession: I am a bit triggered by Bitcoin Maximalists. They remind me of poor Peter Schiff out there predicting the end of Bitcoin, because Gold is better. No matter how much the value of Bitcoin goes up, Peter repeats time and time again that Bitcoin is a scam, ponzi or unsound.

Bitcoin Maxis do the exact same thing, no matter how often the market proves them wrong by showing there is clearly a market for other projects they just insist that Bitcoin is the only true cryptocurrency and every single other project is flawed, and those buying any alt coins will hold regrets or lose money. Even though these notions are provably wrong.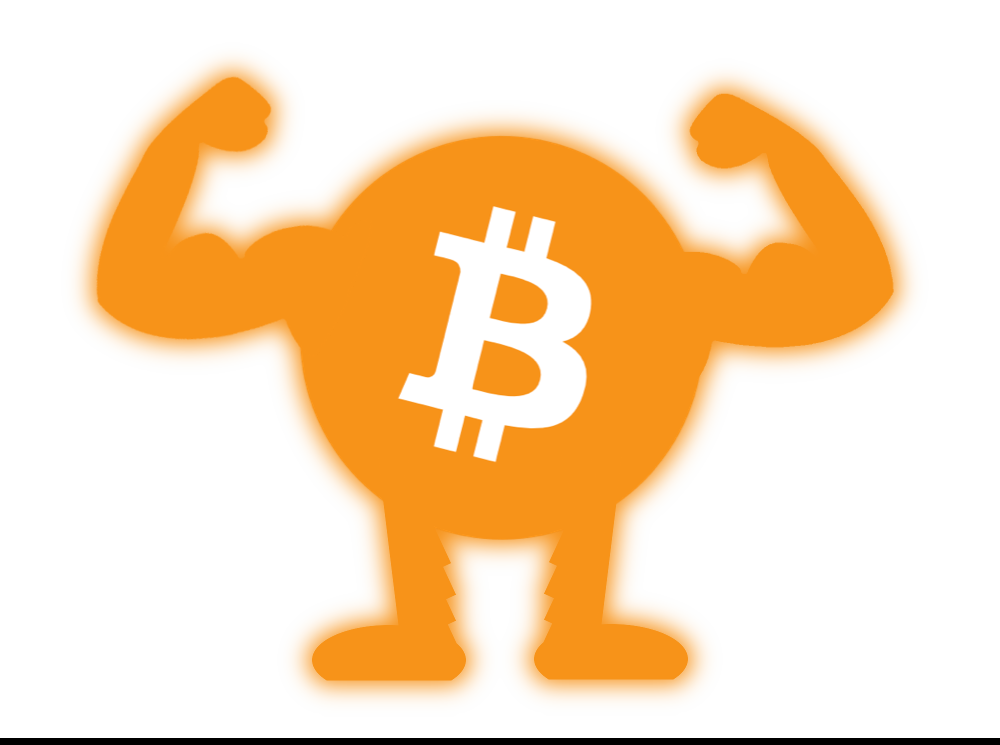 Bitcoin Dominance looks at the entire marketcap of all cryptocurrencies and compares the amount of Crypto is currently in Bitcoin. Bitcoin vs. All of the Alts.
Currently on CoinMarketCap.com the entire cryptocurrency market tracked there is at 2.299 Trillion Dollars. Comprised of 12,534 listed cryptocurrency projects.
Bitcoin holds 42.26% of the dollar value in the cryptocurrencies listed and tracked by CoinMarketCap.com

Why should you care about Bitcoin Dominance?

However, I was watching some Bitcoin Maxis have a conversation today and thinking, that serious Alts like ETH and others are likely to continue to gain market advantage over time, we are now seeing Corporate Interest in ETH and other Alts.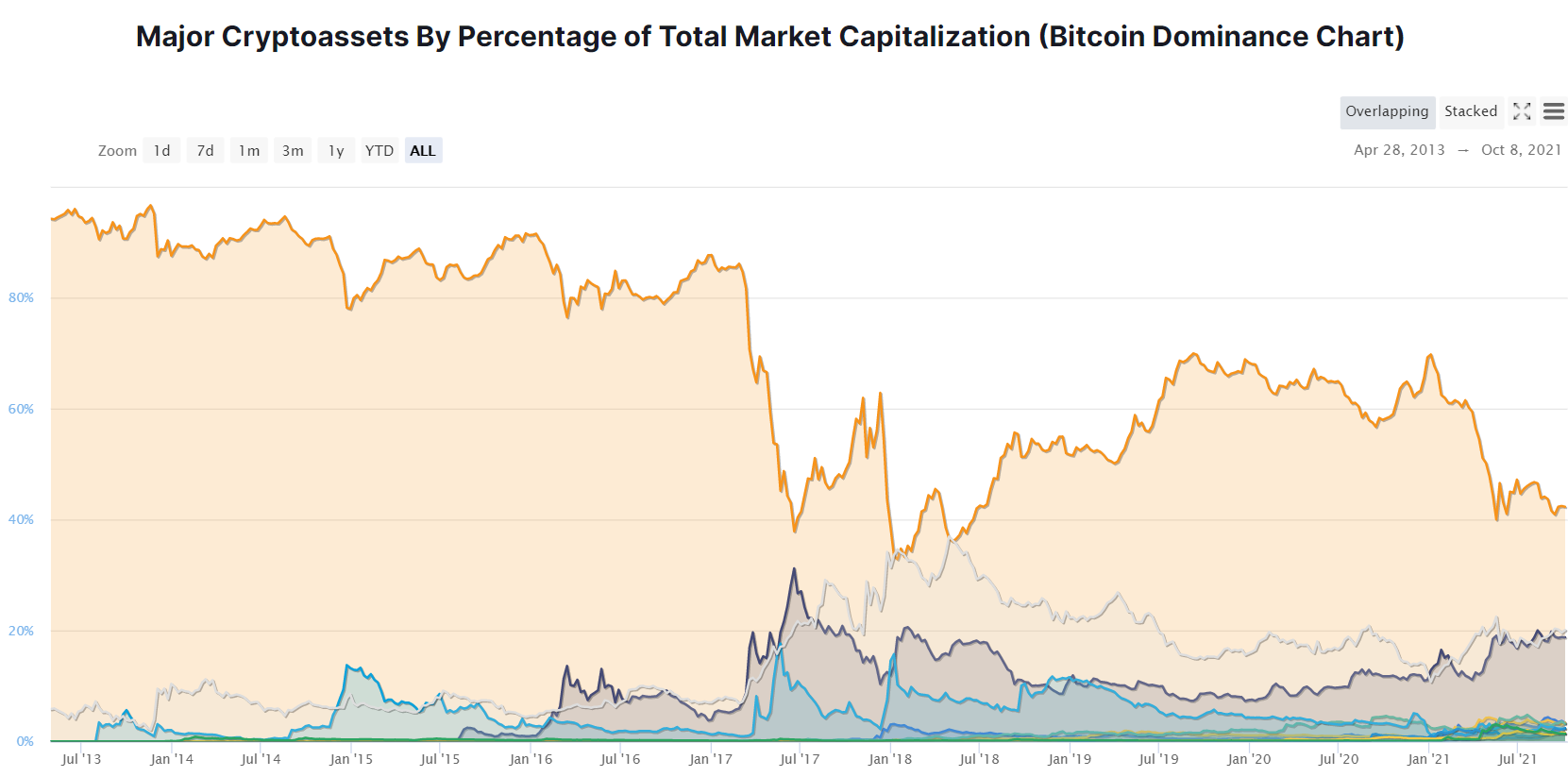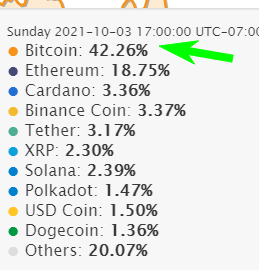 You can see ETH is currently at nearly $19% that could change suddenly if Bitcoin goes on a large run 4th Quarter. However, they could also grow at the same pace, only time will tell.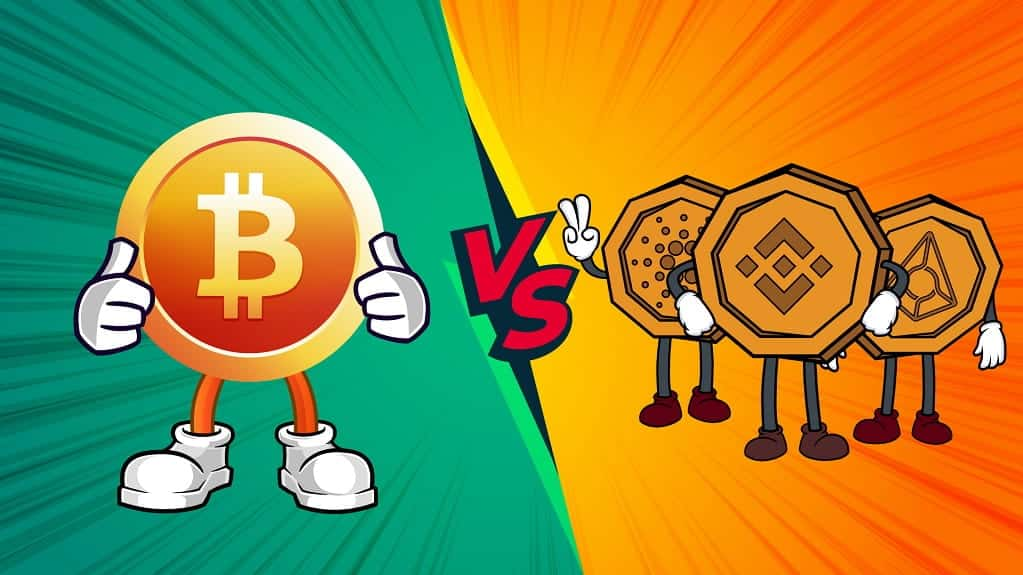 With the growing rise in Defi, NFTs, Games and other crypto uses that require smart contracts, I don't see Bitcoin ever regaining it's huge market dominance, but Bitcoin is still my largest holding and I am looking forward to seeing how it performs under what could be some bumpy economic times to come.
What are your thoughts on Maxis and Bitcoin?
Posted Using LeoFinance Beta
---