𝐂𝐫𝐲𝐩𝐭𝐨 𝐖𝐞𝐚𝐭𝐡𝐞𝐫 𝐅𝐨𝐫𝐞𝐜𝐚𝐬𝐭 - #28 Weird Times Ahead as Bitcoin Outshines Gold
---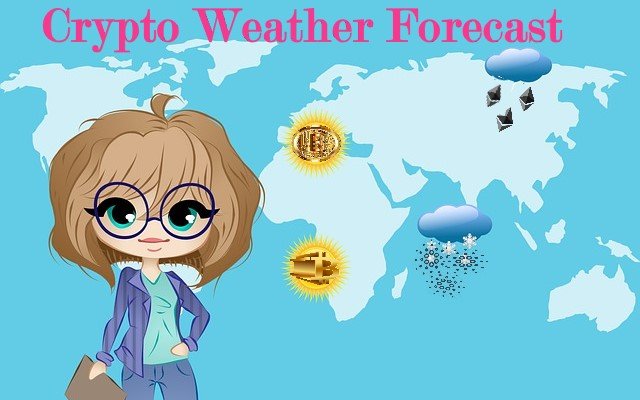 Howdy Folks,
What a beautiful day it is today. Back in the reds after this green storm that seemingly came out of nowhere yesterday.


Seemingly, as the green storm was a reaction on the DXY finally looked like it topped out. At least that was what it looked like during the morning.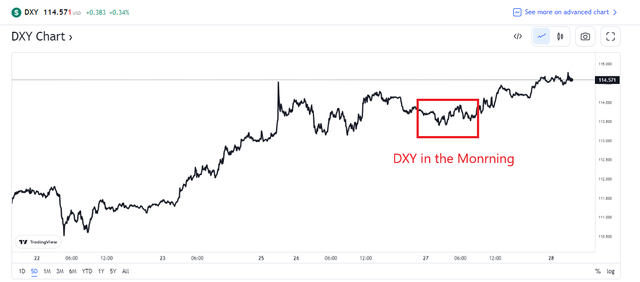 Crypto Markets were looking forward to the dollar value finally dropping, maybe a bit too much and too early. Because that dollar was just taking a breather on its way up. Causing Bitcoin to go down once again. But it provided a lovely volatility storm allowing for some nice profits if you were quick enough to catch it.
That Freaking Dollar
Now, most of you probably know what the DXY is, but for those who don´t, it´s the price of the dollar against itself. And that freaking dollar has been rallying for a long time. And when the dollar rallies everything else measured in dollars goes down.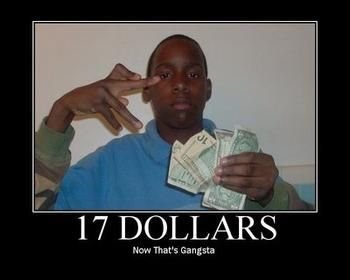 I will not even mention the British pound going down on the dollar. But me, as a Euro Trash baby, I can see that my crypto holdings are worth more in euros than in dollars.
Where that used to be the other way around. When I bought my BTC I paid about 500-1000 less in euros than in dollars e.g. One BTC was 18.500 euros and 19.100 dollars in July of 2022 when the DXY was at 103.
Today the DXY is at 114, one BTC is 18.700 dollars, and that same BTC is 19.500 euros. So in essence all the euros I pumped into crypto these last 6 months have more value now than if they had been kept in my bank account. Of course, I am oversimplifying it a little, but many British pounds are currently converted to BTC. I would say you are a bit late mate, but on the other hand, the pound has still not bottomed out.
Weird Times
These are weird times indeed, we have a recession if not yet here it´s arriving any day now. We have short-term US bonds with better interest rates than long-term bonds, and we have BTC outperforming gold.
Normally I would quote Greenday saying "Wake me up when September ends," as crypto and September do not have the best history. But even that is weird this year. Yes BTC is slightly down against the dollar, but that is because of the dollar being up ridiculously high.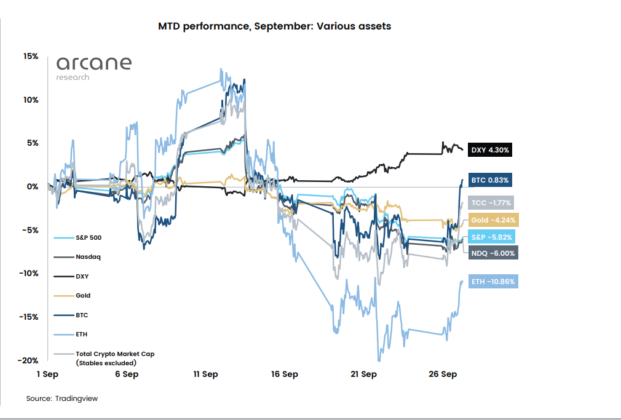 The dollar did well month to date, causing all other assets measured in dollars to do, ehh not so good. Still crypto did better than gold or stocks and BTC did very well being the only asset in the green.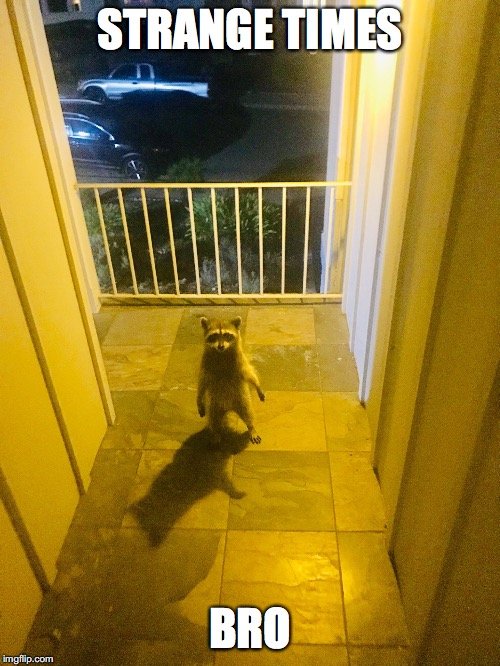 Just imagine when that DXY will go down for real what a jump the market could make.
Bottom Line Forecast
Now part of that good-looking Crypto September is because of all the hype end of Aug and early Sep around ETH. This pulled up the whole market but in the end, ETH who drove the pump benefitted the least.
So what to expect, well purely on that climbing dollar prices should go down as long as the DXY is going up.
Will it go up a lot more?

Well, in general after such a parabolic rise the DXY tends to calm down and even drop, but we are in a weird situation.
So yes I would expect it to drop, but at the same time look at that early 80s drop after a parabolic rise, because after that drop the DXY went up all the way to 160 and those were weird times as well. Still, that was an outlier, and on average we should top out relatively soon. Once it goes down crypto will see another pump.
Till then we will see these currencies like pounds and euros move into other assets to keep some value. If they keep moving into BTC that will ensure that BTC does better than other currencies. And underline the narrative of a hedge against inflation.
Will this ever end?
Now the end will only come when the FED pivots.
The dollar has drawn investors due to the raised interest rates this year allowing the DXY to go parabolic. As soon as the US Federal Reserve gives in the DXY will come down, and the markets feel relief. This will cause a huge pump. But the FED only pivots when that recession is so close that it will hit the markets very soon. Hence the window of opportunity will be small, so be ready to expect a pump and dump driven by the FED in Q1 of 2023.
In the shorter time frame, the FED will not pivot and the dollar will stay very strong. This will push the rest of the world into a recession first, that is probably when the FED will pivot.
Are we not in a recession yet?
Key Recession Indicators are:
Stocks will fall significantly - Which happened already
Decrease of Income - Inflation took care of that
High/Increased Unemployment - Not that much for now. That´s what makes this recession weird, but unemployment will grow.
So what to make from this all?
Inflation drives increased labor costs.
Fighting inflation drives a strong expensive dollar.
Increased labor cost drives and an expensive dollar increases product costs.
Increased product costs will reduce sales.
Reduced sales and high labor costs will drive unemployment- We are here
This is about the time the FED will pivot.
Unemployment and high product costs will further reduce sales, and will further increase unemployment, by now this is a full-fledged recession.
The only positive is that this happens during a period when unemployment is low, and many companies are not at full capacity due to a lack of human resources. This might allow a large part of the world population to keep working, work provides income, income ensures spending and that would get us out of that painful recession.
For crypto, it looks like the market is doing better than most currencies, although when a recession becomes undeniable gold will probably outperform crypto gain.
Lots of investments in the crypto-verse have been done allowing it to build and grow during this recession. With regards to the price, a recession will ensure that new ATHs might take longer and the path to recovery is slow and painful.
So where I expected Q4 of 2024 to be the start of the next new bull run, I might want to reconsider that and add a year or so.....if the recession plays out as I expect it will.
A bit more forecast than normal but as I try to make sense of things I guess I better share it so you don´t have to do the same work.

The Crypto Weather Forecast is my take on the crypto market, sometimes serious, sometimes sarcastic, often with a wink, and Always Honest.
Posted Using LeoFinance Beta
---