Hey Steeminas, dear BEER lovers
More and more Steemians understand the benefit of staking BEER to earn more BEER by doing nothing
61% ob BEER is now staked - lets try to reach 70% in a month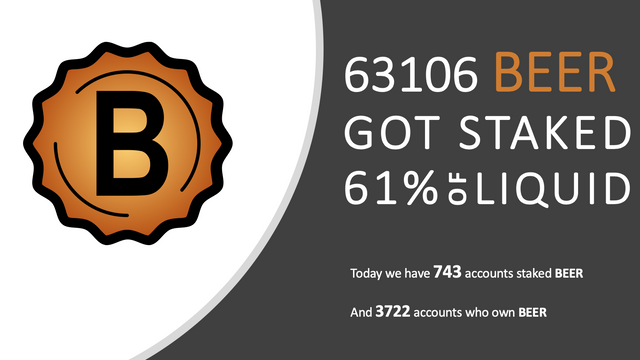 Status of staked BEER at December 25th in 2019
---
Looking back
See the status of staked BEER at mid December 19 with this Post https://steemit.com/beer/@beerlover/how-much-beer-do-we-get-stacked-and-some-more-updates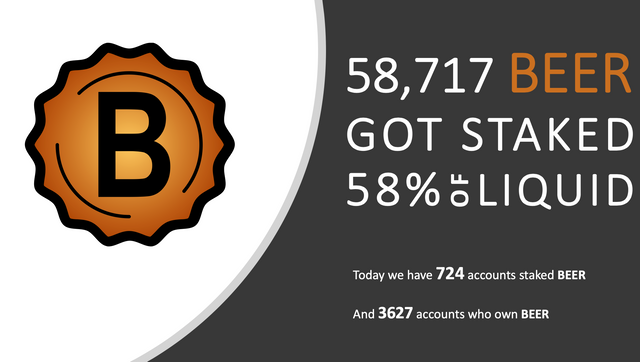 Status of staked BEER at December 14th in 2019
---
Looking even way more back
At the September BEER report we just had 41000 BEER staked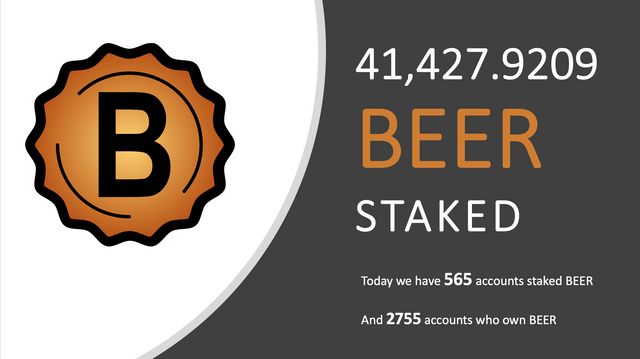 Status of staked BEER at September 15th in 2019
---
Way back into late August
Just a few days after starting the staking function we just had 30000 BEER staked and this was quite cool for a start.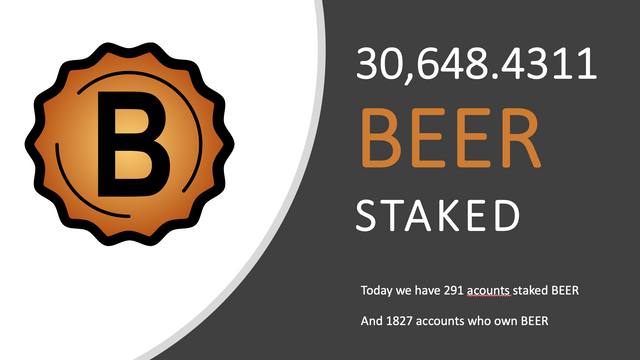 ---
All this in a Graph
I added all this data into an Excel and created a quick'n'dirty graph for you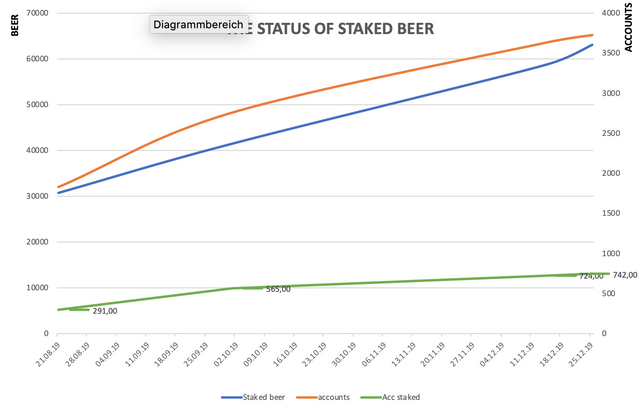 ---
Now what?
As BEER is cheap at the moment, you might stack some to stake it

Get your
BEER token

---
Calling beery friends
All this lovely Steemians - who own some BEER - might spread the word about this news....
@johannpiber @solarwarrior @beerlover @holger80 @rondras @condeas @jaydih @uwelang @ibc @isdev @nicniezgrublem @edkarnie @reiseamateur @mad-runner @abitcoinskeptic @eii @isnochys @mcoinz79 @saboin @amico @ciuoto @rentmoney @roger.remix @tomhall @axeman @victor-alexander @schlees @ervin-lemark @kryptodenno @dera123 @muelli @investinthefutur @pjansen @tattoodjay @depot69 @rynow @steem-eng @curationhelper @gerber @seckorama @ben4ever @ben2ben @browery @balte @jeanpi1908 @mermaidvampire @jlsplatts @ruhrsearch @kadna @zekepickleman @bucipuci @tinamarr @cadawg @pixresteemer @lotto-austria @bitandi @mhm-philippines @achimmertens @definethedollar @dylanhobalart @elikast @fedesox @joanstewart @maruskina @libertycrypto27 @janton @crypticat @city-of-dresden @iven @criticalthinkin @pab.ink @wwwiebe @jjprac @elizacheng @whatsup @kirstin @meins0815 @barmbo @muscara @steevc @jeffjagoe @pundito @bitpizza @steemrentetoken @mkt @misan @riczuniform @exyle @dreimaldad @broxi @olivia08 @crimo @plankton.token @foodfightfriday @freebornangel @vanessav @aggroed @tiblog @donald.porter @bashadow @cloudblade @yuriitonkov @reggaemuffin @yabapmatt @beers @harveyword @beerchaintech @beer @fedesh @applecrisp @wakeupkitty @pixelfan @chriddi @curationvoter @robibasa @joanawatts @bluerobo @otom @blue.rabbit @kus-knee @borran @mittwochsquickie @beerbank @amico.sports @duranzo89 @weedcash.rewards @rollie1212 @backinblackdevil @benedict08 @investyourvote @lordvdr @dotwin1981 @petrvl @davedickeyyall @pixelworld @forykw @fishyculture @altobee @claudio83 @cryptictruth @transom @palnetvoter @immanuel94 @gaich @tggr @spurisna @phoenixwren @melinda010100 @amico.photo @filosof103 @rentenbot @hans001 @isarmoewe @revisesociology @musicvoter2 @xlisto @godfish @alexvan @porcocane @crypto-pixie @simplymike @chrismadcboy2016 @enm1 @cryptospa @der-prophet @cervisia @wpblogger-de @shasta @armandosodano @desyfit @uruguru @augustimo @miti @felander @feuerelfe @artmentor @toofasteddie @handofzara @miketr @skramatters @brittandjosie @qwerrie @hairyfairy @alenox @arcange @dmilliz @amico.tunes @amico.pal @flaxz @jedigeiss @happyphoenix @siphon @fullcoverbetting @sportfrei @bethvalverde @sparstrumpf @theturtleproject @rullicky @zockerpeine @unsuwe @cflclosers @jluvs2fly @gallya @moncia90 @actifit-peter @verhp11 @canna-collective @kissi @braaiboy @preparedwombat @jamethiel @karinxxl @manniman @gimba @quekery @exhaust @psionic-tremors @crimcrim @russia-btc @cryptobrewmaster @powerpaul @j85063 @lightcaptured @abh12345 @thomasthewolf @astrophoto.kevin @arunava @huntforsteem @buggedout @smyle @c3r34lk1ll3r @dexpartacus @banjo @saun @quinneaker @g10a @schamangerbert @emrebeyler @summertooth @philippekiene @indextrader24 @jkv @bodie7 @bonp @splatz @minimining @primersion @steem-bootcamp @atomcollector @kieny @steemrente @louis88 @xstern93 @oldtimer @dandays @curation.neo @kanrat @nerdtopiade @chroniccoin @womic @umuk @elotro @tijntje @spiceboyz @tokenindustry @syalla @johnboywalton @mundharmonika @rossfletcher @udabeu @shoemanchu @nakedverse @shanibeer @tangmo @jurich60 @meeplecomposer @steemexplorers @nodex @rivalzzz @iamraincrystal @tazi @jonyoudyer @kristin @geiwoyibeipijiu @daddygarsha @vittoriozuccala @musicvoter @slobberchops @cultus-forex @haegar85 @chruuselbeeri @darrenfj @ayjoe @philfreetotravel @dswigle @stuffbyspencer @traciyork @wenchebakken @cindyhartz @hmayak @ronaldoavelino @teo93 @shadowmask @stever82 @chunkysoupsvc @amico.ccc @monsterbuster @bambuka @davidesimoncini @ali-h @miroslavrc @sportcheck
---
Stay tuned for more information
The team behind this - mainly fun and community orientated - token is working on some tools and will be ready soon.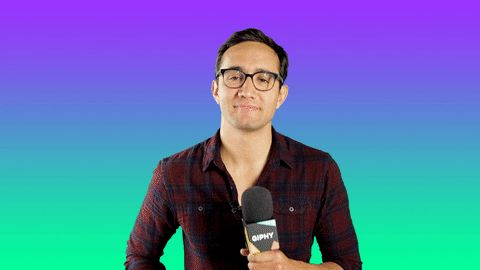 ---

Anyway,
if you like fun and beer and blockchain,
have a look to the BEER token

---
---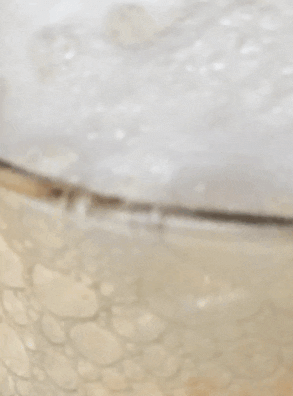 CHEERS
UPVOTE
FOLLOW
ENGAGE
---