Bitcoin is very much a Millennial story
Millennials are defined as the generation with birth dates that fall between 1981 and 1996.
That means the oldest people in the "millennial" category are 38 years old (as of this year) and the youngest are 23 years old.
As we learned from my post yesterday, they are investing more of their investable income into bitcoin (and bitcoin related products) than the two previous generations, and by a wide margin.
That post can be seen here:
https://steemit.com/bitcoin/@jrcornel/btc-more-millennials-invested-in-bitcoin-than-nflx-and-dis
Why does this matter?
Just because a particular generation loves bitcoin doesn't necessarily mean a whole heck of a lot when taken in isolation.
However, this generation (millennials) will some day inherit the vast majority of America's wealth.
Check out the current US wealth by demographic: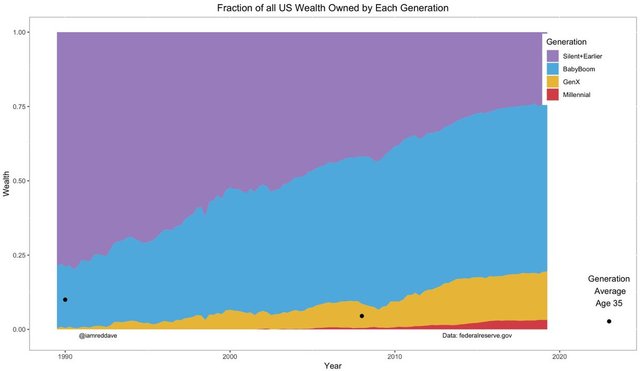 (Source: https://twitter.com/michaelbatnick/status/1199698111142252544)
As you might have guessed, the millennial is far down on that list.
Over the next 10-20 years millennials will be inheriting the wealth seen in both the silent and baby boomer generations.
And, with their current investing biases taken into account, where do you think that money is going to go?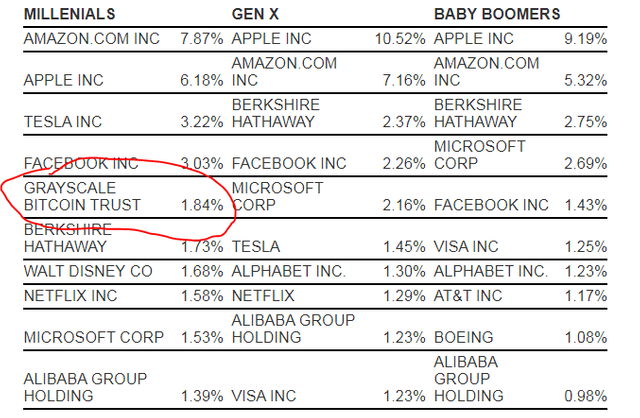 (Source: https://steemit.com/bitcoin/@jrcornel/btc-more-millennials-invested-in-bitcoin-than-nflx-and-dis)
In fact, this is one of the investing thesis's put forth by Fundstrat Global Advisors on why they think bitcoin is going to be a "home-run" investment over the coming decades.
If you look at the investments millennials currently love, perhaps you can get an idea of what types of things money is going to flow into as they get older and accumulate more wealth.
At least that is the logic.
I for one think it makes a lot of sense. Very few of my friends own stocks, but some of them own bitcoin.
As they get older and have more investable income, I imagine they are always going to keep some in bitcoin and crypto.
Stay informed my friends.
-Doc