Another day, another record
This one refers to the total number of bitcoin addresses holding any amount of bitcoin.
The total number of bitcoin addresses that hold any amount of bitcoin hit a new all-time high today with 28.39 million addresses holding at least some bitcoin.
The previous high was January 10th, 2018 at 28.38 million addresses.
Check it out: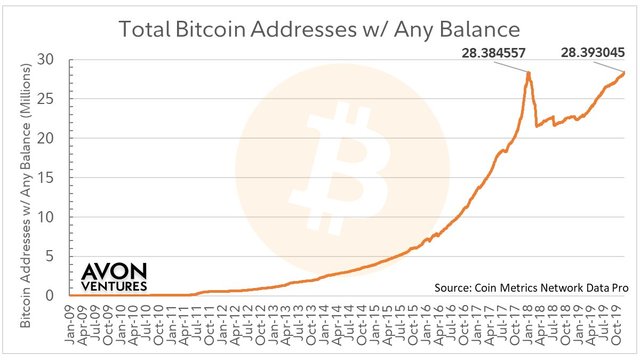 (Source: https://twitter.com/intangiblecoins/status/1202950870939422720)
Does this mean more people than ever before own bitcoin?
Maybe, or maybe not.
One thing to keep in mind is that sometimes people use different bitcoin addresses every time they make a transaction.
This means that one person could end up having significantly more than one bitcoin address associated with their bitcoin holdings.
That would indicate that this total vastly overstates the total number of bitcoin owners.
However, there is also a caveat...
Many bitcoin owners have their bitcoin held through custodians or exchanges.
Going this route may see these custodians and/or exchanges holding customer funds in a single wallet address.
Which would significantly under-count the total number of individuals actually holding bitcoin.
Which one has more impact?
That is the 64 thousand dollar question.
It's impossible to say for sure which one has more impact which is why this is still considered the best metric for determining the total number of bitcoin owners.
Even if it's not an exact science.
Stay informed my friends.
-Doc