Top 3 Methods Earn BAT Tokens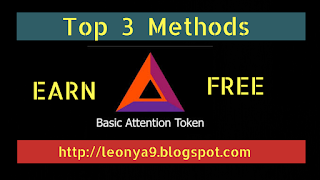 What is BAT Basic Attention Token?
BAT is a blockchain based promotion and advertising platform, based on Ethereum ERC20 blockchain and network, which is delivered by Brave Software. Users then receive BAT from advertisers as compensation for their attention
Advertising is one of the best revenue models online businesses have chosen. Some like Alphabet (Google) have built an empire based on such business model, becoming the advertising industry's giant. The model has not changed for years and is desperately in need of change. Sounds strange, a recent business like Google which seems to be cutting edge itself, gets orthodox very soon!
Anyway, this is where others like steemit stepped in, delivering content and build advertising platform, which pays off contributors. Basic Attention Token (BAT) is looking to be a game changer too. BAT is looking to monetize attention by paying users for watching ads, and now you can imagine why BAT's partnership with Publish makes sense; Publish used to pay users not only for writing, but also for reading.
How it works?
The idea is simple. Have you ever watched ads while playing a Free game on your phone, to get some GEMs and play more? :) So there it is!
So if you are currently see the advertising above your Publish page, you can download Brave Browser from the bar, enabling Brave Rewards and use it the way you would normally use your current browser.
BAT seems to be very well aware of mistakes steemit made: using ERC20 means no inflation to me. something which Publish did but in a different way.
I love to see new players compromising FB and Google's dominance on advertising business!
BAT makes the path from advertisers to end customer shorter
Method 1 : Publish0X Blogging
I have been using this blogging platform for a while now and earned a decent amount of established tokens (Bounty0x, DAI and HYDRO) who are all listed on CoinMarketCap and on numerous exchanges which means you can cash out. There are two main ways you earn crypto.
1 - Creating blog articles - Whenever someone upvotes your article, you get that upvote.
2 - Upvoting - When you upvote, you get a share of the upvote.
It's growing in users (over 14,000) and recently they added to the dashboard that you will be able to earn BAT tokens next month. You can read about it below.
What do you think about the platform? And adding the BAT token to it? You can sign up to the platform through the link above and start earning for free. I think they will become bigger than Steemit in the foreseeable future.
Look forward to your responses and hopefully see you on the platform!
Method 2 : Brave Browser
Make money online and earn free $400 monthly using this browser.
Here is the step by step guide of how to earn through brave browser. Make money by using Desktop, Mobile phones , Laptops and make money fast. No investment is required.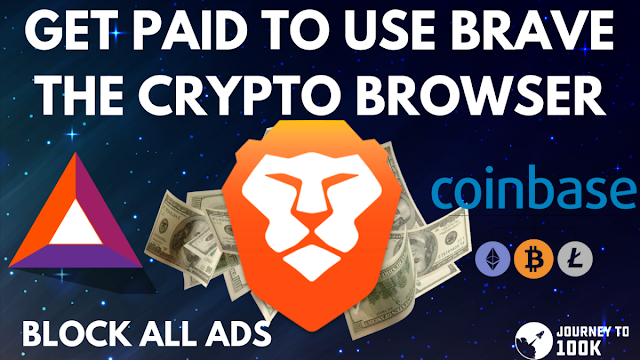 Step 1 : Download Brave Browser to receive rewards (Should be installed and used for 30 days)
Download Link: https://brave.com/leo370
Step 2 : Create account and link your Youtube / website to get your referral link.
Registration Link: https://publishers.basicattentiontoken.org
Step 3 : You will need to create an account here as a result of the payment made to the BRAVE rewards. Must be verified ***.
Signup Link: https://uphold.com
Step 4 : Use Google authentication to log-in
Thats all.
Ways of earnings through Brave browser:
1- Surfing the web : Brave Browser users can earn BAT Tokens by surfing the web. Brave Rewards is built on the Basic Attention Token (BAT). People who use the Brave Browser can earn tokens by viewing privacy-respecting ads.
2- Referral Program : You will be given $10 worth of BAT Tokens for every user that downloads and use BRAVE Browser fro 30 days using your personal link. Signing up as a verified content creator gives you access to the Creators dashboard, where you can manage all your tips. It will also give you access to your referral link, which you can use to earn more tokens.
3- Publishers/ Creators : For those who have a website / Youtube Channel who wants to monitise their platform, BRAVE browser users can give you BAT Tips. Your subscribers, followers, or readers can automatically tip a set amount to you each month, or give one-time tips in an amount of their choice.
4- Advertisements : Watch ads to Earn BAT Tokens. Set it to 5 Ads per hour.
5- Must be Need : Verify Connect your BRAVE browser with your UPHOLD account. To do that click the BAT icon on the BRAVE browser then click "Wallet Verify".
6- Payout is is every 8th of the month. You can transfer them to your coinbase (any BAT wallet can do) or Bank account. No Minimum Withdrawal limit.
Method 3 : FREEBAT.WIN Faucet, High Paying BAT Token Faucet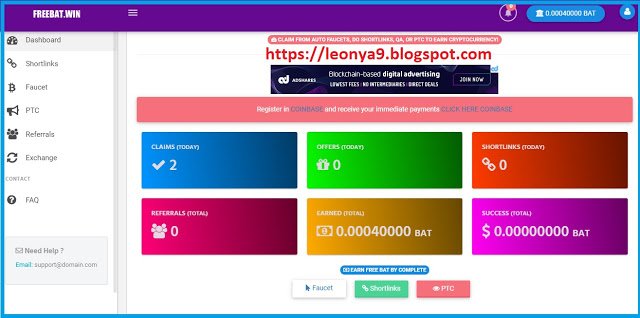 Claim Free BAT Tokens every 2 Minutes
Get Free 1 BAT daily by visiting shortlinks
Get Free BAT through PTC
BAT is currently ranked 30th on CoinMarketCap
Minimum Withdrawal is 0.1 BAT in your Coinbase BAT wallet account.
Earn 25% referral commission.
Registration Link : https://freebat.win/ref/Leonya9/
My Blog for more links:
http://leonya9.blogspot.com
Thanks and help me increasing my subscribers
:)