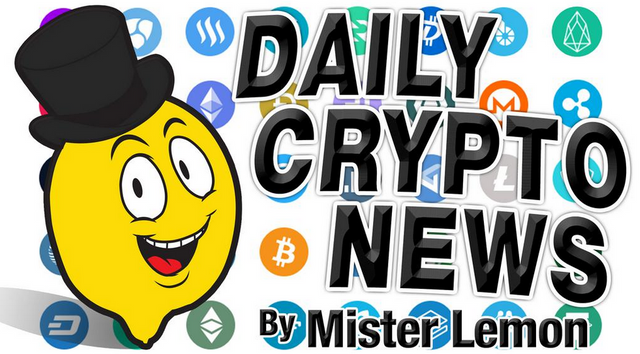 Bitcoin & Stocks Rise as US Economy Grinds to a Halt — Furloughs Soar;
Number of Addresses with BTC 1 Rising, while Bitcoin is Leaving Exchanges;
USD Stablecoins Are Surging, but Zero Interest Rates Complicate Business Model ;
Tron Launches Djed, a Platform That Looks Suspiciously Like MakerDAO;
How Central Banks Could Use Digital Cash to Deliver Universal Basic Income;
🗞 Daily Crypto Calendar, March, 31st 💰
Bitcoin Trading Update
Welcome to the Daily Crypto News: A complete Press Review, Coin Calendar and Trading Analysis. Enjoy!
Monday proved to be a surprisingly fruitful day for Bitcoin (BTC) price as the digital asset rallied 12.73% to $6,599 before pulling back to $6,380 a few hours later.
Despite gloomy news of the U.S. reaching 3,000 deaths from the Coronavirus and major retailers furloughing 500,000 workers, traditional markets also surged on Monday. The S&P 500 rallied 3.35% while the Dow and Nasdaq gained 3.19% and 3.62% respectively.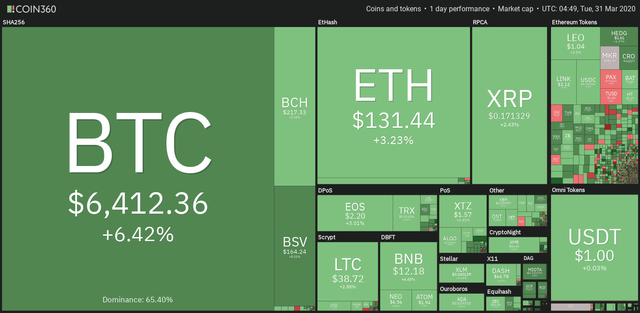 As discussed in a recent analysis, the price of Bitcoin needed to reclaim the $6,200 level to avoid a revisit to $5,870. Retaking $6,200 placed the price above the descending trendline and the 23.6% Fibonacci retracement level.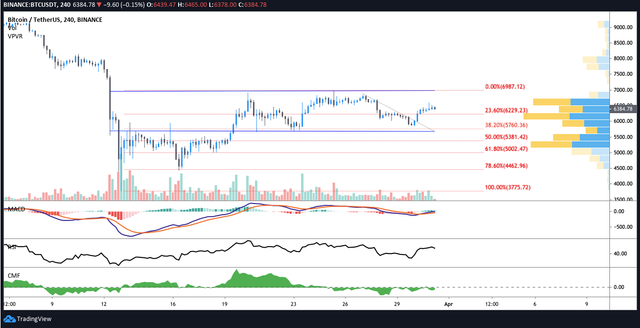 Earlier in the day Cointelegraph contributor Michaël van de Poppe suggested that once above $6,200 the price could quickly rise to $6,600 and traders will note that today the price sliced through the volume gap from $6,250-$6,590 on the VPVR indicator.
After a crypto market crash in March, the number of wallets with at least 1 bitcoin (BTC) has kept rising, reaching new all-time highs. At the same time, it seems that this coin is leaving exchanges.
Crypto market researcher Glassnode said that on March 29, more than two weeks after the crash, the number of addresses with at least one whole coin reached yet another all-time high of 797,632. And this seems to be a relatively stable trend, as just one day before, it hit an all-time high as well, reaching 797,580. To put it in perspective, this is 52 more wallets in a day reaching that coveted wholecoiner status.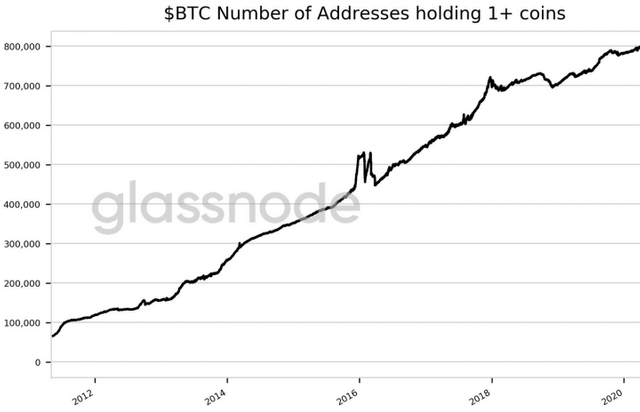 "There are decades where nothing happens, and there are weeks when decades happen." Vladimir Lenin - allegedly
The last 30 days have been historic by any meaning of the word. The coronavirus is shaking up life as we know it, and has already caused unprecedented dislocations in both the traditional financial markets and the crypto market.
In the center of this financial turmoil was the U.S. dollar, which saw a "flight to safety" from many different assets, including ones deemed "safe" by traditional investors. As I write this article, the S&P 500 is down 20 percent against the dollar in 2020, crude oil down 62 percent, the British pound down 9 percent, and both the Russian ruble and the Brazilian real are down 25 percent respectively.
On March 28, Tron (TRX) founder Justin Sun tweeted to announce the release of Djed, a system for collateralized loans he described as "something new." The platform was immediately criticized as many see it as a plagiarized version of MakerDAO (MKR).
Sun teased the launch on Jan. 16 when Sun let his fans choose the name of a planned decentralized stablecoin that was initially to be backed by TRX and BitTorrent Token (BTT).
Self-described TRX whale and Tron fan Mike McCarthy was the one who proposed the name Djed, just one hour and a half after Sun's initial tweet. The name is drawn from ancient Egypt and represents the concept of stability.
Frances Coppola, a CoinDesk columnist, is a freelance writer and speaker on banking, finance and economics. Her book "The Case for People's Quantitative Easing" explains how modern money creation and quantitative easing work, and advocates "helicopter money" to help economies out of recession.
With the advent of the coronavirus pandemic, Universal Basic Income has suddenly become big news. Many people are now calling for governments to give everyone a regular income with no work requirements – since we want most people to stay at home and not work – with no means testing (that is, adjusting for income).
However, delivering universal basic income is problematic. Governments lack the up-to-date information on identities and addresses needed for physical delivery of money or pre-paid cards. And checks or bank transfers shut out the unbanked. That leaves a gap for a new institution to step in, like a central bank, which could issue a digital currency as an efficient way of delivering a universal basic income.
Universal basic income (UBI) is a cash income that is paid to every individual regardless of their circumstances. It is paid:
Regularly (i.e. not one-off "helicopter drops")
Directly (i.e. not via an intermediary such as a bank)
To the individual, not the household or family
Unconditionally, i.e. without work requirements or means testing (though it may be taxed away at higher incomes)
Universally, i.e. to everyone irrespective of their age, gender, race, religion, class, income or any other characteristic.
🗞 Daily Crypto News, March, 31st💰
Mainnet Launch
VeriDoc Global Protocol on Multichains.
"Thus, out of 10% commission gathered... 3% will go to redemption and subsequent burning of GV tokens," during Q1 2020.
DigiByteCoin will be listed on Xera Exchange - Q1 2020.
"Matic Network Mainnet release," by end of Q1 2020.

Bitcoin Trading Update by my friend @cryptopassion
Here is the chart of my last analysis :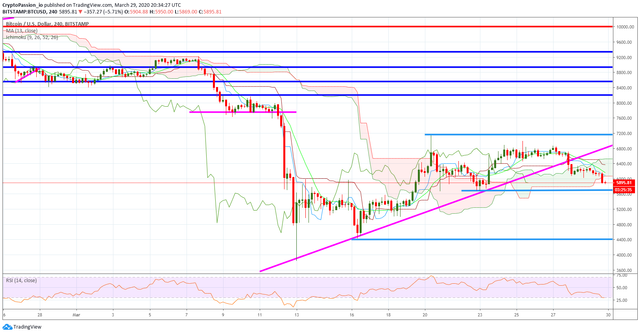 Here is the current chart :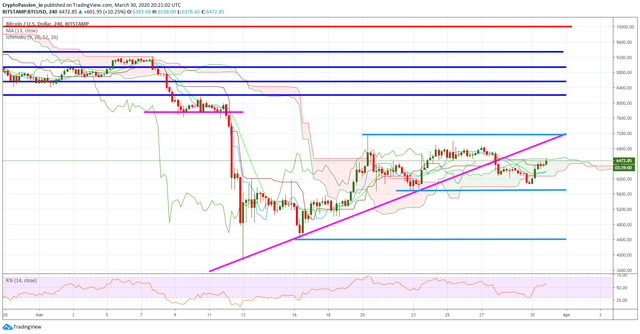 We experienced 2 days of drop after the break of the triangle but the buyers are already back and with some power! We only stay under 6000$ during some hours and a nice bounce occured quickly after. We are now going back in direction of the resistance line around 6900$ to invalidate the previous drop.

Last Updates

You don't want to miss a Crypto news?