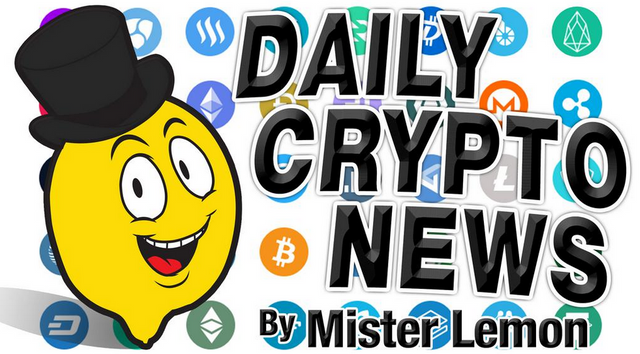 Binance Might Acquire CoinMarketCap - Report;
Bitcoin All-Time High in 2020? Chances Are Only 4%, Options Market Signals;
Proof of Stake Vs. Proof of Work: Which One Is 'Fairer'? ;
Russia Postpones Its Crypto Law Again, Now Blaming Coronavirus;
Remote Working Proves Unexpected Hero as Half of US Economy Shifts to Home Offices;
🗞 Daily Crypto Calendar, April, 1st 💰
Bitcoin Trading Update
Welcome to the Daily Crypto News: A complete Press Review, Coin Calendar and Trading Analysis. Enjoy!
Major crypto exchange Binance is in the final stages of talks to acquire the biggest crypto market data provider CoinMarketCap for up to USD 400 million, The Block reported, citing undisclosed people familiar with the matter.
CoinMarketCap's ability to drive a significant amount of traffic is one of the major reasons for the acquisition, while the cash-and-stock deal is expected to be announced this week, according to the report.
Binance declined to comment when contacted by Cryptonews.com. We also contacted CoinMarketCap for comment and will update should they reply.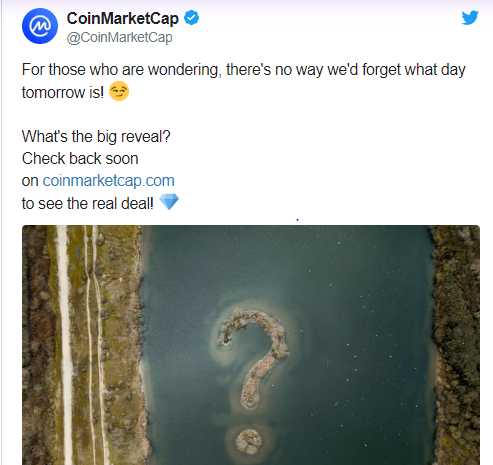 While many analysts are predicting a bitcoin (BTC) bull run, the options market sees a very low probability of the cryptocurrency hitting a new record high by December.
The cryptocurrency is currently trading around $6,450 – down over 200 percent from the record high of $20,000 set in December 2017.
The options market shows just a 4 percent chance of bitcoin crossing above $20,000 before year's end, according to data provided by the crypto derivatives analytics firm Skew.
In fact, the odds of prices moving into five digits by the end of December are also quite low, options market levels indicate.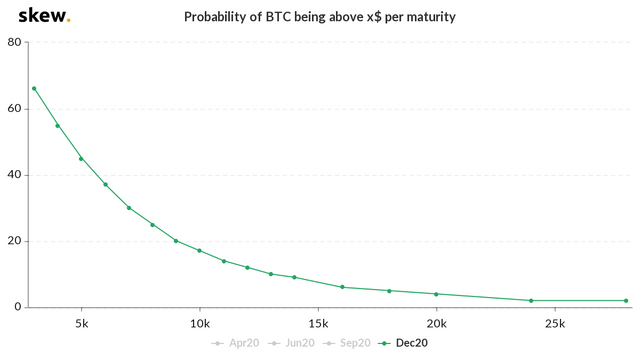 Bitcoin (BTC) and many of the original cryptocurrencies were born as pure PoW systems.
Proof of Stake was first pioneered in 2013 by Peercoin, a project that exists to this day.
Peercoin's contribution to the popularity of PoS is likely dwarfed by Ethereum (ETH) and its goal to transition from PoW — which has turned out to be a very long journey. Projects such as Cardano (ADA) avoided PoW entirely, deciding on PoS after using a formal approach to assess consensus mechanisms.
The Bitcoin and Monero (XMR) communities remain some of the staunchest proponents of mining and Proof of Work.
...
After facing multiple delays, the adoption of Russia's major cryptocurrency law will be postponed again, now due to the coronavirus.
Anatoly Aksakov, chairman of the Russian State Duma Committee on Financial Markets, says that the country's crypto law — the bill "On Digital Financial Assets" — is now finalized but won't be adopted before the end of the spring 2020.
Russian authorities have been arguing about crypto regulation since January 2018
According to a March 31 report by Russian news agency RBC, Aksakov has admitted that previous delays in the bill's adoption were caused by disagreement on the new asset type between local authorities.
Aksakov, who is also chairman of National Banking Council at Russia's central bank, reportedly elaborated that the central bank opposed legalization of crypto while the State Duma advocated some crypto initiatives.
As economists scramble to assess the devastating impact of the coronavirus, they're homing in on an unexpected hero that's mitigating the damage in the U.S.: remote working.
With offices across the country closed and people stuck in their homes, many professional workers have accomplished a not-seamless but ultimately successful transition to online workplaces — allowing those in crucial industry sectors including professional and business services to continue doing their jobs.
The output is helping to protect U.S. government tax revenue from a total collapse, at a time when expenses are expanding; lawmakers in Washington just approved a $2 trillion plan to provide financial assistance to households and businesses.
🗞 Daily Crypto News, April,1st💰
SPEND holding an AMA on April 1, 2020 at 3:00 pm EST, to discuss Spend's current offerings and the future plans of the company.
Monthly interest distribution by Auxilium Interest Distribution Platform for coinholders. Also supporting charity.
"This year, on April 1, 2020, we will be releasing the Covesting module beta on the PrimeXBT trading platform for the first time..."
"On April 1st, will complete the hard-fork upgrade to V1.3.0"
"Early registration [for staking] will be opened on April 1st."

Bitcoin Trading Update by my friend @cryptopassion
Here is the chart of my last analysis :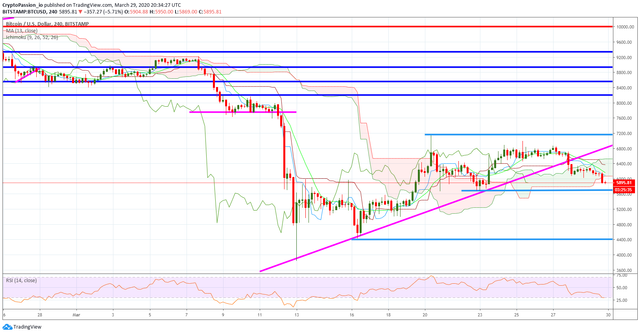 Here is the current chart :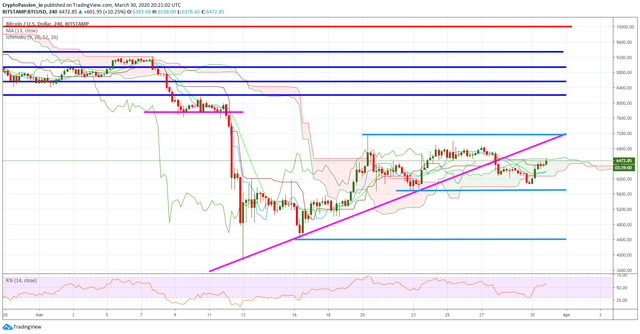 We experienced 2 days of drop after the break of the triangle but the buyers are already back and with some power! We only stay under 6000$ during some hours and a nice bounce occured quickly after. We are now going back in direction of the resistance line around 6900$ to invalidate the previous drop.

Last Updates

You don't want to miss a Crypto news?