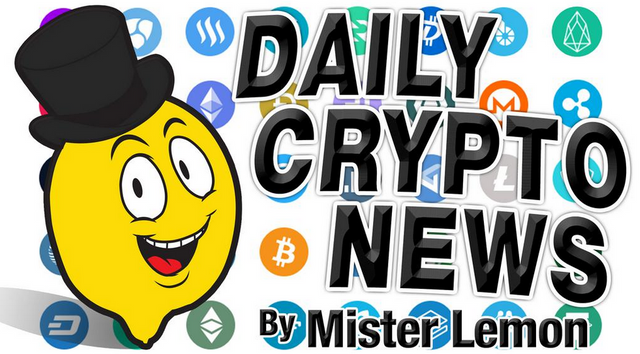 Decoupling? Bitcoin Price Surges Above $6.7K as Stocks Again Bearish ;
As Crypto Prices Reeled in Q1, These Coins Stood Out;
Ethereum Founder Tells Bitcoin Dev: BTC Wasn't Always 'Digital Gold' ;
Looking for a Halving Payday? Quick Wins in Investing Are Rare ;
Miners Pressing Bitcoin Price, but Analyst See a Bright Future;
🗞 Daily Crypto Calendar, April, 2nd 💰
Bitcoin Trading Update
Welcome to the Daily Crypto News: A complete Press Review, Coin Calendar and Trading Analysis. Enjoy!
Since topping out at $6,500 on March 31, Bitcoin (BTC) price had spent the majority of Wednesday in a steady slump which saw the price drop from $6,494 to $6,147. The pullback mirrored the poor performance in traditional markets where the S&P 500 and Dow dropped by 4.41% and 4.44% respectively.
The slump in traditional markets appeared to be a reaction to dismal news that the United States surpassed more than 200,000 Coronavirus cases. Earlier this week the White House also stated that it concurs with the estimate that up to 240,000 Americans could die from COVID-19 within the next 3 weeks.
If true, this would likely extend the time social distancing and mass quarantine policies stay in effect, leading to additional damage to the economy. As advised by many market analysts, global markets are unlikely to show signs of bottoming until the Coronavirus pandemic is brought under control.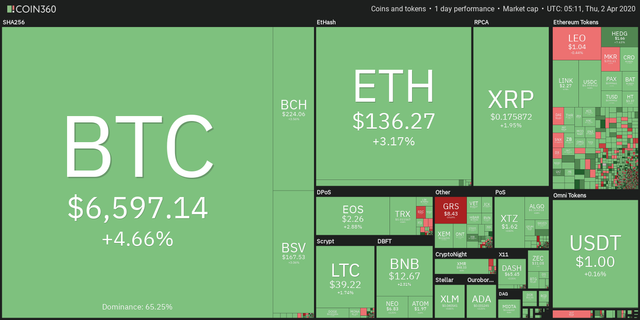 The move came as the price was on the verge of falling below the $6,200 support to complete the right shoulder of a rather sloppy head and shoulders pattern on the 4-hour time frame.
Had that occurred, traders would be looking at a target near $5,150 so for bulls the current surge above the $6,600 resistance level is probably a welcome relief.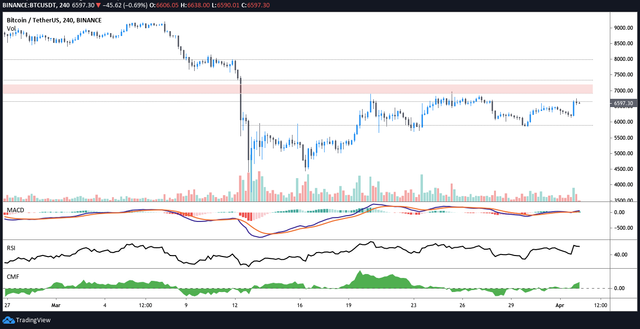 The first quarter of 2020 will be remembered as a period when the coronavirus-led uncertainty set off a liquidity crisis in financial markets, forcing investors to sell everything, including bitcoin (BTC).
The top cryptocurrency, often touted as a safe haven, fell by 10 percent in the first three months of 2020.
While the cryptocurrency eked out 30 percent gains in January amid the U.S.-Iran tensions, it could not withstand the bearish pressures emanating from the global dash for cash in March.
....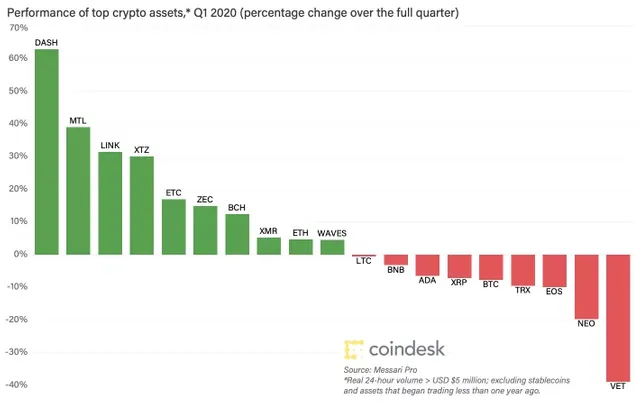 Ethereum co-founder Vitalik Buterin was involved in a spat with a Bitcoin developer on Twitter yesterday, when he suggested BTC was originally designed to be P2P cash, not digital gold.
Replying to Blockstream employee Zack Voell who claimed that Bitcoin was, is, and always shall be digital gold, Buterin pointed out the narrative had changed since 2011:
"I joined Bitcoin land in 2011 and back then I remember a clear vibe that Bitcoin was P2P cash first and gold second."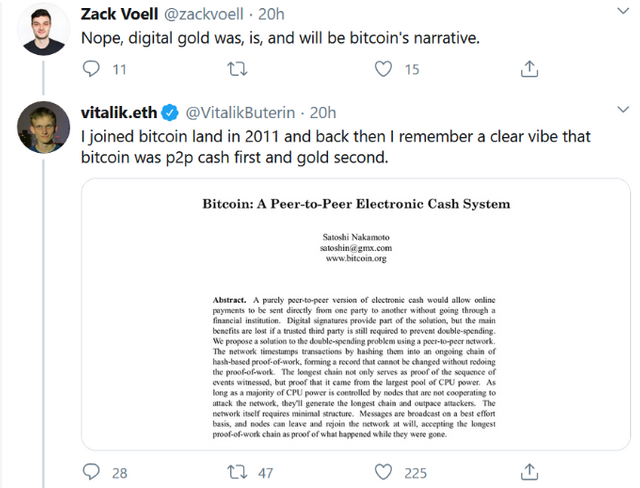 Osho Jha is an investor, data scientist and tech company executive who enjoys finding and analyzing unique data sets for investing in both public and private markets.
Many bullish investment theses for bitcoin are grounded in expectations that the upcoming halving of block rewards will cause the BTC price to increase. Previous supply constrictions, from 50 BTC to 25 BTC and 25 BTC to, where we currently stand, at 12.5 BTC, have had that effect. Still, given the rare nature of these events, our data points are limited and increase the anticipation and speculation around upcoming halving some time in May 2020.
There are many great pieces on the mechanics of a BTC halving and how they were described in the original white paper and subsequently coded into the structure of bitcoin. So I will assume familiarity with these concepts going forward as we try to understand the supply constriction narrative of the halving thesis.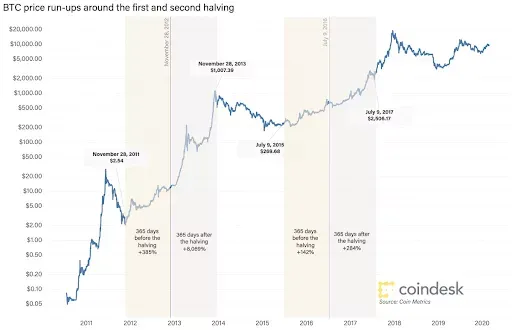 Miner-led selling pressure for bitcoin is high and will probably increase even more in the months ahead as it goes through its halving expected in May, finds crypto market analysis firm Coin Metrics.
Though they reiterated that there isn't enough data to predict what may surround the halving, which contributes to the priced-in v. not-priced-in debate, the firm finds that "miners represent the single largest cohort of natural, consistent sellers."
"Their selling pressure is significant because miners must sell the crypto that they earn to cover their fiat-denominated costs. And since their profit margins tend to gravitate towards zero, miners must sell nearly all of the crypto that they earn," writes Coin Metrics.
🗞 Daily Crypto News, April, 2nd💰
"The Shelley mainnet is expected to launch during Japan's cherry season, in approximately six weeks"
"Live Telegram AMA with CEO & COO from 6 -7 PM (SG time)."
Team updates at 4:30 PM UTC/ 11:30 AM EDT: Engineering, Node network, Product/UX, Helpdesk, Legal, BD, Marketing, CEO Closing thoughts, AMA.
"We will release the OneWallet Beta 2.0 for selected group of users, after which we will release OneWallet to the Public."
CEO and CTO provide project update during live AMA on Fetch Telegram channel.

Bitcoin Trading Update by my friend @cryptopassion
Here is the chart of my last analysis :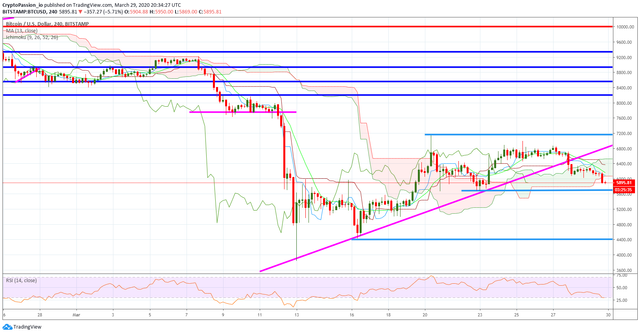 Here is the current chart :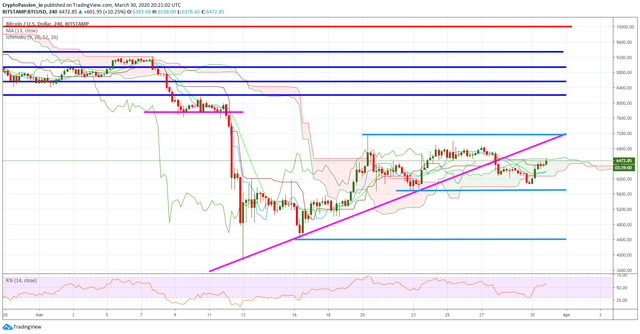 We experienced 2 days of drop after the break of the triangle but the buyers are already back and with some power! We only stay under 6000$ during some hours and a nice bounce occured quickly after. We are now going back in direction of the resistance line around 6900$ to invalidate the previous drop.

Last Updates

You don't want to miss a Crypto news?