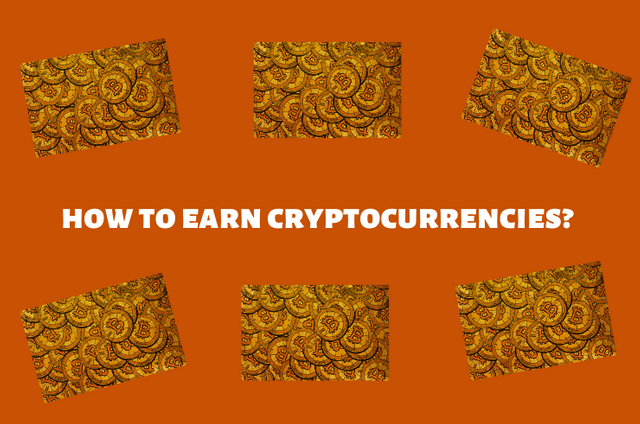 If you got into blockchain technology and cryptocurrencies, you might have always wondered how to earn cryptocurrencies?
Do not worry, ill be explaining to you various ways to earn cryptocurrencies that could benefit you.
Cryptocurrencies can be earned in many different ways, some involve investments and some do not.
So let us start with earning cryptocurrencies with investment.
Earning cryptocurrencies with investments
Earning cryptocurrency with investments requires you to invest money to get a return on investments.
some great ways to earn cryptocurrencies based on investments include:
Cryptocurrency Mining
Some might be very familiar with the term "mining" in cryptocurrencies.
Mining is basically a process to verify transactions on the blockchain, by which miners are rewarded with the transaction fees.
Cryptocurrency mining usually requires a high power processing unit to solve complex algorithms.
not all cryptocurrencies are minable coins.
The amount of profit you will be generating depends on how powerful your processing units are.
People usually use their GPU for cryptocurrency mining. Also, you can create your own mining rig just for cryptocurrency mining, there are lots of tutorials available on youtube to set up a crypto-miner
Cryptocurrency minable coins are termed as proof of work (PoW) mechanism.
Staking
Staking is a process similar to mining, but you do not require any type of hardware equipment for staking.
You just need to invest in a particular coin that you wish to stake. The more coins you own, the more rewards you would be receiving.
stackable coins are termed as proof of stake (PoS) mechanism.
Cryptocurrency Trading
Cryptocurrency trading is a process of trading crypto-coins for a profit, similar to stock market trading.
Day trading is one of the fastest ways to gain profits in cryptocurrency trading, however, there involve risks of volatility and a user can express losses if he does not do it the right way
It is always necessary to learn the basic mechanism of trading before beginning.
Investments in ICO's and Decentralized applications
For those of you who don't know what are ICO's, It stands for Initial coin offering which is basically a pre-sale of crypto-coins that a crypto project does during the initial stages of its project.
Many of these projects do have a percentage to grow at a rapid pace after its launch, so if you invest in a project during its presale and it grows, you have a serious chance to make a really good sum.
You always need to study the project before investing because not all of these projects succeed.
It's the same with decentralized applications but they can also be digital assets and not just crypto-coins
so now let us move onto earning cryptocurrencies without investments
Earning cryptocurrencies without investments
There are a lot of ways to earn cryptocurrencies without a single investment of money that includes:
Airdrops
For those of you who are not familiar with airdrops, let me explain to you in short, airdrops are cryptocurrencies that given away for free by new crypto-projects based on completing a few tasks.
Affiliates
If you have a large connection with people and groups you can easily generate a good sum from cryptocurrency affiliates.
many blockchain-related projects and cryptocurrency exchanges do offer affiliate programs where users can participate and generate their affiliate links and share it with anyone to get a commission.
Playing Decentralized Application Games
Many of the decentralized applications involve games that can be played and players can earn crypto or digital assets that can be sold for crypto
This article was originally published by us at : https://blockchaintrends.io/how-to-earn-cryptocurrencies/