Hello my fellow Steemians! Have you heard that Weedcash is now available on the Newdex Exchange? Yes, Weedcash is now on the EOS Block Chain! I am having fun learning , and I do have to say I am catching a little bit of the crypto bug. I have to give Steem-Engine the credit. I am starting to think I should of listen to my parents before I signed up to Steem, "Steem is a gateway to crypto, stay away!" Boy where they right. All joking to side, this Eos/Weedcash merger has some serious potential. It is also a great example of two block chains working together. It should be an interesting landscape in the world of crypto when more block chains team up, and work together.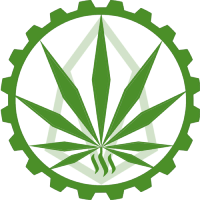 Below is a simple guide on how to buy some EOS Weed. This is not intended to be taken as financial advice. If you are to take financial advice from me, you are either smoking to much herb, or you just do not care about money. With that said, lets get started.
What you will need to buy EOS Weed
A Coinbase account
A Scatter account
Some money
Some cannabis(Not necessary, but will enhance your EOS Weed experience)

Step 1 Buy EOS
** I used my debit card to purchase some EOS on Coinbase

Step 2 Send EOS to your wallet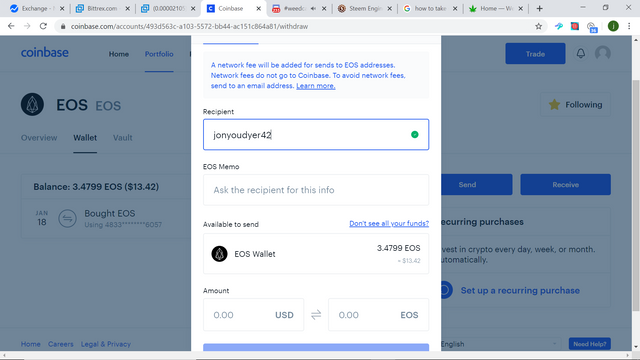 ** Always send the very minimum at first, to verify you are sending to the right place. You do not want to send all your funds, and then find out you had the wrong info!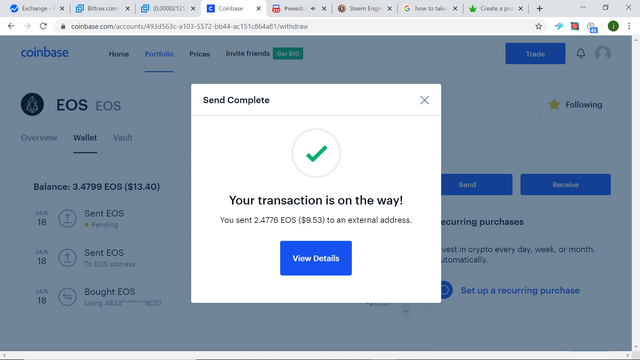 Step 3 Go to the Weedcash Market on Newdex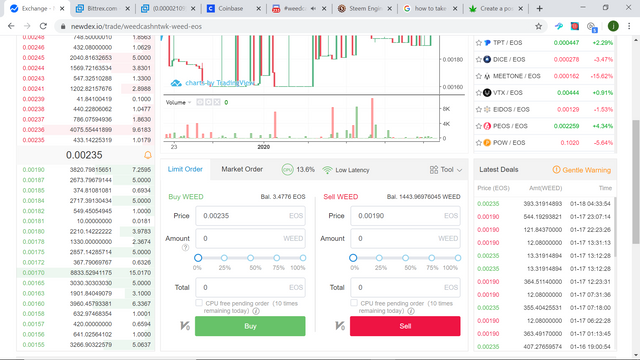 Step 4 Use your EOS to buy some Weed
I have 2.4598 EOS. I am going to buy Weed for 0.000236 EOS apiece.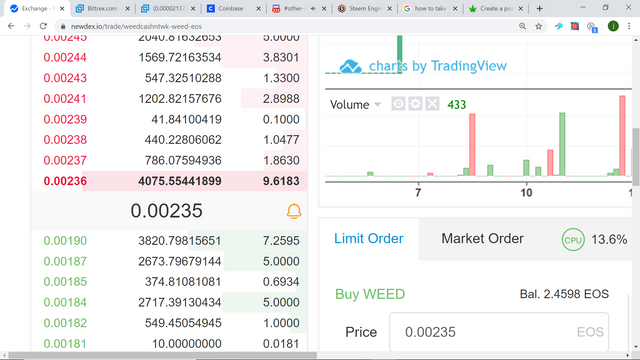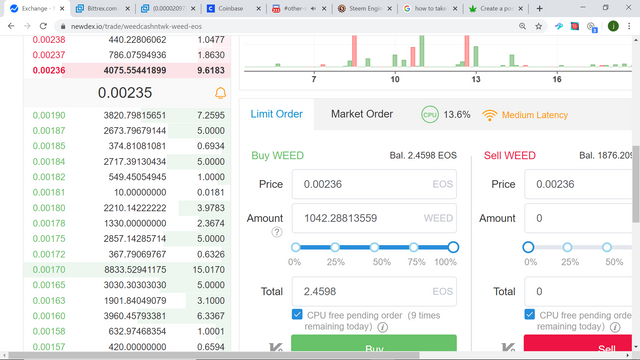 Step 5 Allow Scatter to complete the transaction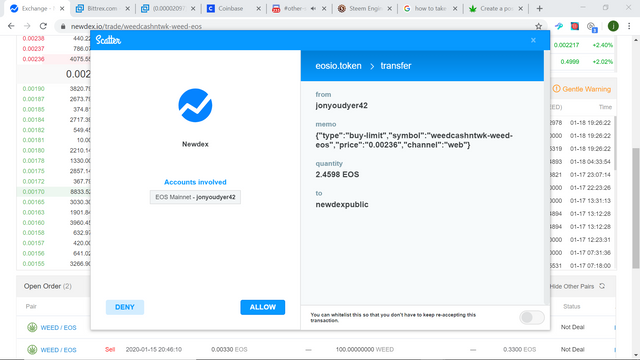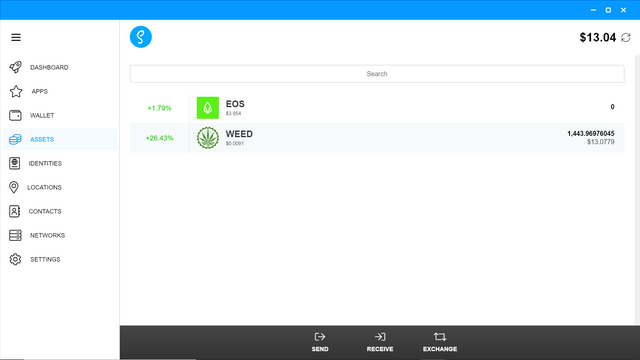 Ok now I have some EOS Weed! Now time to send some Weed to Steem-Engine, and stake some up. I will keep half of Weed here to HODL on Newdex.

Step 1 Go to Steem-Engine and go to deposit and find Weedcash EOS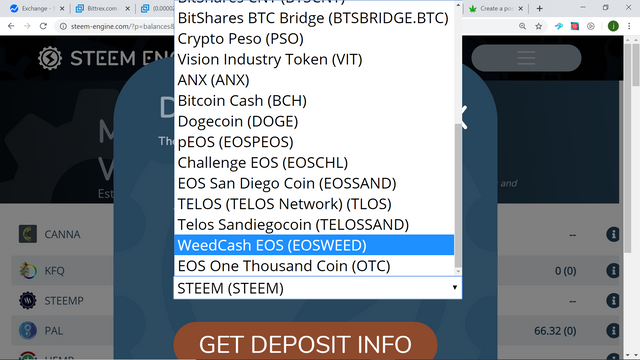 Step 2 Click on get deposit info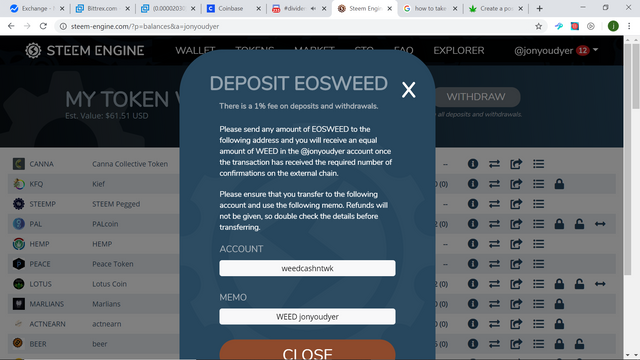 So to send Weed from EOS to Steem-Engine requires a memo. Do not forget to use memo, or funds may be lost.

Step 3 Go to your Weed asset and click to open send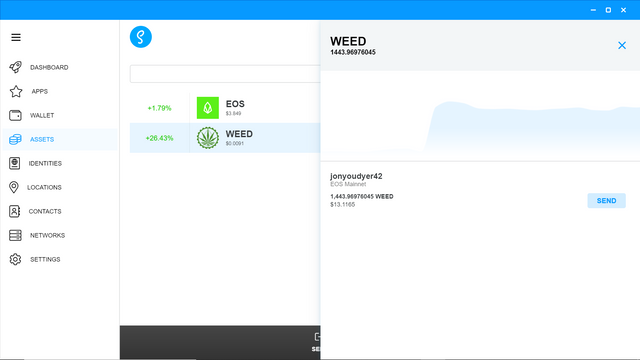 Step 4 Put Weed amount to send to address with the mandatory memo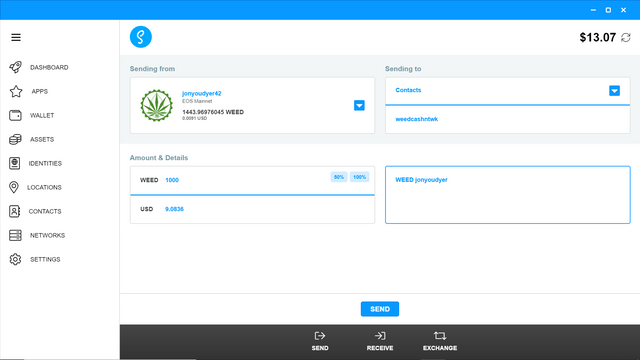 Step 5 Allow Scatter to perform transaction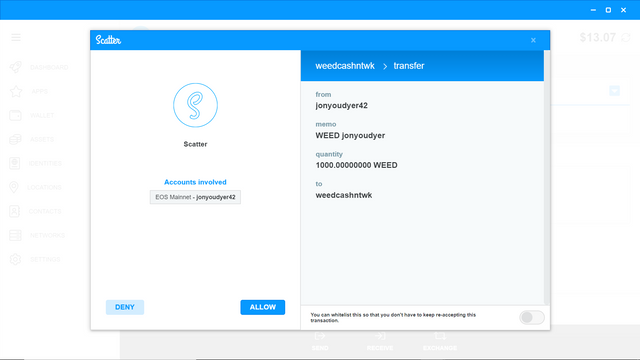 You should get this box if it is a success from Scatters end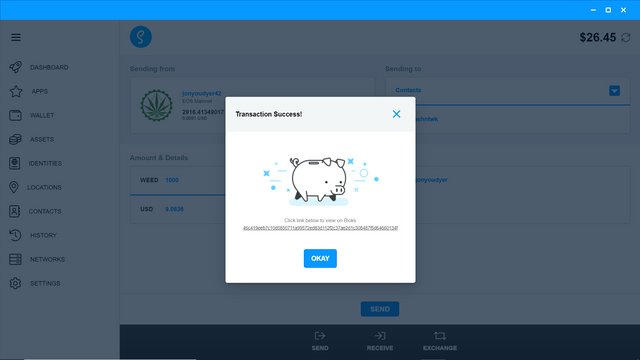 Oink, oink!

Step 6 Check trade history to make sure you got your Weed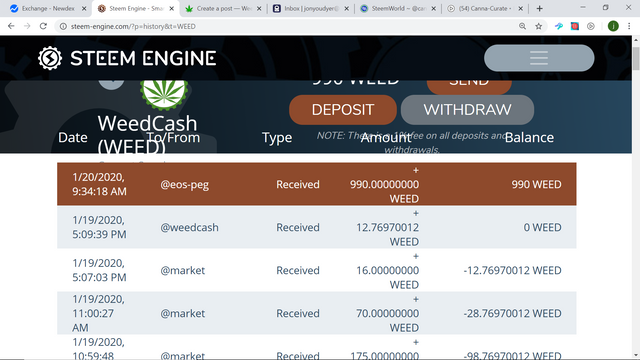 ** Note, there is a 1% fee to deposit

Step 7 Stake and curate!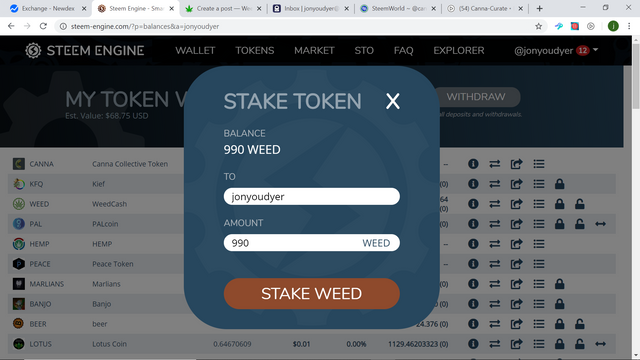 Well I hope you find these instructions easy to follow. One thing that I fell confident on, is if I can do this, so can you. Why should you do this? Well sometimes Weed is cheaper on EOS, I picked up this 990 Weed cheaper then on Steem-Engine. Another thing, if we get more volume on Newdex, maybe we can garner more attention, and get some new recruits to create content on Weedcash. Just my two thoughts, one thing I know for sure, this is really cool. Next post I work on, will be how to trade your weed for EOS. Until then, Steem on!
Eos/Weed logo courtesy of @ackza