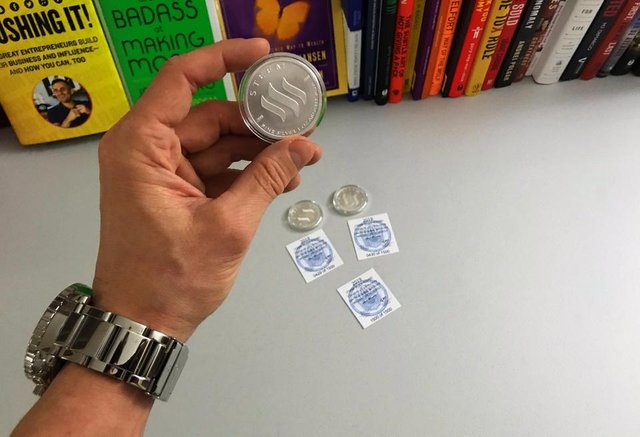 I wanted to give a huge shoutout to @raybrockman and the #steemsilvergold for doing the Steem Silver Project this year. 🙋‍♂️
All I can say is that these are Absolutely Gorgeous. 💁‍♂️
As a huge "Steem" and "Silver Bug" supporter, these were a must have for my personal collection.
I might keep these for the rest of my life unless the "Shit Hits The Fan" in the economy and Silver goes up to $150-$300... I will let these go... with a premium of course. 😅
There are only 1500 of these Silver coins in circulation and I received #429, #430 and my personally "handpicked" one #1500.
You know me, I wanted the last one of course. You can check them out below. Look how "Shiny" and "Sexy" they look!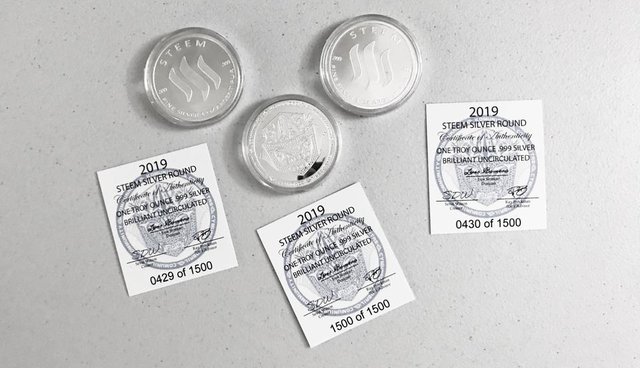 For those who missed out on the opportunity to own one, no worries... there might be one next year in 2020!
You never know, I might even sell mine to you for a measly $1000 if you really wanted one. Just Playin' 😂😅
Keep On STACKIN! 😎
~ Charles Fuchs
For those who's interested in following my "Content" and "Daily" Posts... you can just follow me @stackin to get my updates.
You Can Follow Me Here:
➡️ UpTrennd: https://uptrennd.stackin.co
➡️ Facebook: https://facebook.stackin.co
➡️ Twitter: https://twitter.stackin.co
➡️ Instagram: https://instagram.stackin.co
➡️ Steem: https://steem.stackin.co
CLAIM YOUR FREE HEX TOKENS - The first high interest blockchain Certificate of Deposit (time deposit) that is designed to go higher, faster and retain its value.
Crypto.com: Get The World's First ELITE Cryptocurrency MCO Debit Card and we both get $50! NOTE: You must stake 50 MCO to get the $50 + 2% cashback on all purchases. Must use Ref code: ( mqanqykcym )
PI NETWORK: Pi is a new digital currency you can mine on your mobile phone for free without draining the battery or using data. Use The Referral Code: ( stackin ) to be on my personal team.
BYBIT: Want To Trade Bitcoin with 100X Leverage? Create Your Free Bybit Account 30 seconds and claim your $60 Welcome Bonus!