Chainlink to be the next Cryptocurrency project featured on "The Syndicate"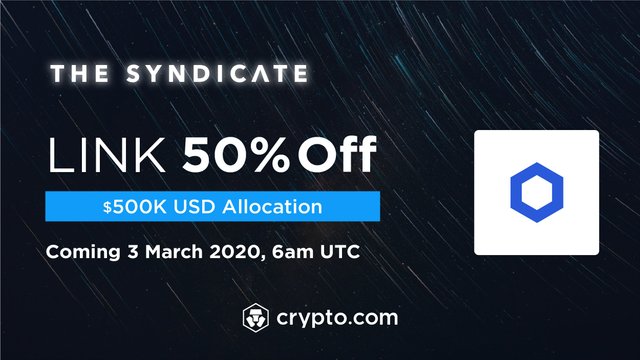 Detailed video here - 
To put it in lay-mans terms, The Syndicate is a platform that incentivizes users to stake their $CRO token (which for some of you who may not know, is the official coin of the Crypto.com exchange). In return for that stake, you can buy X amount of the featured coin on the specific sale date.
It's also noteworthy to mention that Crypto.com waves the listing fee to the project coin being featured.
The end game here is to bring as many people as possible to Crypto.com and all its platforms
To find out more on how The Syndicate works, click here - https://blog.crypto.com/the-syndicate-to-list-chainlink-link/
Follow me on Social media here - linktr.ee/cryptotone
► FREE $50 w/ signup for the Crypto.com Visa debit card►https://platinum.crypto.com/r/2406vbq1wj