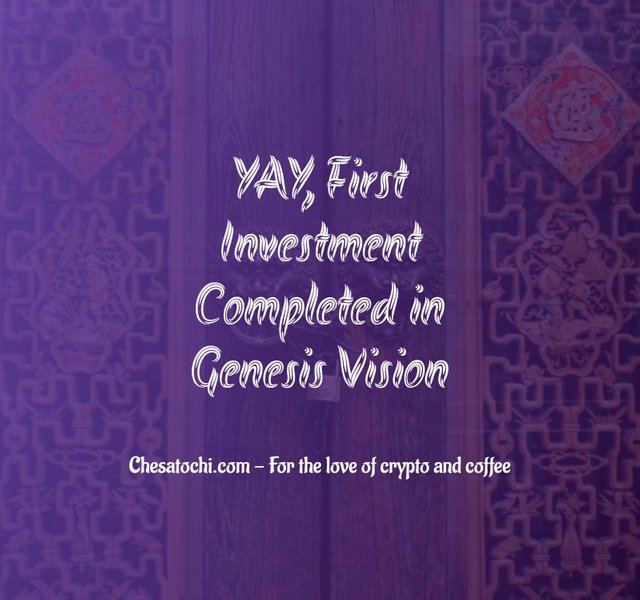 Introduction
It is not always easy to send money over to a new program in this space. A lot of scams and projects that do not deliver make people skeptical. The crypto bear market makes things worse and now we have a lot of dead projects without updates.
In the beginning, I was skeptical about Genesis Vision. It took many days after trying the platform and creating my account before I decided to send money.
What is Genesis vision?
It is a platform that offers you a way to invest in managers (traders) and crypto funds. You have the possibility to generate money if you choose the best combination.
Always take the risk to find new ways to make money in the crypto space. - Chesatochi.com
You can have more details of what is Genesis Vision in this previous article:
My intro vlog about this website
I produced this vlog before making this article on my channel Crypto and Coffee. Enjoy it!
At the same time, you can subscribe to my channel on YouTube.
What did I do?
I invested with the money I made in crypto and transferred it over there. It is a question of convenience and in the future, this will be the norm.
When you make money with one crypto platform, it is cool to make it grow somewhere else. It is the process of creating a snowball and have fun to make it happen.
In the future, I believe we will accumulate wealth only in crypto. - Chesatochi.com
I invested my first $5 in the programs section of the platform. Basically, the minimum to enter is 0.001 BTC! It is easy when you know that.
You can see the funds I invested on the platform so far with some pocket change as a test purpose.

Genesis vision dashboard
As soon as you buy assets, your investment appears on the dashboard. The fun part is to watch and see the investment grow.
Always choose the best trader or fund with the best performance. Otherwise, you are going to see your money leave for the center of the earth!
My first investment in Genesis Vision
So far, I follow two traders and start to learn the foundation of the platform. A video will come about the look and field of the dashboard and how you track your investment.
I send crypto and converted it into the native token. Then I pressed the invest button in two programs that seem interesting.
Last word
Always respect your tolerance toward the risk you want to take to be part of this exciting space. - Chesatochi.com
I have created this blog to diversify and try new things. Always do your own research and maybe this platform is something you might want to try.
So far, I have a tiny amount of money there and happy to try this new opportunity.
Chesatochi - For the love of crypto and coffee
PS: I am not a financial adviser and this is only my own opinion. Always do your own research before to embrace any type of investment in the crypto space.
---
Posted from my blog with SteemPress : https://chesatochi.com/yay-first-investment-completed-in-genesis-vision/
---