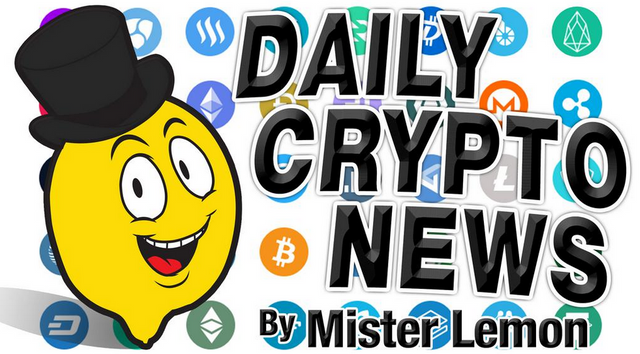 Six Major Central Banks to Collaborate on Digital Currency Research ;
Venezuelan Team Working on Bitcoin Mesh Network Based on Offline Radios ;
Square Crypto Is Creating a 'Lightning Development Kit' for Bitcoin Wallets ;
Ethereum Officially Starts the One Million Developer Challenge ;
Vodafone Is the Latest Big Company to Quit Facebook-Founded Libra Association ;
🗞 Daily Crypto News, January, 22nd 💰
STEEM Trading Update
Welcome to the Daily Crypto News: A complete Press Review, Coin Calendar and Trading Analysis. Enjoy!
The central banks of Canada, the United Kingdom, Japan, European Union, Sweden and Switzerland created a group with the Bank for International Settlements (BIS) to jointly research central bank digital currencies (CBDC).
According to a press release published by the Bank of England on Jan. 21, the aforementioned institutions will share their experience with other group members as they study potential use cases for CBDCs in their respective jurisdictions. The announcement states:
"The group will assess CBDC use cases; economic, functional and technical design choices, including cross-border interoperability; and the sharing of knowledge on emerging technologies. It will closely coordinate with the relevant institutions and forums – in particular, the Financial Stability Board and the Committee on Payments and Market Infrastructures (CPMI)."
A Venezuelan team is developing Locha, a decentralized mesh network that doesn't rely on the internet to transact with Bitcoin (BTC). The system, based on radio waves, was born in response to frequent electricity and internet outages in Venezuela.
Locha Mesh is an open-source project led by Randy Brito, a member of the Bitcoin Venezuela organization.
It is developing two devices, named Turpial and Harpia, that would allow anyone to connect to the Bitcoin blockchain using long-range radio waves. Turpial is the simpler version of the radio transmitter, reported to work over distances of one to two kilometers in urban areas. Harpia is a more limited radio module to use with small computers such as a Raspberry Pi.
Square Crypto, the payment company's bitcoin-focused wing, is building a "Lightning Development Kit" for wallet and app developers to more easily build on the layer-2 solution.
Announced Tuesday, the new kit includes an API, language tools, demo apps and other features to help developers integrate support for Lightning payments into their own wallets. Existing bitcoin wallets will also be able to support Lightning through the new kit, rather than requiring companies to build a separate wallet.
The tools will help developers create better user experiences, a Medium post explained.
"For bitcoin to become a widely used global currency – one that can't be stopped, tampered with or rigged in anyone's favor – improvements to bitcoin's UX, security, privacy, and scaling are required," the group said.
After three months since the initial announcement, the challenge to get one million developer to build on Ethereum (ETH) is now officially on.
Last October, as reported, at the Devcon 5 conference held by the Ethereum Foundation, Joseph Lubin, co-founder of Ethereum and founder of blockchain company ConsenSys, announced the mission to get 1 million developers on this platform by the Devcon 6 this year.
It's been quiet since the announcement, and the amount of information on the website as to how Ethereum plans to accomplish this feat has been changing. Finally, yesterday ConsenSys Open Source Chief, Jim Jagielski, tweeted that the 1 million effort is officially launched.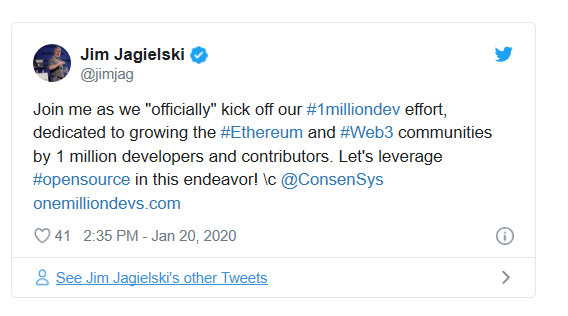 British telecom conglomerate Vodafone has become the eighth company to pull out of the Libra Association, the governing council for the Facebook-created global digital currency initiative, CoinDesk has learned.
Vodafone and Libra both confirmed Tuesday the company is no longer part of the consortium. Vodafone will dedicate resources previously intended for Libra to its well-established and successful digital payment service M-Pesa, which the company plans to expand beyond the six African nations currently served.
The parting appears to be amicable, with Vodafone leaving specifically to focus on its own related service and not due to the regulatory concerns that apparently spooked other former members.
🗞 Daily Crypto News, January, 22nd💰
"On Jan 22, Robert Castelo will be holding a local Cardano Community Meetup in London."
"The next big step is the introduction of Demo accounts, planned for 22th of January."
"AMA No. 34 Questions Thread is Open! Submit your questions before the AMA on Jan 22nd @ 5PM – 5:45PM UTC."
"We'll be holding it [Enigma Open Community Call] on Wednesday, January 22nd, 10AM ET / 3PM UTC."
Will hold multiplatform livestream on January 22nd 2020, to let you know what are Vexanium Development Plans for Q1-Q2 2020.
STEEM Trading Update by my friend @cryptopassion
Here is the chart of my last analysis :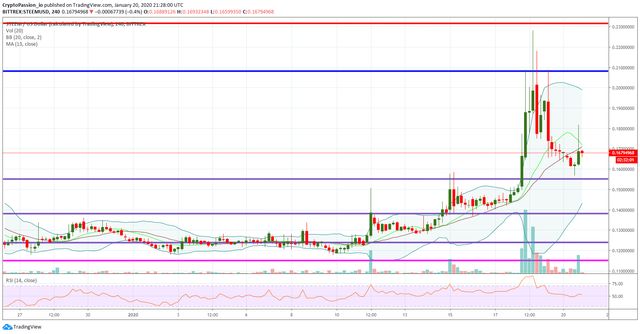 Here is the current chart :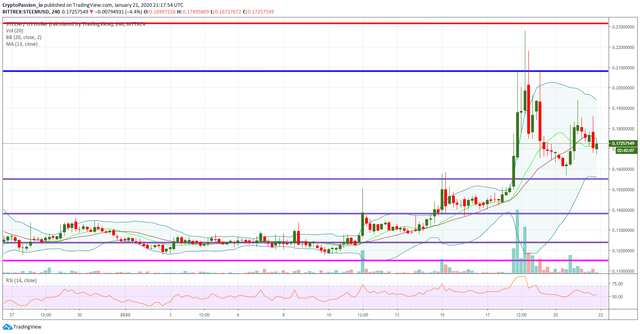 The ideal scenario would be to have a bounce quiet soon or I'm afraid that we will go test again the 0.155$ support line. However, it is not the end of world, we should have a bounce from that line if ever we test it again. The more important is to avoid to break it down or it will invalidate all the UP trend which started some days ago.
Last Updates

You don't want to miss a Crypto news?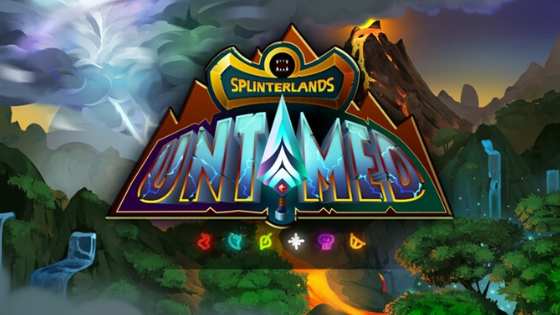 ---
Posted via Steemleo | A Decentralized Community for Investors