The other day I made an attempt at finding out if the distribution of vesting shares awarded to authors had improved. This post is a little more on that based on feedback received.
You've cherry picked 4-5 dates that may be the same weekday or may not be the same weekday. If you're comparing Monday vs Saturday vs Wednesday, you're going to see somewhat / drastically different results.
You also picked USA's Halloween, which is a terrible choice. Postings on that date historically are lower than other days that fall on the same day of week.
I appreciate the effort, however, you're not providing enough clarity and consistency.
And so I decided to widen the scope of two data sets to cover the whole of January 2019 and 2020.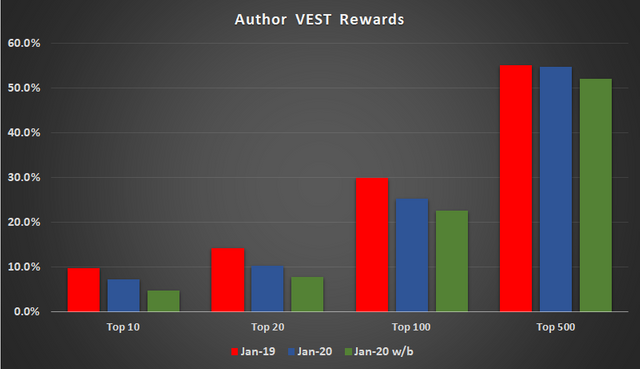 A year on, the top 10 authors are sharing 25% fewer vests than they were in Jan 2019. Removing @burnpost and the vested rewarded from the numbers means the top 10 authors in Jan 2020 are sharing just over 50% fewer vests than they were a year prior.
---
These are the top author earners in the two months - Jan 2019 on the left if you couldn't tell :)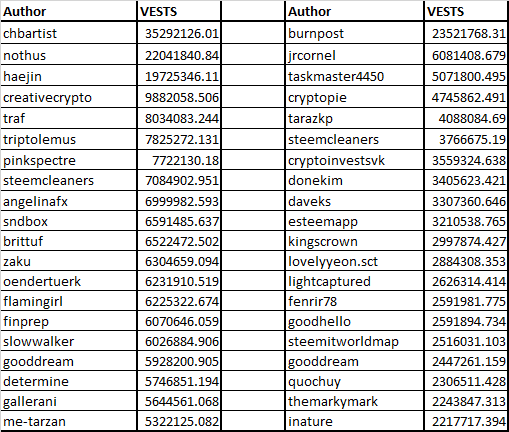 Only steemcleaners and gooddream make both lists, and I'm pretty glad that there aren't more. Most of the original list were using bid-bots heavily, or receiving an almost exclusive whale vote.
---
I think the main concern from the data is the amount of accounts receiving vesting rewards in Jan 2020 compared with Jan 2019.

Almost 50% fewer accounts earned author rewards last month compared to a year ago. The hope is that some accounts are relying on curation or the likes of steemmonsters and S-E tokens, and that the numbers will pick up again if/when the price of STEEM rises further.
---
Speaking of which, it's been a good month hasn't it? As much as I should probably be diversifying, I cant help buying STEEM and I think yesterday was my 7 or 8th purchase in the past couple of months. I want my 50k badge!
Someone else has been moving their STEEM around too ;)

Cheers
Asher