Have you voted on the Steem Proposals System?
---
Yeah, yeah, we have heard it all. Everyone is on about #NewSteem and all those shenanigans. For the most part, most of the discussions I have read are about distribution of STEEM. This may be about the distribution through content creation, or "honest" curation. In essence, it boils down to a change in voting behavior. We could dive a little deeper into the idea of acceptable promotion, but that is not the scope of this poll.
One of the new features from our most recent hard fork is the SPS, or the Steem Proposals System. It is a way for developers (or anyone with a project that could benefit Steem) to receive funding.
Where does the funding comes from? Well, remember when many content creators complained about the 10% reduction in rewards? That is what is funding the system, along with generous donors who put money there. Anyone can donate to the proposal system by setting @steem.dao as beneficiary.
No longer would there be a need for multiple lengthy posts for donations. No longer should there be a need to siphon from author reward pool to fund projects on the platform. That's already factored in.
There is a catch.
That is, stakeholders on the chain would have to vote on your proposal. To qualify for funding, the amount of support (displayed in SP) needs to be greater than that of the @steem.dao. The DAO is a check on the system to make sure non-serious proposals are not funded. I hope this is another reason to hold SP outside of rewarding yourselves.
---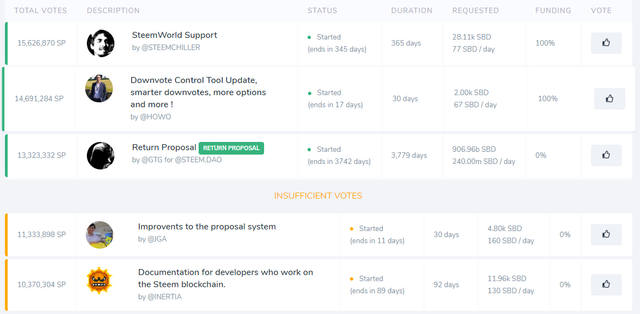 ---
Anyone with significant stake should be reviewing the projects on the proposal's page. I would even go as far as checking it on a regular basis. Or follow @proposalalert.
You can vote through different avenues:
https://steemproposals.com/proposals
https://steempeak.com/me/proposals
You can use Steem Keychain and/or SteemConnect to authorize votes on proposals.
There is another catch.
Proposal voting has ties to witness voting. This means that whatever your proxy votes on, you will support. The converse, however, is not true.
If you vote on proposals while having witness proxy set, you will see something like this:
---

---
This means your vote had no effect. It is one of the flaws with the current set up. Either you need to give your witness proxy a nudge, or you need to "be your own voter."
What a novel concept! I thought the whole crypto movement was "being your own whatever".
Anyone can make a proposal if they so desire... by burning 10 SBDs. So, take a moment and think how you want to pitch your idea before dropping a post.
Now, we come in full circle.
Have you used the new Steem Proposals System?
You should try it.
---
Yes, I have tried it and supported projects I like.
---
No, I have no idea what SPS is.
---
No, all the projects are weak.
---
I will be involved from today on.
---
---
Answer the question at dpoll.xyz.