In 2018/19 we have heard much chatters about institution adoption of cryptocurrencies but there never were clear signs of institutional adoption in the past 2 years. However, things might be changing and for the past few days to a week, I begun to see some signs of institutional FOMO or at least "Smart Money" moving in to cryptocurrencies.
The Grayscale Ethereum Trust is a rather exclusive asset. According to the factsheet, only accredited investors are allowed to purchase shares of the trust and the minimum investment amount is US$ 25,000. In addition to that, there is also an exorbitant 2.5% annual fee.
In case you are unaware, accredited investors are those with annual income in excess of $200,000 for the last two years (or $300,000 together with spouse) or net worth in excess of $1 million, excluding the value of primary residence and certain indebtedness secured by such primary residence. Basically, they are people who are relatively well-off.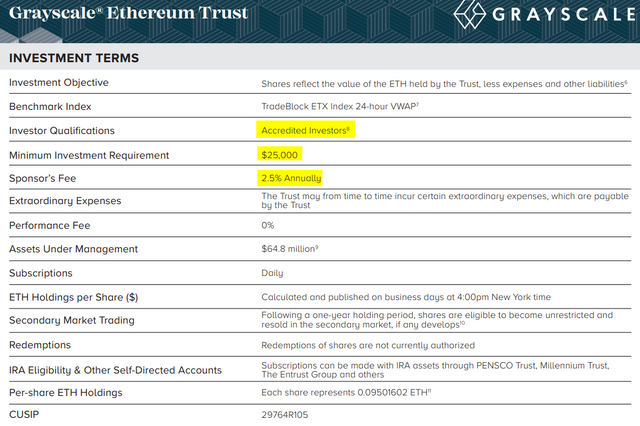 The wealthy people typically are more better connected to the financial network. They are more likely to have friends working in hedge funds, investment firms and etc. As a result, these people usually will have access to certain "tips" that common people like us do not. Further to that, most of them also have a wealth manager to help them manage their money, which again represent the "Smart Money".
---
Paying Huge Premiums for ETH
According to the factsheet, each share of the Grayscale Ethereum Trust (ETHE) represents 0.09501602 ETH. Looking at the price of ETHE today, we can see that price of $99.50 is way higher than what each share of ETHE represent. Each ETHE share is actually just backed by $24.13, this means that ETHE buyers are paying a huge premiums of 312%! Hence, based on current ETH price of $270, the buyers are pricing ETH at $1,113!

This bullish accumulation of ETHE did not just started today. In fact, the divergence of ETHE and ETH price appreciation started since 4th Feb as seen in the chart below.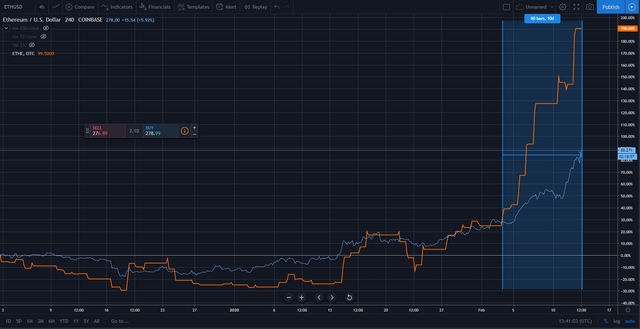 What does this mean? It means either the accredited investors are really dumb to buy ETHE at such a huge premiums. Or they know something that we do not know and are entering into crypto through this trust. One might ask why do they not buy ETH directly? There can be various reasons, if an institution is buying into ETHE, it is likely because their investment policies still do not allow direct exposure into cryptocurrencies. Hence, the next best alternative is the Grayscale Trust. It can also be possible that the whales simply find it too troublesome to manage their own private keys, hence the trust is more attractive to them.
Another thing to point out is that this premium is not just for ETH, there is also a 30% premium for BTC and 94% premium for ETC. Is this bullish or bearish? You tell me :)


---
10% of post rewards goes to @ph-fund, 5% goes to @steemworld.org and 5% goes to @leo.voter to support these amazing projects.
---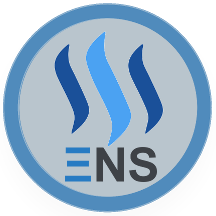 Learn how to get your a simple name for your Ethereum wallet through Steem ENS!
Join the Steem ENS Discord server to interact with the community!
---
This article is created on the Steem blockchain. Check this series of posts to learn more about writing on an immutable and censorship-resistant content platform:
Posted via Steemleo