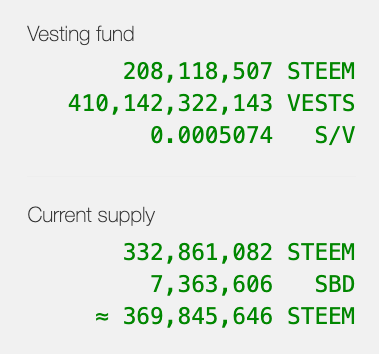 ---
Every two weeks or so I like to compare the current power-up statistics and see how we stand.
Here they are:
---
19 November 2019
---
| STEEM | Amount |
| --- | --- |
| STEEMPOWER | 208,0 million |
| LIQUID STEEM | 123,7 million |
| SBD | 7,4 million |
Virtual Supply ≈ 368,524,166 STEEM
---
3 December 2019
---
| STEEM | Amount |
| --- | --- |
| STEEMPOWER | 208,1 million (+0,1 million) |
| LIQUID STEEM | 124,7 million (+1 million) |
| SBD | 7,4 million (0 million) |
Virtual Supply ≈ 369,845,646 STEEM
---
This report is very similar to the one we saw two weeks ago.
The same big accounts that were powering down are still doing so, adding to the liquid supply.
But there are also enough people keeping their SP earnings powered up and also other people powering up (bought or liquid earnings) to keep the amount of STEEMPOWER stable at ~208 million.
That was slightly unexpected (I was anticipating a small down move), so I was happy to see that.
The price of STEEM is still slowly going down in USD value (compared to two weeks ago) but that has everything to do with the BTC price.
On a satoshi level we have been pretty stable since the beginning of August around the 1600 sats level.
Even the MA100 has caught up now (purple line) on the daily STEEMBTC chart.
---

---
The STEEM price might still go lower in USD but I do hope the double punishment STEEM has received for so long of Sats going down in conjunction with a down move in BTC is over.
It's far from confirmed. But it's looking more promising than before.
All in all not a bad report but a bit quiet.
I am not unhappy about Steem though. Lots of stuff is happening every report.
This week: Splinterlands just released there new version called Untamed and Paycent integrated Steem to name a few.
Next report in two weeks.
---

---
Please consider us for your witness vote if you think we deserve it here:
---
Vote for @blockbrothers via SteemConnect
Set blockbrothers as your proxy via SteemConnect
---
We are the creators of Steemify a notification app for your Steemit account for iOS.
Get it Here: