It's that time of the year again to talk about New Year's Resolutions. For most people, it is a tradition which no actions would follow. For some, they keep up until the end of January or so. Only a small percentage manages to carry on the goals they have set for the upcoming year.
         I already have enough on my plates that adding too many items would only make things more difficult. But, I also try to be realistic when I make new resolutions. Since I have been to the gym since the fall, I can cross that off the list. The most obvious goals, then, are still financial in nature.
In Life:
         This may sound simple, but making an IRA for myself will be the main goal for 2020. It sounds ridiculous, but I actually do not have one. I have got stocks, crypto, precious metals, etc. Hell, I even max out my 401K and HSA contributions. For whatever reason, I haven't bothered with an IRA.
         For those of you who don't know, an IRA is an individual retirement account. It is more or less a thing in the USA. Of course, I'm debating between a traditional or Roth IRA. As for the provider, I may consider using Fidelity as my institution.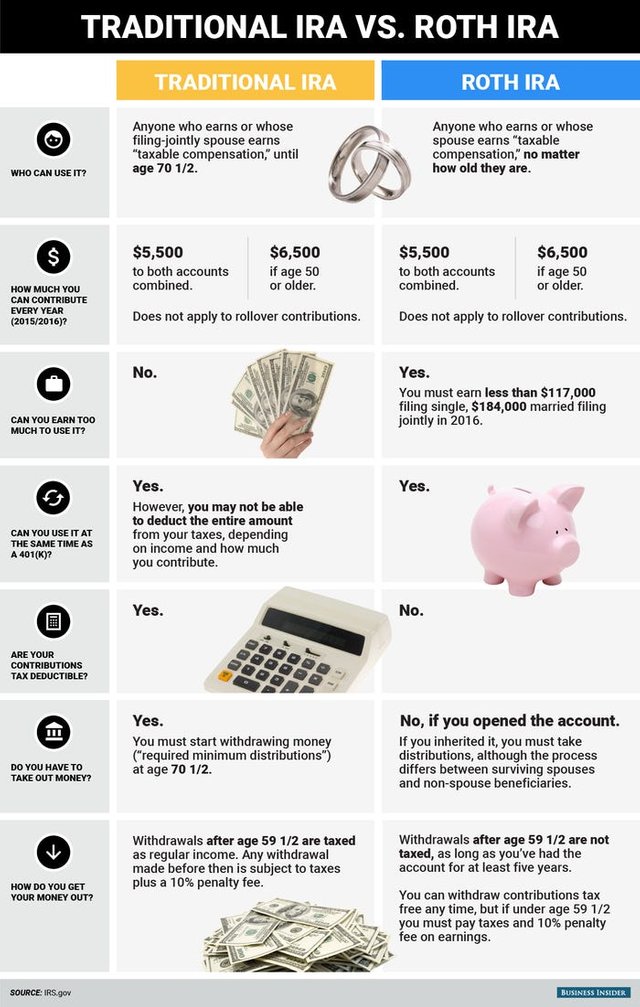 If you can't see the source of the image, you have problems.
         There are advantages to both traditional and Roth option. While I am leaning towards Roth, I am wary of the possibility of rules change by the government. Other than that, I may need to figure out the implications on my state income tax should I include an IRA. Whatever I choose, I will have to reallocate some funds.
         Does that mean I will max out my annual contribution limit? Most likely not. For your information, that amount is $6000 for the upcoming year. But, it doesn't hurt to put some money in there each month and let it grow (or shrink).
         Either way, to me, once you have your emergency funds, money that sits in your bank account are better off used. At the very least, treat yourself and enjoy life. If not, put it into other vehicles that could make you more money later.
On Steem:
         Not much to dive into here. I have long decided that whatever I have in this place is acceptable loss. The question is, how much is acceptable? Would Steem even survive until the next crypto bull run? Even then, would it benefit from the uptrend?
         As I am inching closer to 10K SP, I do wonder what my goal should be in this space this upcoming year. It could be as simple as amass a total of 15K STEEM (in SP, liquid, etc.). I definitely am not trying to go above and beyond and be some figure on this platform. That's not what I came for.
         While I am typing this out, I guess getting myself to 15K SP may be the most realistic goal I could work towards. Then again, if the prices do soar in the next few months, the goal post would be harder to achieve.
         At the end of the day, whatever happens happen.
---
         This is no financial advice. It's only me writing things out for fun.
---
Posted via Steemleo | A Decentralized Community for Investors